The Rangers have won the Presidents' Trophy, and thus their regular season work is complete. With 52 wins, 111 points, and a plus-61 goal differential, the Rangers have officially secured home-ice advantage throughout the entirety of the upcoming postseason.
Here are three reasons the Rangers won the Presidents' Trophy and now find themselves in the comfortable position that they are in:
Two-Headed Goaltending Monster
Henrik Lundqvist and Cam Talbot. Does anything else really need to be said? Probably not, but I'll go ahead and say more anyway.
The Rangers have arguably the strongest goaltending duo in the National Hockey League. In Lundqvist, you have a more-than proven entity with the Stanley Cup being the only missing element to his near-perfect resume.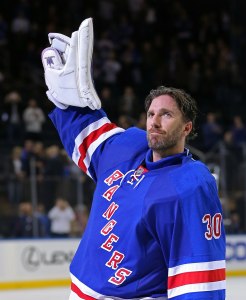 After missing nearly two months of the season due to injury, King Henrik has still managed to put together a 29 win season (with three games left to play) with five shutouts, a 2.26 goals against average, and a 0.923 save percentage. Lundqvist has also seemingly found his game following a rusty return in Boston 10 days ago, as he's allowed two goals or fewer in three of his last four games. A sharp, rested Lundqvist is just what the Rangers need heading into the postseason.
And then there's the backup netminder, Cam Talbot, who as I wrote recently was the best possible recipient of this year's Steven McDonald Extra-Effort Award.
After Lundqvist went down with his serious upper-body injury, Talbot filled the void in the most admirable way imaginable. Winning 16 of his 23 starts over that time, the former Alabama-Huntsville goaltender didn't just keep the Rangers stay afloat, he helped them continue their rise to the top of the NHL standings.
Without Talbot's 21-9-4 record, five shutouts, 2.21 goals against average, and 0.926 save percentage this season, it's hard to imagine the Rangers would've won the Metropolitan Division, let alone the Presidents' Trophy.
X-Factor Hayes
There's no denying it, rookie Kevin Hayes has been the Rangers' X-Factor this season.
Unknown whether he was even going to make the team out of training camp, Hayes has not only secured himself as the squad's third line center, he has also padded the Rangers offensive depth chart with 16 goals and 43 points, 30 of which have come since the New Year.
The graduate of Boston College has shown patience and maturity far beyond his years, he's fit in well on any line he's played on, and he's made the players around him better. It's been extraordinarily impressive, and let's face it, without his emergence as a serious budding-star, Glen Sather may not have been willing to send Anthony Duclair to Arizona in exchange for Keith Yandle.
In his first season as a pro coming off of the college schedule, Hayes has never played this long of a season. If he can keep this pace throughout the second season, good on him, but it may not be such a bad move for the Rangers to give him some rest over these last three regular season games. Hayes is undoubtedly going to be a key part of this upcoming playoff run.
Defensive Depth
Just like their goaltending and offense, the Rangers depth on defense is nothing to sneeze at. As their recent play is showing, they can find defensive success even with one of their key blue liners, Kevin Klein, sidelined.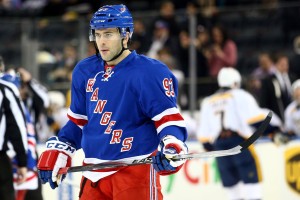 With their current six (Klein excluded), five could be or have been at one time or another top-four defenseman, and Hunwick (11 points and a plus-18 rating) now playing in place of Klein, hasn't played the way a third-paring defender might be expected to on most teams.
The Blueshirts have six more-than capable blue liners, and a seventh who can clearly hold his own when called upon when needed. They are strong and sound in their own zone, and with the deadline acquisition of Yandle, the offseason loss of Anton Stralman has been rectified. The defense is deep, the defense is experienced, and the defense is a group which can contribute offensively.
Combine all of that with strong goaltending and eight forwards who have scored 15 goals or more, and you've got the 2014-15 Presidents' Trophy winners.
Stanley Cup > Presidents' Trophy
It doesn't matter who the Rangers will play in the playoffs, home-ice advantage will be theirs for its entirety. It was a terrific regular season for the New York Rangers. With three games left to play, all of which have very little meaning, the only priority is to stay healthy (or get healthy if your name is Kevin Klein), and remain focused at the task at hand.
Without the Stanley Cup, all of these Regular Season accomplishments will be all for naught. Next week is when the true judgement begins.
Jake Gittler is now in his second season as a contributing member of The Hockey Writers. After spending the 2014-15 season working in Communications for Adirondack Flames of the AHL and covering the New York Rangers here for The Hockey Writers, Jake's coverage has been switched over to the Colorado Avalanche for the 2015-16 season. Jake can be reached via email at Jakegittler@gmail.com, or on Twitter @Jgittler_hockey.