Jiggs McDonald is one of the most iconic voices in NHL broadcasting history. A member of the Hockey Hall of Fame since 1990, McDonald has done it all. This season, he celebrated his 50th consecutive year calling hockey games in the NHL, making him a rarity: How many broadcasters can say they've called games featuring players from Gordie Howe and Bobby Orr to PK Subban and Sidney Crosby? Sitting down with TheHockeyWriters.com, McDonald talks about some of the brightest moments of his illustrious career.
McDonald's 50th Season
The Hockey Writers: This was a special season for you. What were some of your favorite moments?
Jiggs McDonald: There are so many, but the Easter Epic between the Islanders and Washington Caps is number one on my list. Each of the Stanley Cup wins, whether it was the Islanders or when I was doing SportsChannel America and the Pittsburgh Penguins won their first two Cups. I also had the game in Edmonton when Wayne Gretzky broke Gordie Howe's single-season goals record. That was one of those most of amazing nights as well.
McDonald's Best and Favorite Moments
THW: Who was your favorite interview? Why?
McDonald: Maybe Bruce McNall when he owned the Los Angeles Kings. I asked him how a Los Angeles-native came to be the owner of an NHL team and he said, 'because of you—I listened to you as a child and became a hockey fan.' I almost dropped. Wayne Gretzky always gave me great answers too. Kelly Hrudey was always available no matter if he was playing that night or not.
THW: What was the best team you ever watched?
McDonald: No hesitation here: The New York Islanders Stanley Cup winning teams. Any one of the four Cup winners were so good. Many nights, they'd let the opponent establish the style of play and then beat them at their game. Great depth. Every player bought into the system knew that at the end of the season or playoffs they'd be rewarded.
The Legacy of Jiggs and Future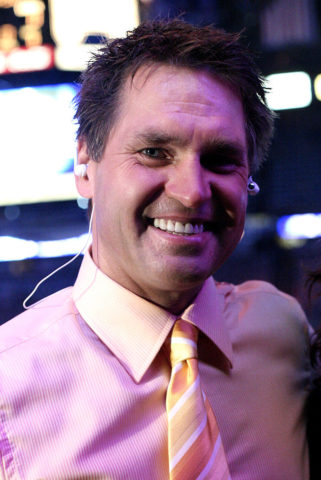 THW: If you could be remembered for one call, what would it be?
McDonald: Probably Bob Bourne's rink-length dash in a playoff game vs. the New York Rangers. As good a goal or individual effort as I've ever seen. Number two is a tie between John Tonelli's overtime goal that eliminated Pittsburgh in 1982 and David Volek's overtime goal in Pittsburgh to oust the Penguins again in 1993.
THW: How do you want people to remember your work?
McDonald: As being a fan first and foremost, working for them—doing everything I could to bring enjoyment of the sport and enhance their love of their team. It wasn't about me—it was about the game of hockey and the guys who play the game.
THW: What's next for you?
McDonald: I enjoy good health at this age and hope to remain active in the community. Enjoy time with my grandchildren, my wife and daughters. Trying to get my golf handicap to a lower number is out of the question, I know.
The 2016-17 Islanders, According to Jiggs
The Hockey Writers: Why do you think the Islanders didn't make the playoffs this season?
Jiggs McDonald: Those points lost early in the season—games where they gave up a late goal that led to overtime or shootout losses. That really made it difficult to stay with the rest of the division and conference.
THW: Who surprised you the most this season?
McDonald: Thomas Greiss proved to everyone that he is a #1 goalie and can handle a huge workload.
THW: What do you think is the difference between Jack Capuano's Isles and Doug Weight's?
McDonald: Intensity and attention to assignments. It appeared to me that many had grown tired of hearing Jack's voice over and over. That's not a knock against Jack cause it happens with just about every NHL team during the course of a coach's tenure.
THW: What do you think "fixes" the Islanders power play?
McDonald: Patience, maintaining control of the puck in the offensive zone, then making better decisions either with a pass to someone with a shooting lane and getting more good looks at scoring chances.
Jigg's Offseason Thoughts
THW: Which Islanders youngster do you think is poised for a breakout season in 2017-18?
McDonald: Both Anthony Beauvillier and Josh Ho-Sang showed they can play at the NHL level. I look for even more next season. I'd like to think another youngster comes out of training camp to make the team, as well as Ryan Pulock, getting a regular spot on defense.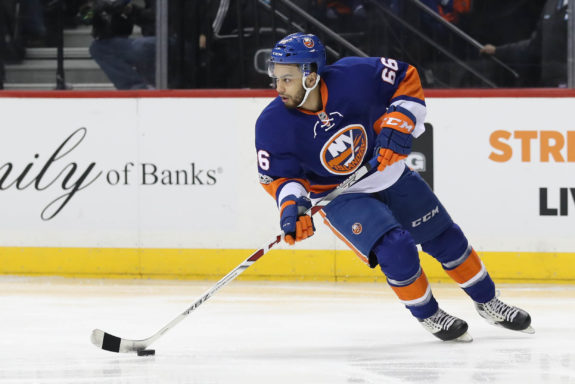 THW: What do you think the Islanders need to do this offseason to put themselves in a situation to get into the playoffs?
McDonald: The need for a top winger to play with John Tavares is obvious. The play of Anders Lee seems to have taken care of the left side. Now a guy who can score and thinks the game the way John [Tavares] does would make for a constant threat from that line. In turn that opens up more opportunity for the second and third line.
THW: Anything else you'd like to add?
McDonald: Just a thank you to you for allowing me to say a few things. And to thank NY Islanders fans and hockey fans in general for the love they've shown me over all these years. The next few years are going to be very exciting. Both as the team matures and grows to be a Stanley Cup contender, as well as the probability of having their own state of the art arena to play in for years to come.