Joni Ikonen
2016-17 Team: Frölunda HC J20 (SuperElit)
Date of Birth: April 14, 1999
Place of Birth: Espoo, Finland
Ht: 5'11" Wt: 176 lbs
Shoots: Right
Position: C/RW
NHL Draft Eligibility: 2017 first-year eligible
Rankings
Future Considerations: 62nd (Final)
Bob McKenzie: 74th (Mid-season)
NHL Central Scouting: 17th (EU skaters)
Craig Button: 36th (Final)
Jeff Marek: 61st (Final)
Joni Ikonen loves scoring goals. Lucky for him, he's pretty good at doing it too. Ever since he moved to Sweden to play for Frölunda's junior team at the age of 16, he's been, remarkably enough, lining up more goals than assists – and his overall point production has gone through the roof. After two seasons in the U18 and U20 divisions, Ikonen has an average of well over one point per game. It's easy to see there's a lot of talent and an even bigger load of potential here.
Although, it would be a shame to reduce Ikonen to merely a player suited for offensive production. His contributions on the ice stretch far beyond that. The Finnish center, who also feel comfortable on the right wing, is a player worth watching even when he doesn't score. Yes, he's quite small. But for that he compensates with admirable work ethics, dazzling skill, and effortless speed. Ikonen demands the puck like few others, constantly wanting to prove himself and make a difference. If anything, that shows leadership qualities.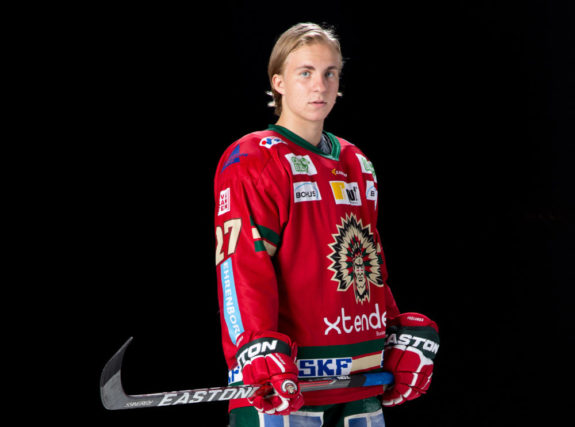 It's no secret that Ikonen still needs to grow bigger, but hey, the kid's 18 years old. Time will do him right. In the 2016-17 season, he played 10 games in the Swedish Hockey League, and while he didn't notch any points, he still showed that he belongs in the big league. It wouldn't be surprising to see him make a true impact next season in the SHL. After all, in my book, we're talking about a potential star player here, and the general manager that picks Ikonen in the NHL Entry Draft this summer should consider himself clever.
NHL Draft Projection
Ikonen should be a name for the late second round of the draft. Due to a size bias that still exists in the NHL, however, it's not unlikely that he ends up going in the third round.
Quotables
"Ikonen is a small but very skilled offensive player. He is very crafty, possessing great hands and puck-handling skills. His soft hands are good for more than just dangling through a maze of opponents as he's a creative passer with natural abilities. He's a quick, darting skater who moves around the ice with ease. His size and speed make him elusive and he demonstrates an ability to spin off checks in the corners. One of his best assets is his wrist shot. He masks his release well which makes his shot deceptive and he has a knack for getting it through traffic. It's not always the most powerful of shots, but he gets it on goal quickly and that is often enough to fool the goalies. He is aware that his shot is one of his best assets and he is more than happy to pull the trigger. He is a player who wants to make a difference on every shift and is constantly scanning for ways to impact the game. Aside from having strong hand-eye-coordination he also has good foot-coordination as well, as he loves to bring the puck along with his skate and makes it look smooth and effortless. As a creative puck magician, however, he is prone to a high number of turnovers as he can over-handle the puck or tries to go through too many guys. That's not going to fly at the next level and it's a part of his game he'll have to rein in. All-in-all, he has the speed, the playmaking, the shooting ability and the puck skills to potentially grow into a dynamic offensive player at the next level." – Future Considerations
"The talented Finnish forward has dominated for Frolunda at the U-18 and U-20 level this season, but when called up to the SHL has shown he's not quite ready for prime time, failing to register a point in ten matches. He's shown flashes of his great puck skills in international play this season…although the knock has been he has tried a little too hard to do things himself." – recrutes.ca 
Statistics
Strengths
Shot
Skating
Puck-handling skill
Under Construction (Improvements to Make)
Must work on his judgment, cause fewer turnovers
Physical strength
Could use his teammates more to improve his game
NHL Potential
With Ikonen's offensive production level in mind, he can definitely be suited in the NHL for a role on a top six line in the future. It's not for nothing that the confident young Finn can be compared to skilled NHLers such as David Pastrnak and Viktor Arvidsson.
Risk-Reward Analysis
Risk: 3,5/5, Reward: 4/5
Fantasy Hockey Potential
Offense: 8.5/10, Defense: 7,5/10
Awards/Achievements
Ikonen knows how to be a clutch player. In the 2016-17 season, he helped Frölunda HC's junior team winning the U18 Swedish Championships. Ikonen lined up twelve points in seven games during that playoffs. And in the U18 World Junior Championships this past season, he was one of Team Finland's most outstanding figures – rightfully voted as one of the top three players on the team – when Finland claimed the silver medal.
Video
Freelance sports journalist settled in Malmo, Sweden. Author on the official site of the Swedish Hockey League. Cover Swedish prospects on their road to the NHL, and Swedish players making it in the NHL.