Every year, the NHL invites dozens of prospects to the scouting combine, where they gather for workouts, medical exams and interviews before the draft. It's the last chance the players have to raise their stock, and it's an opportunity for GMs to get a better idea of who these kids are.
Heading into the combine, most eyes were on Nolan Patrick and Nico Hischier, the projected top-two picks in the 2017 NHL Entry Draft. They were the main attraction, but one of the trainers working the combine garnered quite a bit of attention: "Bike guy" Jordan Marwin, a St. Joe's alumnus and Certified Strength and Conditioning Specialist with IMPACT Sports Performance.
All the motivation you need, courtesy of #BikeGuy. https://t.co/B3zIWvIWMc

— NHL (@NHL) June 5, 2017
We sat down with Jordan to get an inside look at the combine, find out who impressed him the most and see what it's like to find yourself all over Twitter.
The Prospects
Dan Povlich: Thanks for taking the time to talk with The Hockey Writers, Jordan. This year, the general consensus is that Nolan Patrick and Nico Hischier will be drafted first and second overall. After what you saw at the combine, who do you think will go first?
Jordan Marwin: The only way I'd be able to predict who gets drafted first would be if one of the two separated from the pack. Although Nico Hischier performed slightly better in lower-body-explosiveness testing at the combine, both are pretty evenly matched in the rest of the athletic testing. I think it will ultimately come down to hockey stats.
DP: So what do you think that Flyers fans can expect from whomever Ron Hextall ends up selecting with the second pick?
JM: I think both players are extremely talented and ambitious. We have seen in the past (Jack Eichel, Connor McDavid) that it comes down to who has more to prove. I imagine the second pick will have something to prove, and I'm excited to see that.
DP: Which prospect outside the top two impressed you the most?
JM: [Center] Joshua Norris impressed me on several tests. I remember thinking, "Oh crap, the computer must be glitching," when I saw his power output on the first five seconds on the bike. But after the test, everything checked out. He blew the pro agility, standing long jump and force plate out of the water. I'm so glad he was on my bike.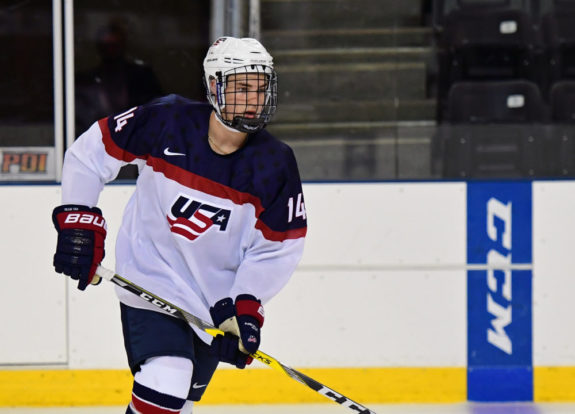 DP: You're a Buffalo native—whom do you hope the Sabres get with the eighth pick?
JM: You know I have my eye on Norris, wherever he goes. I'd like to see him develop as a player because he is an athletic specimen.
The Tests
DP: These guys are all excellent athletes, but which test seemed to be the most challenging for them?
JM: The Wingate test by far is the most grueling. That is why it is last. You feel that test for days, no matter what level of athlete you are.
DP: You've worked the last few combines. How does this class compare with last year's?
JM: This year is the third year, actually. I think this time around, there are the top 20, then everyone else. Whereas in previous years, I would have chosen a top 10. Maybe that's due to the rock stars in previous years, or the athletes keep getting better. It's hard to say.
DP: Is there some other kind of workout you'd like to put the prospects through that isn't in the combine right now? What does that workout tell you about someone?
JM: Yes, I'd like to see an on-ice "yo-yo" test. This is a back-and-forth skating test that progressively gets faster as time progresses. It mimics the very sport-specific endurance that hockey demands. We do it on dry land to test the NHL referees in the ref combine. It's a good show.
#BikeGuy Goes Viral
DP: The pictures of you screaming at guys during the Wingate test, which measures peak power output on an exercise bike, were the hit of the combine. What was it like to check Twitter and see those photos everywhere? 
JM: I think it's funny to see my picture all over Twitter. But "Bike Guy" is just me being me—so I'm okay with it. What feels weird is when strangers on the street shout, "Hey, it's Bike Guy!" It's very bizarre [laughs].
DP: You're an impressive athlete yourself. You rowed for St. Joseph's University here in Philadelphia, and you currently compete in Brazilian jiujitsu. How did you land this role with the NHL Scouting Combine?
JM: Thank you. I just went back to grad school while fighting, studied hard and got my master's degree [in exercise physiology], then applied for the job. My personality takes me the distance.
DP: We appreciate your time, Jordan! Thank you for the inside look at some of these prospects. Best of luck in the future, and we hope to see you at it again next year.
For the top 25 performers in each test, check out NHL Central Scouting.