The 2017-18 OHL Schedule was revealed this week. Like the NHL, the OHL has an unbalanced schedule. Most teams play their division rivals six times, their cross-conference rivals four times, and their inter-conference foes two times. Four extra games are doled out to account for other rivalries, such as Sault Ste. Marie-Sudbury—whose rivalry even has a prize, the Bell Challenge Cup—or in some cases simply to reduce travel.
The end result is a schedule that minimizes time on the bus and, thus, time away from school, which is important for a league that goes to great lengths to highlight the value it places on its players' education.
| | | |
| --- | --- | --- |
| Team | Extra Games | Fewer Games |
| Hamilton | MIS, NIA | |
| Kingston | OSH, OTT, PBO | SBY |
| Oshawa | KGN, OTT, PBO | NIA |
| Ottawa | KGN, OSH, PBO | SBY |
| Peterborough | KGN, OSH, OTT | BAR |
| Barrie | OS, SBY | PBO |
| Mississauga | ER, HAM | |
| Niagara | ER, HAM | OSH |
| North Bay | SBY, SSM | |
| Sudbury | BAR, NB, SSM | KGN, OTT |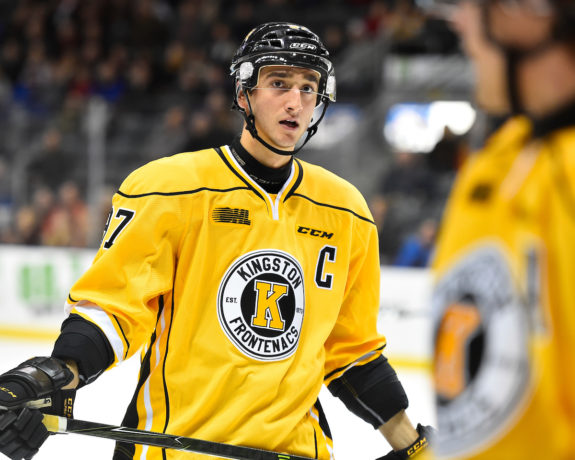 | | | |
| --- | --- | --- |
| Team | Extra Games | Fewer Games |
| Erie | MIS, NIA | SSM |
| Guelph | KIT, OS | |
| Kitchener | GUE, OS | |
| London | SAR, WSR | |
| Owen Sound | BAR, GUE, KIT | SAG, SSM |
| Flint | SAG, SAR | |
| Saginaw | FLT, SSM, WSR | OS |
| Sarnia | LDN, FLT | |
| Sault Ste. Marie | NB, SAG, SBY | ER, OS |
| Windsor | LDN, SAG | |
2016-17 Strength of Schedule Numbers
Unfortunately, an unbalanced schedule is, well, unbalanced. As the tables above indicate, teams end up playing significantly different slates of games, even within their divisions. Below are the final 2016-17 strength of schedule (SOS) numbers for all 20 teams in the league, ranked from toughest to easiest. As can be seen, some teams had an easy ride, while others spent the year running a gantlet of tough opponents. A few notes:
The percentages given indicate the average end-of-season winning percentage (Win%) of a team's opponents. The numbers are biased, meaning the head-to-head match-ups between teams are not factored out of their opponents' records in calculating their SOS.
The "OHL" column uses the league-standard method of calculating Win%: two points for a win, one point for an overtime or shootout loss, and zero points for a regulation loss.
The "HDB" column uses the Internet Hockey Database's bonus point compensation system, which awards five points for a regulation win, four points for an overtime win, three points for a shootout win, two points for a shootout loss, one point for an overtime loss, and zero points for a regulation loss. This ensures that every game played has the same point value and re-scales the numbers so that the average team plays a .500 schedule.
| | | | | | |
| --- | --- | --- | --- | --- | --- |
| Team | OHL | HDB | Team | OHL | HDB |
| Guelph | .602 | .553 | Kingston | .542 | .489 |
| Saginaw | .581 | .530 | Niagara | .540 | .487 |
| Sarnia | .580 | .531 | Owen Sound | .539 | .489 |
| Kitchener | .578 | .530 | Hamilton | .535 | .482 |
| Flint | .570 | .518 | Oshawa | .534 | .481 |
| London | .566 | .515 | Peterborough | .534 | .482 |
| Windsor | .564 | .514 | North Bay | .534 | .481 |
| Ottawa | .555 | .502 | Sault Ste. Marie | .530 | .479 |
| Erie | .549 | .499 | Sudbury | .529 | .476 |
| Barrie | .545 | .494 | Mississauga | .520 | .468 |
Holy moly, Guelph! The Storm had by far the league's toughest schedule. In fact, their average opponent this year had a better record than the OHL Finalist Mississauga Steelheads. As for the Steelheads, they played half of their games against the bottom-five teams in the historically weak Eastern Conference, giving them the OHL's easiest schedule by a comfortable margin.
It's a Long, Long Way to Sault Ste. Marie
Speaking of the conference imbalance, it was so significant that Western Conference teams played the seven hardest schedules in the league. Only Erie, Owen Sound and Sault Ste. Marie came in below average in the West. All three teams played extra games against Eastern Conference foes.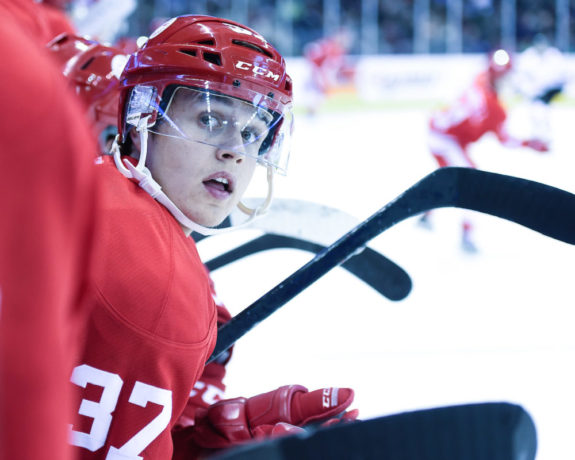 Sault Ste. Marie is a particularly interesting case. The upstart Greyhounds spent much of the past season fighting with the favoured Windsor Spitfires for the West Division crown. The Greyhounds pulled away in the season's final weeks, winning the division by 10 points. But that cushion was driven, in part, by a significant edge in strength of schedule which saw the Greyhounds play four extra games against Sudbury and two against North Bay, both of whom struggled this year, while Windsor faced two extra games each against powerhouses Erie, London and Owen Sound.
Windsor went 4-0-0 against the Wolves and Battalion but only 4-7-3 against that trio of Midwest world-beaters. If Windsor had played Sault Ste. Marie's schedule, it's not unreasonable to think they could have added an extra six or seven points to their tally, turning a comfortable Greyhounds division crown into a photo finish.
Similarly, Owen Sound finished three points ahead of London for third in the West but had the luxury of two extra games against the basement-dwelling Storm and four extra games against the league-worst Barrie Colts. The Attack closed much more strongly than the Knights and deserved the third seed, but with a balanced schedule, it's not hard to imagine London holding them off.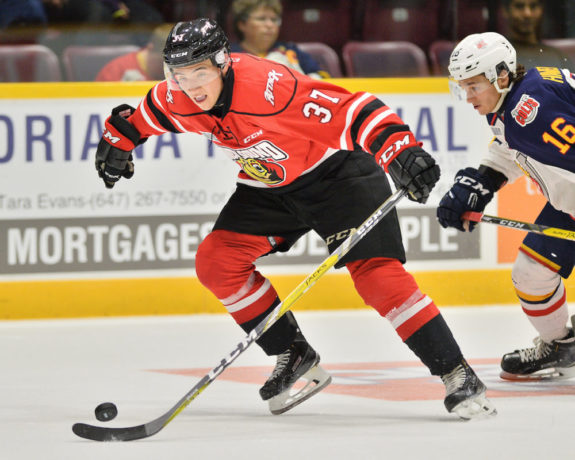 Ultimately, the OHL is a developmental league, and managing travel is paramount. Owen Sound and Sault Ste. Marie have more onerous travel schedules than London, perhaps outweighing their strength of schedule advantage this year. And, of course, as some teams cycle back into rebuilding phases and others take steps forward, the scheduling advantage will undoubtedly shift from year to year.
Previewing the 2017-18 OHL Schedule
There are a few interesting quirks with next year's schedule. Notably, Erie will be the visiting team for an absurd four home openers. Those games will comprise the Eastern Ontario leg of the Otters' Taylor Raddysh showcase tour as GM Dave Brown attempts to replenish the franchise's store of draft picks and kick-start their rebuilding process after four years at the top of the league standings.
By far the biggest story of the schedule release, however, is the news that the Ottawa 67's will play a home-and-home series with their chief geographical rival, the QMJHL's Gatineau Olympiques, with the games counting toward the OHL and QMJHL standings. The OHL has billed this as part of the 67's 50th Anniversary celebrations, suggesting it will be a one-off event.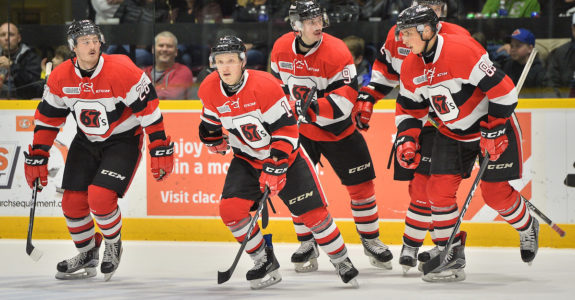 The 67's and Olympiques have a bloody history. The teams played home-and-home series each season from 1999-2000 to 2002-03, and a number of the games were chippy affairs including a February, 2002 bloodbath that featured 35 separate infractions, including six fighting majors, a butt-ending major and three game misconducts, including one for leaving the bench. The teams combined for an improbable 69 penalty minutes, high even by the standards of the day. Will we be treated to vintage 67's-Olympiques hockey (or whatever might pass as such in the modern OHL)?
The Ottawa-Gatineau home-and-home means the 67's give up two intra-league games in the coming season: an away game at Peterborough and a home tilt with Hamilton. Instead, the Petes and Bulldogs will face each other a seventh time in Peterborough to close out the season. As a result, the 67's, Bulldogs and Petes will be the only teams in recent OHL history to play an odd number of games against each other during a single regular season.
For a full graphical breakdown of each team's match-ups next year, complete with travel distance estimates, check out my 2017-18 OHL Schedule Tracker. Last year's tracker is also available.
Matt Wilson covers the OHL for The Hockey Writers and has been following the league for 15-plus years. He holds a dual degree in English and mathematics and endeavours to take a stats-based, data-driven approach to hockey analysis.