Over the last few weeks, the writers at THW had a bit of fun. We got together to create a realistic Vegas mock expansion draft. I was tasked as the general manager of the Montreal Canadiens. We were allowed to make trades with not only Vegas but with other general managers around the league to improve our teams, dump salary and maximize our protected lists.
The Montreal Canadiens are in a bit of a pickle when it comes to the expansion draft. They don't necessarily have issues with the forwards they have to protect but they do have some thinking to do when it comes to defense. The big decision that the Habs need to make is Jordie Benn or Nathan Beaulieu. This among other big questions are solved in the mock expansion.
Further to that, I went on my own by making some signings and re-singings to complete the 2017-18 roster. It's a lot to go through so let's dive into what the Canadiens would look like if I were general manager.
Offseason Re-signings
Bergevin threw a bit of a wrench in my plan when he re-signed forward Andreas Martinsen. It's a simple case of Bergevin being Bergevin and to be frank, Martinsen doesn't have a spot on my starting roster. So for that re-signing, I simply put his cap hit on the books and sat him in the press box.
The first Hab I locked up was forward Alexander Radulov. I couldn't let the fan favorite and offensive beast slip away from a team that is starving for goals. I signed him to a contract worth $6.5 million a season. With the moves I made during the expansion draft, I was able to keep his number under the cap.
I then locked up defenseman Andrei Markov. The veteran defenseman wants to finish his career as a Canadien and I gave him the opportunity to do that. I signed him to a $4 million dollar per year contract which keeps him on the team during the 2017-18 season.
Offseason Free Agent Signings
In order to fill out the roster, I had to make a signing. The Canadiens already signed Kontinental Hockey League standout Jakub Jerabek to a $925,000 contract for the upcoming season to complete the defense core. As far as signings go, I didn't have to do any more of that on the defensive side.
As for the offensive side, I had a spot open on third line wing so I made a splash. The last time Justin Williams was a free-agent, he blew off the Canadiens' offer to sign with the Washington Capitals. The Habs offered him more money but Williams didn't want to play in Montreal, which is his right. The point of free agency is you are able to choose where you want to play. You can't hold that against a player.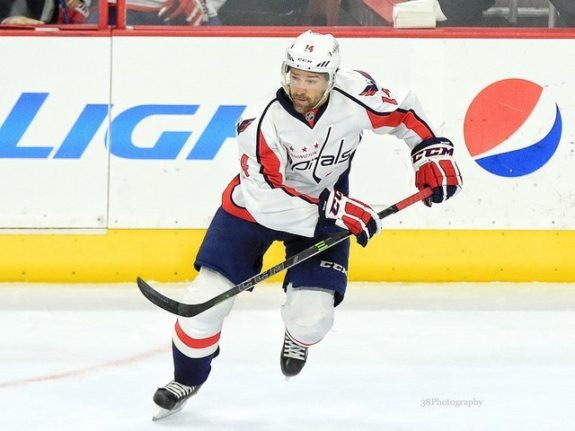 In this scenario, I gave him a contract that pays him $3.5 million per season and he signed it. With that, Williams signs with the team that was all-in on him before he made the choice to join Washington. The Canadiens get a proven playoff performer and add some more offense to their lineup.
Expansion Draft Trades
In total, I made five trades that had expansion draft implications. When you dissect the Canadiens' roster, there are a ton of problems that need to be resolved to make them a true Stanley Cup contender. So for that reason, bear with me while I explain the moves I was able to pull off.
The first move I made was strictly a salary dump. I moved Tomas Plekanec to the Arizona Coyotes for Calgary's 2017 third round pick. Plekanec has one year left on his $6 million per year contract. If the Canadiens want to improve their team this offseason, Plekanec's contract must come off the books. His value took a nose dive because of his poor play and there were only a few teams that could stomach his salary.
With that new cap space, I then traded prospects Nikita Scherbak and Simon Bourque for Florida Panthers' centerman Nick Bjugstad. The big forward is coming off an injury plagued season but the hope in Montreal is that he can come in and be the powerful scoring center they've needed. With a $4.1 million cap hit, he comes in much cheaper and younger than Plekanec.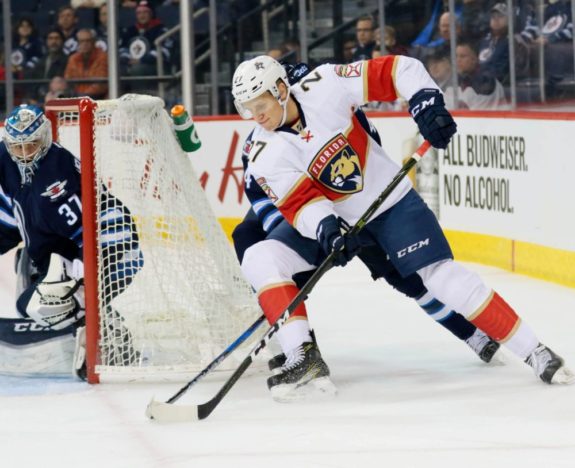 I didn't stop there when it comes to addressing center ice. I pulled off a blockbuster with the Minnesota Wild that involved young forward Alex Galchenyuk. I sent Galchenyuk to the Wild for center Eric Staal and defenseman Matt Dumba. I didn't give up on Galchenyuk, I just don't think the Canadiens can afford the time it will take to ensure that he's the future number one center. This trade gives the Canadiens two players whose salary adds up to $6,050,000 which would be around what Galchenyuk will sign for this offseason as a restricted free agent.
Dumba adds a different element to the Canadiens defense core and Staal gives the Habs, along with Bjugstad, a completely different look up the middle. The hope is Dumba can bring back some of what P.K. Subban did, like carrying the puck into the offensive zone. It also gives them a proven young defenseman which is hard to come by in today's NHL.
The fourth trade I made was directly related to the expansion draft. Going back to earlier in the article, I stated that the Canadiens expansion draft dilemma would likely come down to Beaulieu or Benn. Ultimately, I chose Benn because of his contract and style of play which meant I had to deal away Beaulieu to avoid losing him for nothing.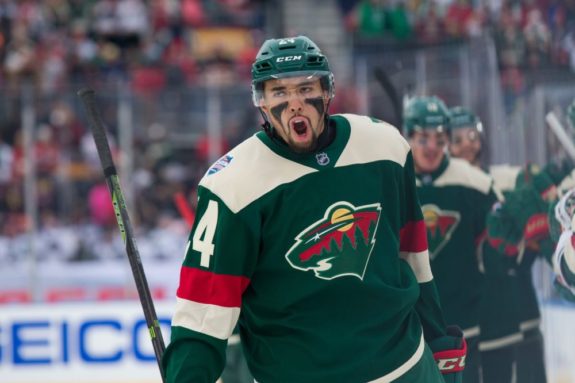 So, I traded Beaulieu, Charles Hudon and a 2017 third round pick to Tampa Bay for Tyler Johnson and Braydon Coburn. Again, as many of my other moves, my focus in this trade was center ice. Now, the Habs have Johnson, Bjugstad, Staal and Phillip Danault. This gives them the most complete group of centermen they've had in years.
The toughest part of this trade was giving up Hudon. Hudon would have been on my team next season if the opportunity to get Johnson wasn't there. Speaking of Johnson, I then had to sign him to a contract extension because of his restricted free agent status. I ended up signing him to a $6 million per season contract which puts him right with his comparable players.
I know many of you are wondering why Coburn was included in the deal and that leads me to my next trade. In order to complete the deal with Tampa, I needed to take Coburn's contract in return. In the background, I was negotiating with Vegas to take his contract should my deal with the Lighting go through.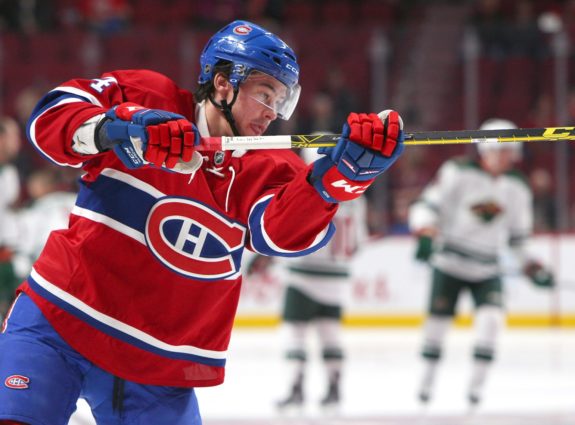 When it did, Vegas ultimately agreed to take Coburn's contract if they could select Alexei Emelin and be compensated with young center Michael McCarron. Another part of the transaction was that Vegas wouldn't take newly acquired Bjugstad or defenseman Benn. Of course, losing McCarron was tough, however, taking Emelin and Coburn off the books and essentially being able to protect two extra players allowed me to make all of these previous trades. You have to sacrifice somewhere.
To Sum It Up
After all my moves, I came in at a cap number of $71,322,477 for the 2017-18 season. That makes me $1,677,523 under the cap. Yes, these moves are "legal" and financially viable. That means you can sign Radulov and Markov while making trades to improve the rest of your team.
This might come as a shock to most Habs fans but it's the truth and it puts that much more pressure on Bergevin. He can't use the excuse that "trades are hard" or "you have to give to get", because yes, they are hard and yes, you do have to give to get. I had to give Galchenyuk, Beaulieu, Hudon, McCarron and others to create the 2017-18 Canadiens.
| | | |
| --- | --- | --- |
| Lineup | | |
| LW | C | RW |
| Pacioretty | Johnson | Radulov |
| Lehkonen | Bjugstad | Gallagher |
| Byron | Staal | Williams |
| Mitchell | Danault | Shaw |
| | | |
| D | D | |
| Weber | Markov | Davidson |
| Petry | Dumba | |
| Jerabek | Benn | |
| | | |
| G | | |
| Price | | |
| Montoya | | |
Of course, the only thing I didn't do was extend goaltender Carey Price. As you may know, he is under contract for the 2017-18 season so his extension could very well come after the year is done. It's a risk but it allows the Canadiens to load up for a serious run at the Cup next season. If I was general manager, this would be the team come next season. Since I'm not, it's entirely up to Bergevin to conduct a makeover he's failed to do year in and year out during his tenure. The heat is on, Marc.