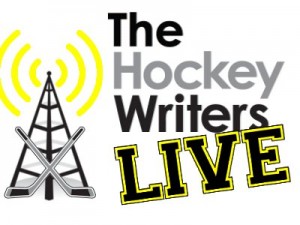 December finally arrives and although we are still without NHL hockey, all is not lost hockey fans. Christmas is a little over three weeks away. Once again, our goal is to try and spotlight more of what else is going on in the hockey world and leave the lockout as a story on equal or lesser footing. At this point, the priority is to get back to the hockey that is actually going on as scheduled as opposed to the same old same old that is the CBA.
This seems to be the time to do something a little different but thanks to a little help from our The Hockey Writer friends, here is a little table from us to you that spotlights a few minor details on what is going on with the lack of an NHL season err keeps it simple.
[table id=76 /]
There are just too many people that are dissatisfied and apathetic with what is going on with the CBA to keep spending all this time while the two sides cannot seem to come close enough to get the deal done.
What do we have on tap for the show tonight? In our quest to keep it simple, here is our show outline for Sunday.
Time to say hello everyone
Dan Rice of The Hockey Writers (Movember and NJ Devils) joins us 
Reliving last season a bit through our eyes.
We go spanning the hockey world.
This THW spotlight……
Agent Scott Norton joins us to talk more hockey less CBA
Toss in a little Fantasy Hockey spotlight….
A wrap up for the archive…..
Believe me, we are ready to go high energy and fast paced in this episode. There will also be a little news and notes section mixed in as well. Hopefully everyone can join us at 8pm ET on the Fantasy Sports Channel. As always, the gang and I can be checked out at THW Live. There are also going to be a few more wrinkles in the show as December moves on.
Again, come join us tomorrow night for a show that is never dull and always opinionated. If you have questions, we will try and get you the answers. If we don't have the answer, we will ask someone that has it. Thanks again and long live hockey!