After a dismal start to the season in October, the Wilkes-Barre/Scranton Penguins rattled off the wins in November and have improved their position in the conference and division standings. In fact, when their December schedule started this past Saturday, the Penguins were winners of four straight games.
Before the Pens get further into the final month of 2012, let's take one last look back at November.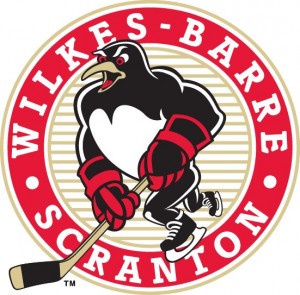 Current Record: 13-7 (26 points, fourth in Eastern Conference, second in East Division)
Team Leaders
Goals: Eric Tangradi (nine)
Assists: Beau Bennett and Benn Ferriero (tied with 11 each)
Points: Bennett (16)
Plus/minus: Robert Bortuzzo (plus-six)
Goaltending: Jeff Zatkoff, 10-5 with a 1.81 GAA and a .930 save percentage
Injuries
The Penguins currently have no players on the injured reserve, as Keven Veilleux and Zach Sill were recently activated.
Transactions
Denver Manderson returned to the Wheeling Nailers of the ECHL. He will not be back in Wilkes-Barre/Scranton this season, however, as he sustained a shoulder injury and is out for the season after having surgery.
Keven Veilleux and Dominik Uher were assigned to the Nailers for the team's November 30 meeting with the Elmira Jackals. However, both returned to the Penguins following the game.
November Recap
Friday, November 2 at Manchester Monarchs: 3-0 Win
Saturday, November 4 at Bridgeport Sound Tigers: 5-3 Win
Wednesday, November 7 vs. Binghamton Senators: 1-0 Win (shootout)
Friday, November 9 vs. Hershey Bears: 3-1 Loss
Saturday, November 10 vs. Portland Pirates: 4-3 Win (shootout)
Wednesday, November 14 vs. Springfield Falcons: 2-1 Win
Friday, November 16 vs. Bridgeport: 3-1 Win
Saturday, November 17 at Hershey: 4-1 Loss
Wednesday, November 21 at Hershey: 4-0 Win
Saturday, November 24 vs. Toronto Marlies: 2-1 Win
Sunday, November 25 at Albany Devils: 5-4 Win (shootout)
Friday, November 30 vs. Syracuse Crunch: 5-3 Win
Game of the Month
November's game of the month is a no-brainer.
On Wednesday, November 21, the Penguins beat the Bears, 4-0, for their first victory over their biggest rivals this season. The Bears had won the previous three meetings. Benn Ferriero had a goal and an assist, while Jeff Zatkoff made 15 saves for the shutout.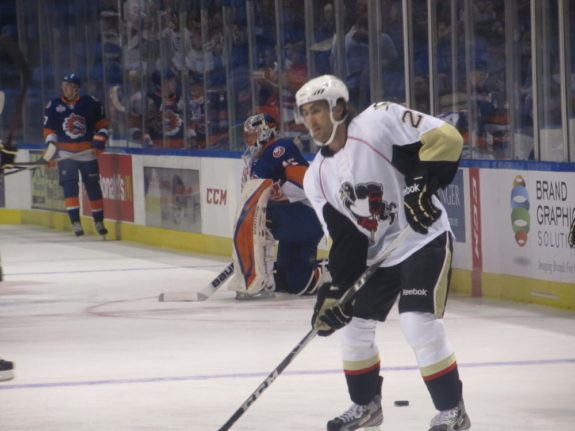 Lowlights
It's hard to find much to complain about after such a strong month. However, the Pens fell twice to Hershey this month, scoring just one goal in each loss. They lost 3-1 on Friday, November 9, with Riley Holzapfel getting a second-period tally.
On Saturday, November 17, Hershey defeated WBS 4-1, with Trevor Smith scoring for the Pens on the power play. Both losses to the Bears ended three-game winning streaks.
Player of the Month
Jeff Zatkoff, who is in his first year in Wilkes-Barre after spending the last four years with the Manchester Monarchs, has solidified his spot as the Penguins' starter. He had three shutouts in November, first making 33 saves in the November 2 victory over his former team. Five days later, he made 32 saves and allowed just two goals on eight shootout attempts as the Pens beat the Senators, 1-0, in the shootout.
He wrapped up November with the above-mentioned 15-save shutout against the Bears.
Zatkoff is tied with Curtis McElhinney of the Springfield Falcons with 10 wins on the season to lead the league and is also in the top five in GAA and top 10 in save percentage. Furthermore, his three shutouts are tied with Barry Brust of the Abbotsford Heat for second in the AHL.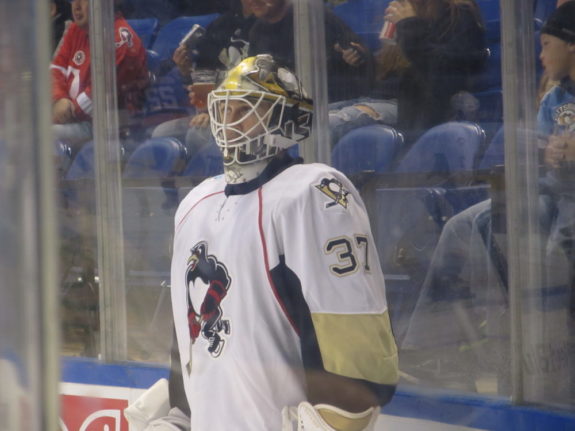 December Schedule
Saturday, December 1 vs. St. John's IceCaps (author's note: WBS beat St. John's, 5-3)
Friday, December 7 vs. Hershey
Saturday, December 8 vs. Portland
Wednesday, December 12 at Albany
Friday, December 14 vs. Binghamton
Saturday, December 15 at Syracuse
Wednesday, December 19 at Binghamton
Saturday, December 22 at Syracuse
Wednesday, December 26 at Hershey
Thursday, December 27 vs. Hershey
Saturday, December 29 vs. Norfolk Admirals
Monday, December 31 vs. Syracuse
December Schedule Facts
Saturday's game against the IceCaps marked the team's first two meetings since last year's Eastern Conference Semifinals. St. John's won the series in seven games.
The December 29 game against Norfolk is the first time the Pens will see the new-look Admirals this season. Last season, when the Admirals were affiliated with the Tampa Bay Lightning, the Pens lost to them four times on their 28-game winning streak to end the regular season.
Current Penguin Trevor Smith was on the Admirals last year when they won the Calder Cup. He was one of the league's top scorers last year with 69 points in 64 games and had 16 points in 18 playoff games.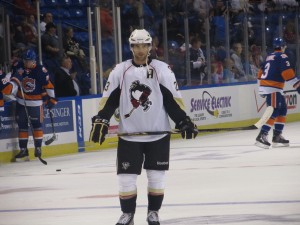 The Admirals, who are affiliated with the Anaheim Ducks this year, have former Penguins Luca Caputi and Nate Guenin on their current roster.