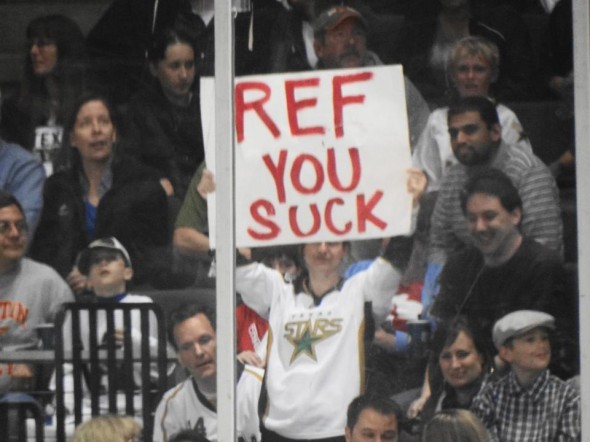 Well, is it true? Do you suck?
Because I hear everybody say it, at every hockey game. Sometimes the voice sounds a lot like mine. I hear it in other sports too. I was at a Golden State Warriors basketball game once when Tim Hardaway was fouled—or so my friend's dad thought. You didn't call the foul, ref, so my friend's dad? He flew out of his seat in a spasm:
"You're missin' a good ref, game!"
Steam coming out of his ears, he had no idea how clever he'd just been.
Sometimes, in the AHL, I feel badly for you guys. I try to remember the words of baseball's Ed Runge, who said that being an umpire
"… is the only job where a man has to be perfect the first day [and] improve over the years."
Of course, who's saying you were ever perfect, right?
Still, I can't imagine what it must be like to have 6,000 people chanting in unison their general negative critique of one's work. When I submit some work to my editor, not even he or she has ever flung it back at me: "Ross-You-Suck! Ross-You-Suck!" If they had, well, the first time would be tough. The hundredth time, I doubt I'd even hear them.
Just like you. You don't seem to hear the chants. Good for you.
FAMILY BUSINESS
The Koharksi name is synonymous with the stripes. Don Koharski patrolled the NHL for 1,882 games. Today he runs a referee clinic. Instructors at that clinic have included names familiar to many AHL fans: David Banfield,G'hislain Hebert, and of course, #84 himself, Don's progency Jamie Koharski– arguably the AHL referee who … elicits the most … spirited, ref-related responses from the fans.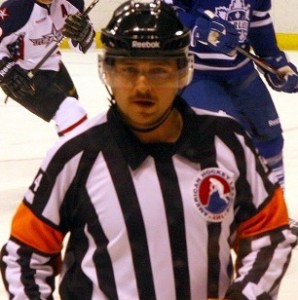 I wondered, when Jamie Koharski has reffed Texas Stars games over the past three-plus years, have the Stars lost every one of those games? At the time, when he's either making or not making a call that we as a fan unit believe he should or should not have been doing, it sure seems like it.
But I count Jamie K as either the sole ref or as one or two refs in all of 24 regular season Texas Stars games. The team's record in those games, eschewing OT and Shoot-Outs, is 12 and 12. Even Steven.
Not only that, but by my loose count, Koharksi has given Texas 103 power plays and 100 penalty kills in that time. Again, even Steven.
Of course, this doesn't argue that any one of those calls was a good one. Only that he (or his reffing partner) has called them pretty evenly over the years.
A SHORT CAREER
Determining whether or not you do indeed suck, ref, will remain forever subjective. Good reffing is a lot like proper etiquette or good manners: when executed well, you don't even notice them. When executed like a stink bomb, well you get the rest.
When I was 16 me and one of my teammates decided to try and make some extra cash, so we became USA Hockey certified refs. But we were always just linesmen. Well, I was; his career ended in his second game, when he was bringing me the puck for a face off, and this Squirt standing at the dot suddenly lost his balance backwards and swung his stick up in the air to counter himself. That stick hit my friend in the mouth. Knocked a tooth ten feet in the air, and I swear to God ref, he caught his own tooth. That's a true story.
I turned in the stripes after a Squirt AA Thanksgiving tournament game. The other linesman didn't show, so it was me and another guy, both of us refs. I was terrified. Pulling double-duty, I blew an offsides call and I thought I was going to have to fist-fight one of the parents.  Later one kid fell to the ice and my arm rocketed up on its own. I wished it hadn't. I looked at the other ref, Was that a penalty? He did a subtle version of the roughing gesture.
"Number ten," I shouted. "Two minutes, Roughing!"
And that was that. One of the parents was screaming at me as I led the kid to the box and I thought to myself, Ignore him Ross you know damn well that was roughing! but I didn't know that. I knew the opposite.
But the important thing was no longer whether or not it was roughing, it was whether I had the conviction to say so no matter what anyone else said, because that–right or wrong, that kept order. And seeing the game through to the end with some semblance of authority was more important than one call.
At almost every game, there's a pair of guys in the stands dressed like you ref, only they're wearing sunglasses and holding canes. It's quite an insult when you think about it. But I doubt that you do, and that is to your credit. Like Bobby Hull and Gordie Howe and so many others have said over the years, never once have they seen a ref reverse a call. In a speeding game of inches, sometimes conviction is all you've got.
So I'm just here to say, hey, I've been there. Kind of.
I know what you're going through. Kind of.
And you still suck.
But only kind of.