By Andrew Hirsh
Unless he's celebrating a goal on the ice, you'd be hard-pressed to find Ilya Kovalchuk showing much emotion. So when I saw a music video featuring a dancing Kovalchuk for the SKA Saint Petersburg hockey team of the KHL, I was slightly taken aback. Check it out for yourself:
I don't know what the lyrics are to this song (any Russian translators are more than welcome to help out here), but regardless of the words, this is the kind of production you'll rarely see in the NHL.
According to one YouTube comment, which can only be taken with a grain of salt, this video is a submission to the KHL cheerleader contest, in which every team participates.
Maybe the NHL could learn a thing or two about marketing from their Russian counterparts.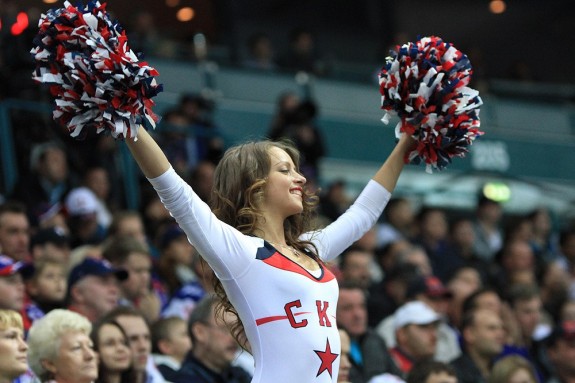 Also featured in this video is Maxim Afinogenov and Evgeny Artyuken. And then there's a mascot with a horse head? What?!
The video, which was uploaded by the SKA Saint Petersburg official YouTube account, has amassed more than 75,000 hits in its first four days online.