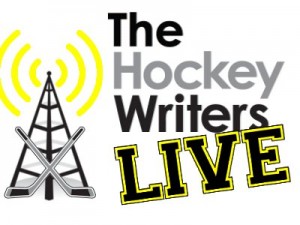 This feels like home now. It is hard to believe we are on the fifth episode already and yet here we are. The AHL season starts Friday as hard as it is to believe and with a decent amount of NHL talent. There will be a lot to talk about this week as the games tick off for the league that Gary Bettman is a commissioner of. So while there are games on every other level, the highest level will still have negotiations on all the issues but the most important one. That doesn't make sense but there is nothing anyone else can do.
As the temperature dips, the hockey coverage always heats up. That is just the way it works. At this juncture, it is almost pointless to even fret over the CBA negotiations until there is somewhat concrete progress. No one likes to say the obvious but honestly it does not look good. Thankfully, there are so many other leagues out there that are more accessible than ever that a fan at least has choices for the most part. It was certainly not this way eight years ago ladies and gentlemen.
So what is on the show Sunday night? That is a good question. Here is what we have on tap.
Intro time.
Jon Hutcheon of the Neponset Valley River Rats joins us.
Spanning The Hockey World with Josh.
George Richards of the Miami Herald talks Panthers hockey and more.
We preview some of what you may see on "An Open Letter…"
Why you may not see the NHL for a long long while or relatively quick?
Our final shots across the hockey universe……
It is time for the overrrrrtime!
We hope to see you on Sunday night at 8pm ET. The people over at the Fantasy Sports Channel have been very nice to us as yes we are the only hockey show on their network. That is thanks to the dedication of all the people at The Hockey Writers, the co-hosts, and of course the listeners and fans.
There are also a few items that we will talk about that are not on the outline necessarily. Also, there will be the inevitable rant on the impact of the NHL players in the KHL. Furthermore, we will pay tribute at some point to Budd Lynch, who passed away this week. This is going to be a fast paced show like always.
The phone number is 1-347-826-7358 and the action starts at 8pm ET. Do not forget to join the chat at THW Live and follow us on Twitter at @TheHockeyWriter and @ChrisWasselTHW. Thanks again and as always enjoy the show.