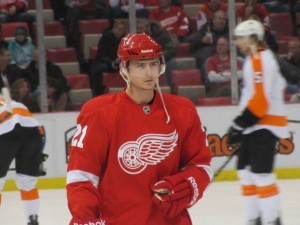 The requisite juices for coming up with something creative, especially a nickname, are not flowing the way they should be when "Tatar Tot" is the best moniker one comes up with when composing a post on Tomas Tatar.  That's when Google comes in handy.  A clever fan extrapolated "Sauce" from "Tartar" when attempting to name the fourth year Griffin.  Perfect! "Sauce" conjures up images of all things hot, and hot is what Tomas Tatar has been in the early stages of the 2012-2013 AHL campaign.
While 3 points in 4 games is not RED hot, Tatar has been all over the ice in these four games; moving his feet, driving to the net, and using visible increases in strength and confidence to his advantage.  I was ready to give up on Tatar prior to this season.  He did not seem like he was ready to take his game to the next level.  The Red Wing level.  But if the first four games are any indicator, Tatar will be in Detroit sooner rather than later.
It's no secret that Detroit likes their rookies to be "over ripe", as Ken Holland has put it.  Detroit has had the luxury of exercising profound patience when it comes to youngsters.  Entering his fourth year on the farm, Tatar has certainly reached "over ripe" status.  Tatar's improved skating and determination have been apparent in every game this season, and these improvements manifested themselves on the score sheet twice during Sunday's game against the Marlies.
Showing off his great vision and awareness, Tatar set up line mates for sensational scoring chances on multiple occasions yesterday.  One such chance ended up with Gustav Nyquist, Tatar's line mate, blasting the puck into the back of the net at point blank range.  Another chance, also involving Nyquist, saw Tatar using some fine athleticism in keeping a clearing attempt in the Toronto zone, and from his knees, dishing a backhand pass to Nyquist for a one timer.
Speaking of backhands, Tatar used his mastery of the "lost art" to score a power play goal while driving to the net.
The only valid criticism that can conceivably made of Tatar thus far, regards his nerves.  Tatar does seem to be an emotional player, demonstrated by his affinity for hot dog goal celebrations and the occasional fumbling of passes.  Tatar will have to get his nerves under control if he is to become a full time and effective Red Wing.
So, can "Sauce" become the second line scorer that Detroit believed they had when drafting him? He absolutely can.  Whether he will or not, while remaining to be seen, appears to be likely.  Expect the sauce to get hotter in Grand Rapids, and eventually, in Detroit.