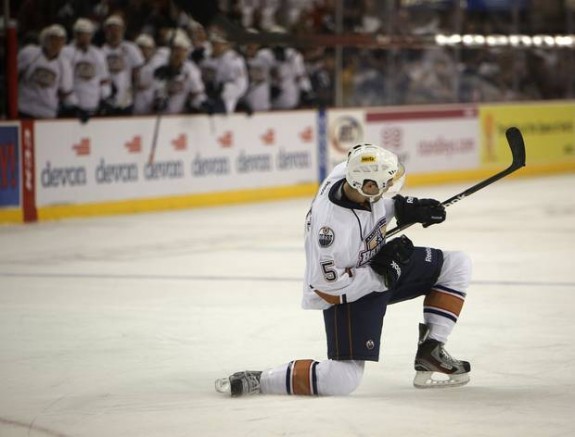 Without NHL hockey in Edmonton, Oiler fans have been forced to turn to their AHL affiliate in Oklahoma City as the next best thing.
Fortunately for them, there are many familiar Oiler faces in the Barons lineup to root for.
Young stars such as Jordan Eberle, Ryan Nugent-Hopkins, Justin Schultz and soon to be joined by Taylor Hall in November, are all suiting up in OKC.
With the first two off to sluggish starts they are now starting to show signs of getting comfortable…which could be dangerous for the rest of the league.
Justin Schultz is the name that jumps out in the early going, and certainly did not get off to a slow start, leading the team with six points in four games and was just named AHL Player of the Week.  His recent week resulted in three goals and an assist with a +6 in two games.
While his defensive game is still progressing, he is making positive strides in that area.  He's come as advertised offensively, however, picking his spots on the rush and moving the puck efficiently, showing the natural, smooth offensive skill set that has been as advertised.  That also included an impressive pinpoint pass to Teemu Hartikainen through traffic for a go ahead goal in a Barons recent game.  He was also a +5 in that same game.
Both Eberle and Nugent-Hopkins showed up in that game too, and finally got on the scoresheet, showing the kind of top end talent they have.  RNH recorded two assists and Eberle had his first goal of the season.
Another young Oiler prospect who has impressed early on is defenceman Martin Marincin.  The Slovak rookie has put up two goals and an assist in his first four games and has a +7 rating to go along with it, which is currently tied for the league lead.  Playing alongside Schultz, the lanky defender has shown an ability to move the puck quickly and a natural on-ice awareness.
Teemu Hartikainen is also averaging a point per game in the early going with four points in four games.  The Oilers are hoping the young Finn has a good start and shows them the kind of power game they are hoping he is capable of.  Without a true power forward who can take up some room in front of the net on the roster, the Oilers are hoping Hartikainen can fill that role in the future.
Veteran Josh Green has been impressive as much for his play as his leadership.  A near unanimous decision as team captain, Green brings invaluable experience to such a young roster.  He has also played well on the ice, with a goal and an assist and a +2 in the early going.  He has also seen time on the top line with Eberle and Nugent-Hopkins.
A couple of players to keep an eye on going forward are forwards Magnus Paajarvi and Tyler Pitlick. Paajarvi started the season on the top line with RNH and Eberle, and will likely see the lion's share of time there providing he produces.  A player who may be down to his last few chances with the organization, he came in two years ago amid the same hype as Hall and Eberle, but has not lived up to it as they have.  This season provides him with a perfect opportunity to show Oiler brass he is the player they thought they were getting when they drafted him in 2010.
Tyler Pitlick's game progressed well last season and he had a strong second half which carried into very good post-season play.  Playing some wing and centre, the Oilers are hoping Pitlick continues his progression and takes another step forward.
Carl covers the Edmonton Oilers for THW as well as providing additional prospect coverage. Follow him on twitter @carlTHW, connect on Facebook or contact at carl.maloney@hotmail.com for questions, comments or if you're interested in him writing for you.