For years, the Central Division has been considered the toughest division in the NHL. There was concern that the Central downgraded following realignment having lost the 11-time Stanley Cup champion Detroit Red Wings to the Eastern Conference. Instead, the contrary has occurred.
The Chicago Blackhawks, Colorado Avalanche, Dallas Stars, Minnesota Wild, Nashville Predators, St. Louis Blues and Winnipeg Jets, which now make up the Central, have made it stronger than ever. Chicago highlights the division after winning the Cup last season, its third in six seasons.
The reason the Central is so competitive is because of the elite players on their respective teams that make highlight-reel plays on a nightly basis. Take a look at the top-10 players of the Central Division below.
10. Pekka Rinne – Nashville Predators
Rinne is the only goalie to make this list, and for good reason. The three-time Vezina Trophy finalist is the backbone of the Predators. Nashville's success is synonymous with how Rinne performs.
Last season, the 32-year old recorded 41 wins, second-most in the league, and became the fastest goalie to 30 wins since the shootout era, a remarkable feat.
When Rinne retires, he will go down as the greatest goalie in franchise history. Currently, he holds single-season organizational records in wins (43), goals against average (2.12), save percentage (.930) and shutouts (seven, twice).
At 6-foot-5, 204-pounds, Rinne is a marvel seeing an athletic big man between the pipes make sprawling, unrealistic saves regularly. More often than not, Rinne makes spectators say to themselves, "Wow, how did he do that?"

And let's not forget the Predators drafted Rinne in the eighth round (258th overall) in 2004.
9. Zach Parise – Minnesota Wild
Parise led the Wild in scoring last season for the second time in three years since joining the team in 2012-13. In 74 games, Parise scored 62 points (33 goals, 29 assists). The Minneapolis, Minnesota native's 33 goals ranked 10th in the league.
Not only is Parise an offensive force, the 31-year old is responsible defensively and is one of the most intelligent players in the game, as well. Last year, he set a franchise record for plus/minus by a forward (plus-21).
Parise is set to retire as a member of the Wild, having 10 years remaining on a 13-year, $98 million contract. In that time span, he is sure to make history for that franchise.
8. Roman Josi – Nashville Predators
Ranking Josi ahead of Parise and Rinne may be shocking, but that is because he is the most underrated defenseman in the game. Whether you knew it or not, the Bern, Switzerland native had a season worthy of the Norris Trophy, given to the best defenseman of the year.
Josi, 25, ranked fifth among all defensemen in scoring, registering 55 points (15 g, 40 a) in 81 games last season, and placed second among all defensemen in scoring after the All-Star break with 27 points (8 g, 19 a). In addition to excellent offensive numbers, Josi placed second in blocked shots (209) and fourth in average time-on-ice (26:28) among the entire league.
During the playoffs, however, is when Josi truly shined. Without his counterpart Shea Weber, who left Game 2 of the first round and did not return for the rest of the series with a sublexed kneecap, Josi was given the difficult task of shutting down the likes of Jonathan Toews, Marian Hossa and Patrick Kane of the Chicago Blackhawks and did a decent job at it. Josi had the highest average time on ice per game (31:36) in the playoffs.
After having a breakout season in his fourth year in the NHL, Josi is sure to get the recognition he deserves in the coming years.
7. Tyler Seguin – Dallas Stars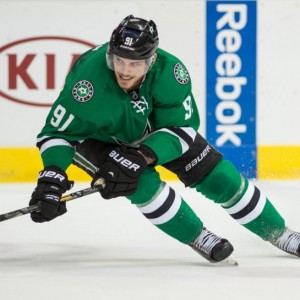 The Boston Bruins are now a distant memory for Seguin, having found tremendous success in the Lone Star State since being acquired via trade by Dallas in July 2013. In back-to-back seasons with the Stars, the Brampton, Ontario native has scored 37 goals. Seguin accumulated 77 points in 71 games last season, placing seventh in the league in scoring.
At only 23-years old, his potential is through the roof, and the Stars should be excited about that,
6. Vladimir Tarasenko – St. Louis Blues
Since entering the league in 2012-13, Tarasenko has been one of the most electrifying players offensively. The Yaroslavl, Russia native has unreal hands and a plethora of ways to put the puck in the back of the net.
Tarasenko's 37 goals and 73 points last season ranked fifth and tenth in the league, respectively. His 25 even-strength goals were third-best in the NHL behind only Steven Stamkos and Rick Nash.
Tarasenko, 23, has been a nightmare for the Central Division and is not going away any time soon. In July, the Blues and Tarasenko agreed to an eight-year, $60 million contract with the average annual value of a reasonable $7.5 million.
5. Shea Weber – Nashville Predators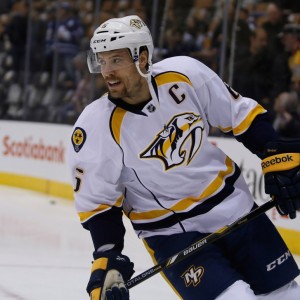 There is not a more intimidating player in the NHL than Weber. If the 30-year old is not hurting an opposition with his physical play, he is hurting him with his 108.5 mph slap-shot.
St. Louis defenseman Kevin Shattenkirk wrote this about Weber in an article for ThePlayersTribune.com:
Playing against this guy is not very fun. At all. There's nothing like being a defenseman standing in front of the net on the penalty kill, watching him take a big wind up. It's pretty insane. One time Shea's slapper hit me in the leg and it pretty much destroyed my shin guard. When I got back to the locker room at intermission it had a big crack in it. Thankfully, you don't even have time to think about being afraid because the shot is on you so fast. You have zero time to react. You only have enough time for your brain to think: Welp, if this hits me, it's gonna hurt.
Weber's 15 goals ranked tied-for-sixth among all blueliners last season. He placed fifth in the league in average time-on-ice per game (26:22), and since 2011-12, he has played the second-most minutes in the NHL. Also, Weber recorded an impressive 166 hits and 147 blocked shots in 2014-15.
Despite being an elite defenseman every year, Weber has still yet to win a Norris.
4. Patrick Kane – Chicago Blackhawks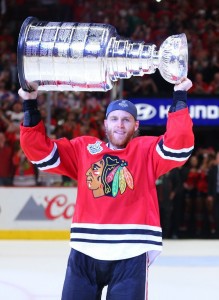 Having scoring success in the regular season classifies a player as "good," but having scoring success in the playoffs, too, classifies a player as "great." Kane is a great player, and his three Stanley Cup rings and 2013 Conn Smythe Trophy can attest to that. In 116 career playoff games, the 26-year old has 114 points (48 g, 66 a). This past playoffs, Kane led the league in scoring with 23 points (11 g, 12 a) in 23 games.
Despite missing significant time with a fractured left collarbone, Kane's 64 points (27 g, 37 a) in 61 games ranked second on the team in scoring behind only Toews.
Kane possesses crafty hands and a quick, accurate shot that is seemingly unstoppable for any opposing goalie.
This season, Kane will begin the first year of a huge eight-year, $84 million contract. For the Blackhawks' sake, hopefully Kane's ongoing rape allegations in his native Buffalo, New York amounts to nothing so he can live up to the contract.
3. Duncan Keith – Chicago Blackhawks
Keith is arguably the best defenseman in the league. The 32-year old just won his third Stanley Cup with the Blackhawks and was awarded this year's Conn Smythe, having racked up 21 points (3 g, 18 a) in 23 postseason matches. Those three goals were each game-winners, and his 18 assists led all skaters in the playoffs.
In 80 regular season games, Keith scored 45 points (10 g, 35 a).
Not only can Keith be an offensive presence, he is efficient defensively, too. Keith can effectively shut down opposing teams' top lines and can log large chunks of ice time with ease. In average time on ice, Keith ranked seventh in the league (25:33) for the regular season and second (31:06) for the playoffs.
2. Jamie Benn – Dallas Stars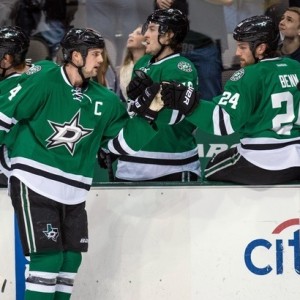 The best forwards in the league are the ones who can contribute elite numbers, while being tough and hard-nosed. Benn is just that type of player and is one of the many reasons he is respected by everyone in the NHL.
Benn, 25, played a majority of last season with a hip injury but was still able to win the Art Ross Trophy, given to the league's leading scoring, tallying 87 points (35 g, 52 a) in 82 games. Benn was red-hot in the final 12 games of the regular season, posting 23 points (12 g, 11 a), which ultimately played a huge factor in winning the scoring title.
RELATED: Recapping Jamie Benn's Unique Art Ross Season
In addition to fighting four times last season, Benn's 120 hits was a club high.
"There's nobody that wants to fight Jamie Benn," Dallas Stars general manager Jim Nill told The Dallas Morning News in May.
Shortly after the season ended, he underwent double hip surgery but is expected to be 100 percent by opening night.
1. Jonathan Toews – Chicago Blackhawks
Toews is the best captain in the league, and it is indisputable. He is not flashy, but he can get the job done. Toews led the team in scoring last season with 66 points (28 g, 38 a) in 81 games, ranked fifth in the league in plus/minus (plus-30) and won the fourth-highest amount of faceoffs (947). According to ESPN's Scott Powers, Toews had a plus-27 goal differential in five-on-five play over 104 total games this season.
It just seems like success follows Toews wherever he goes. Since 2010, the Winnipeg, Manitoba native has won three Stanley Cups and two Olympic Gold Medals. At 27, Toews has a lot of hockey left in him to win even more accolades.
Along with Kane, this season will be the beginning of their eight-year, $84 million mega-contract. Looking at Toews' track record, he deserves every cent.
Colin Fitts is a Nashville Predators staff writer for The Hockey Writers. You can follow Colin on Twitter, @FittsTHW, and e-mail him at 22fitts@gmail.com.