The Anaheim Ducks aren't a happy bunch these days. They've quickly found themselves in a 2-0 hole in their first round matchup against the Nashville Predators, and although the games have been close on the scoreboard, it's felt as though the Ducks are lagging far behind the Preds.
Now heading into a hostile Nashville environment after dropping the ball at home (twice), Anaheim finds itself in a must-win situation. Simply put, the track record for teams down three games to none isn't very inspiring.
How did it come to this? The Ducks seemed like the overwhelming favorites going into the series, yet they've looked anything but. The following three factors can shed some light on the matter:
1. Sloppy Defensive Play
The Ducks have seemed dysfunctional in their own zone. A lack of adherence to the basic tenets of defensive hockey has been a serious crutch, and it's afforded the Predators some glorious opportunities. Take this Nashville goal that came only 35 seconds into Game 1: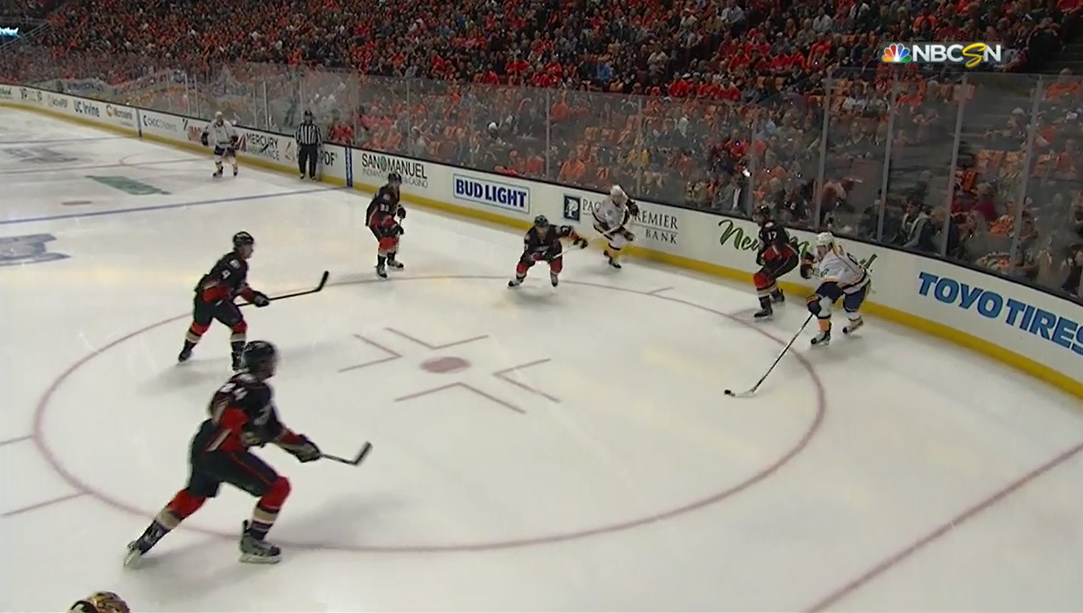 After the Predators recover the puck along the wall, every single Ducks skater on the ice is left staring at the puck carrier. That's an image that would give even a high school coach nightmares, so it must have absolutely haunted Bruce Boudreau. You can imagine what happens next: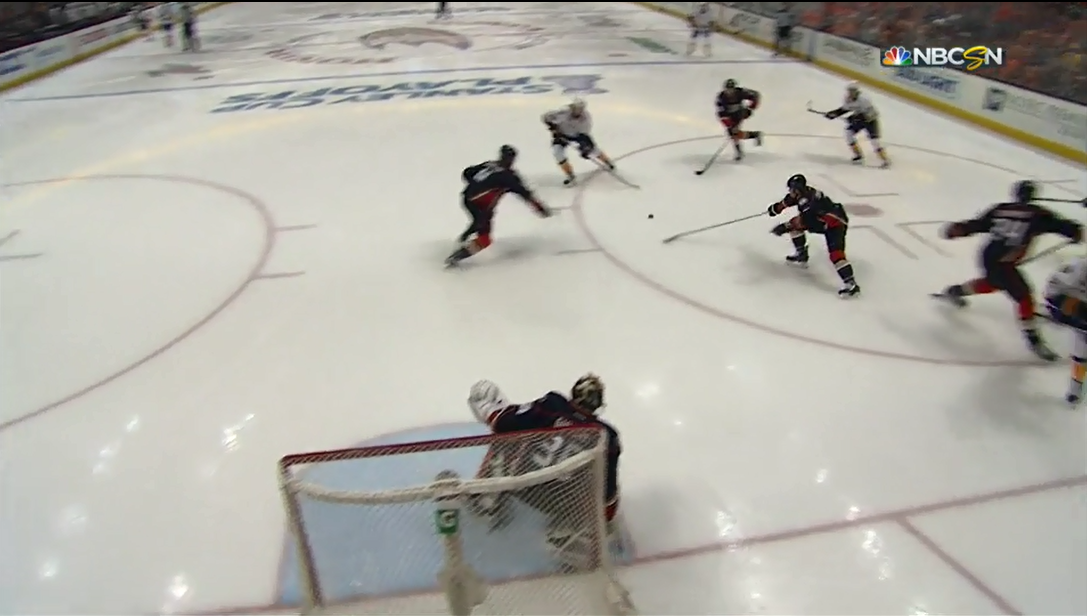 Johansen finds James Neal left all alone in the slot, not exactly the guy Anaheim would like to be left wide open in that area. Neal tallied 31 goals this year, and he makes no mistake. At face value, the goal just seems like a great play on Neal's part, as he slides into the open ice, but simple attention to detail from an Anaheim perspective could have easily prevented it. Plays like this one have been all too common for the Ducks, and it's a major reason why they trail in the series.
2. Nashville's Aggressive Forecheck
The Predators have employed an aggressive forecheck that's been giving Anaheim's rearguards fits, and has made zone exits extremely difficult. Peter Laviolette has tasked his forwards with getting deep into the Ducks' zone and harassing the hell out of them. While one forward is tasked with the puck carrier, the other lurks just below the goal line:
Nashville's Cody Bass pounces on an indecisive John Gibson, causing a turnover that nearly turns into a scoring chance. Miikka Salomaki (say that ten times fast), the other forward who's in on the forecheck , is so low in the zone that he's able to quickly get to the net and set a screen or corral a possible rebound. Anaheim did a little better job handling this scheme in Game 2, but it's still making them uncomfortable at every turn.
3. Sub-Par Goaltending
http://gty.im/518634990
John Gibson shouldn't shoulder all of the blame for Anaheim's start, but he simply hasn't made a positive impact. While his Nashville counterpart Pekka Rinne has posted a sterling .931 save percentage, Gibson has turned in a mediocre .900 mark. The Ducks are going to need a whole lot more from him if they hope to come back in this series, let alone win it.
Should he falter again in Game 3, Boudreau will have to seriously consider starting Frederik Andersen, who's gone 17-1-2 in his last 20 starts. It's a shame because Gibson had a very good rookie season, but the Ducks can't compromise a shot at a Stanley Cup to further develop the 22-year old.
Can the Duck come back in this series? Certainly. They've proven to be a resilient group all year. If they can clean up these three aspects of their game, there's reason to believe that they'll be playing hockey beyond the first round. You could say Tuesday's Game 3 kind of matters.
Felix Sicard is the Anaheim Ducks' Lead Writer for The Hockey Writers. Now in his third season of covering the team, he writes previews and recaps for all Ducks' home games, as well as weekly analysis pieces.
In addition to covering the Ducks at THW, Felix co-hosts SB Nation's Anaheim Calling: The Podcast, as well as hosting The Garage Hockey Podcast.
For consistent Ducks' content, be sure to check out his Twitter @Felix_Sicard.