Another heavy free agent signing period has passed and it has been another slow month for the Philadelphia Flyers. They made some additions to the big club by signing Dale Weise and Boyd Gordon, but the team didn't make any big splashes like the Oilers or Sabres.
Instead GM Ron Hextall played it safe with his limited cap space as he has in the past. However, it wasn't always that way. When Paul Holmgren was GM, the Flyers were one of the bigger players in the open market.
With a nice mix of Hextall and Holmgren signings since 2010, now is a good time to look back at five of the best free agent signings the Flyers have made since the turn of the decade.
(Note: 2016 free agent signings were not included since it's too early to tell how they'll do in the orange and black.)
5. Mark Streit
The former New York Islander was acquired and signed right before the start of free agency in the summer of 2013. He joined Vincent Lecavalier and Ray Emery in Holmgren's last free agent class that was supposed to help turn around the Flyers success in short order.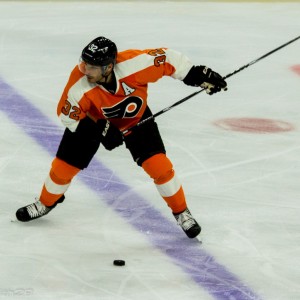 Streit was really the only one that helped do that. At first he was brought in as a second puck-moving defenseman behind Kimmo Timonen. He successfully did that in 2013-14, putting up 44 points in 82 games and helped the Flyers reach the postseason again.
The next summer, Streit was thrust into the veteran-leading role when Timonen spent most of the season on IR due to blood clots. He had his best year since 2008-09, finishing in the top ten of defensemen scoring with 52 points.
The Swiss native struggled this past season, especially after returning from surgery to repair a pubic plate detachment, but he was still counted on for plenty of minutes and leading a youthful d-corps.
Streit may have a high/fair-at-best cap hit at $5.25 million a season, which keeps him low on this list, but for the past few seasons he's been that valuable to Philly.
4. Michal Neuvirth
Steve Mason's been invaluable to the Flyers in net, but his biggest problem was games missed due to injury. Behind him was Emery, who was clearly declining after multiple hip problems.
To help solve that issue, Hextall signed Nuevirth, one of the better goalie free agents in 2014, to a two-year deal worth $1.625 million annually. The contract gave the Flyers one of the biggest cap hits among goaltending tandems, but if one missed stretches of time, the team needed a dependable duo.
Neuvirth gave Philly that last year, recording 18 wins in 32 games and a .924 save percentage. His biggest achievement, though, may have been his two wins, one a shutout, against his former team, the Capitals, in the playoffs.
The wins have now set up a fight in net for this upcoming season where Neuvirth and Mason will need to duel it out for the starting role.
3. Michael Raffl
Need someone for the penalty kill? Second power-play unit? Fourth line? First line? Raffl's your man.
Signed as an undrafted 24-year-old in 2013, Raffl quickly became a mainstay on the Flyers roster playing only two games in his career with the Phantoms.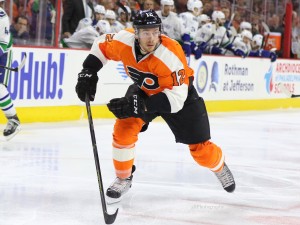 In 2013-14, Raffl was a bottom-six contributor chipping in nine goals and 22 points in 68 games. The next season, he found chemistry with Claude Giroux and Jake Voracek, nearly matching his 22 points in goals alone with 21.
This past season, the Austrian settled into a middle-six role with 31 points in a full season. Raffl doesn't drive a line by himself but he's a great complimentary player to any line.
He's done it with Giroux and Voracek, and last season with Sean Couturier and Wayne Simmonds. This upcoming year, he figures to slot in with the latter again in a top-six role.
Not bad for an undrafted player the Flyers nabbed from the second-highest Swedish hockey league.
2. Jaromir Jagr
Jagr played one season in Philadelphia, back in 2011-12, and yet all these years later, his effect is still being felt. Giroux and Voracek's tutelage under the playing legend has helped grow each player's game.
It's no coincidence that Giroux had his best year when Jagr was on his line and in his locker room or that Voracek exploded the season after spending a year with Jagr. Those lessons from a guy playing into his 40s were invaluable.
Besides that, Jagr had a decent year himself. The former Penguin and Ranger star returned to the NHL after three years in the KHL with mixed anticipations. He finished with 54 points in 73 games.
But the craziest part? Despite being called "old" at 39 then, he's put up better numbers since his lone season with the Flyers.
1. Michael Del Zotto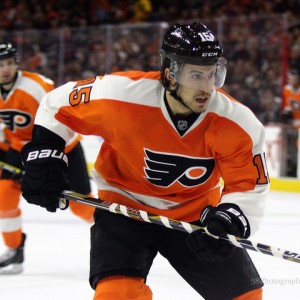 How often do teams try to find a top-pairing defenseman in free agency? Pretty often. Does it always work? No. Just ask the Oilers.
But how often does a team sign a defenseman that turns into a top-pairing one? Well, that's even rarer.
The Flyers were lucky enough to do that when they signed Del Zotto in August of 2014 after it was announced that Timonen would miss months with a blood clot. Signed to a one-year, prove-me deal, the former Ranger started slow, but quickly turned into a reliable blueliner in 2014-15.
After tough years in New York and a forgettable (at least Del Zotto hopes so) stint in Nashville, the 26-year-old found a comfortable home in Philadelphia where he put up 32 points in 64 games. The best part was he was inked to a $1.3 million deal.
But that deal ended in '15 and Del Zotto re-upped with the Flyers for two more years and had even a better season last year. His points took a hit, but Del Zotto played the best defensive hockey of his career as coach Dave Hakstol trusted him with more and more ice time.
It's obvious that Del Zotto would not be a top-pairing defenseman on other teams, and the Flyers would probably prefer that he wasn't on theirs either, but he certainly hasn't cracked under the pressure. With youngsters on the way, Del Zotto's role will diminish this year, but his presence will still be just as large.
Honorable Mentions
Matt Read – Reliable defensive third-liner. Would be on the list if his offense didn't completely dry up.
Nick Schultz – Nothing special, but veteran leader and good defensive presence. Signed for a year too long.
Max Talbot – Offensive boon in his first season in the orange and black, but that quickly ended and was traded shortly into his third year with the team.