Follow @LukasHardonk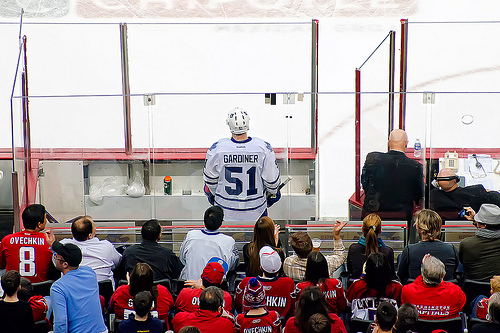 With every new NHL season comes a new crop of rookies who always make it difficult for the Professional Hockey Writers' Association to select a winner for the Calder Memorial Trophy. The class of 2011-2012 was no different with Adam Henrique, Gabriel Landeskog and Ryan Nugent-Hopkins named as finalists and Landeskog taking the honours in June.
The decision had to have been more difficult than choosing between those three, though. What about Toronto Maple Leafs first year sensation Jake Gardiner?
As a rookie who had just finished up his collegiate career and with just 10 AHL games under his belt, there weren't too many people who expected to see Gardiner in the blue and white of the Maple Leafs at any point during the 2011-2012 season. However, not only did he play for the team, he made it out of camp and held down a spot for the entire season.
Gardiner went on to have a very successful rookie season, leading all first year defencemen in points and finishing third in ice time among the same group. He also showed his swift skating ability and was one of the Leafs' offensive leaders from the blue line. This is just a small portion of what Gardiner was able to accomplish in his rookie season, making an improved campaign seemingly impossible for a 22-year-old sophomore playing in the world's largest hockey market. What many fail to understand is that it's not impossible at all.
Below are just four reasons (in no particular order) why you can expect Gardiner to excel even further during his second term in the National Hockey League.
Trade of Luke Schenn
Last season was a rough one defensively for the Toronto Maple Leafs. This was evident before we even reached the All-Star Break, when the team was still looking relatively strong while in the playoff hunt.
One of those who struggled the most was blue liner Luke Schenn, whose ups and downs had resulted in trade rumours circulating all around the youngster for much of the season. Those rumours eventually became reality when he was shipped to the Philadelphia Flyers in exchange for forward James van Riemsdyk. While general manager Brian Burke was certainly able to address a sizeable need up front for the Leafs, he was unable to follow it up by filling the void left on the back-end.
This just may be a good thing for sophomore Jake Gardiner, who now has the opportunity to become more of a top-four, possibly even a top-two guy on the Leafs' defence corps. Whether or not he will succeed with an expanded role has yet to be seen, but given the promise he has shown, there's plenty of reason to believe he will take it and run with it.
Change in coaching
Burke's decision to fire Ron Wilson as Leafs head coach and replace him with Randy Carlyle has been well-documented as a move that is likely to bring more structure to the Leafs' system, and create an atmosphere that will form a higher level of compete, ultimately favouring the goalies and defencemen.
It's also one that has been called more defensive and one that will eliminate the run-and-gun style, something that Wilson preferred and something that didn't mesh well with what Burke wanted. Unfortunately for Gardiner, this has made many look down on his own style of play as it's expected that he will no longer have the chance to take the puck and head up ice quite as much as he did under Wilson. As we all know, Gardiner has rather impressive offensive skills.
However, it may not be such a bad thing after all.
There's nothing about what Carlyle teaches that will completely eliminate Gardiner's opportunities to create offence. Instead, it will only minimize his chances and teach him to become a more well-rounded defenceman. How many times did we see Gardiner jump into the rush when he shouldn't have last season? Perhaps not that much considering he was a rookie, but still a few too many.
There's no doubt that in his second year in the league and under the guidance of a more defensive coach, Gardiner will have a greater chance of developing into more of a two-way defender.
Very humble and promising
Gardiner's aforementioned promise hasn't gone unnoticed by anyone in the hockey world. He's show flashes of brilliance in his role, a high level of compete, confidence and a willingness to stick up for his team; all four of which are traits that a player must show if he wants to make it in the NHL.
Even though he wasn't declared a Calder finalist, the NHL still rewarded Gardiner for his fine efforts during his rookie season by naming him to the all-rookie team. He became just the seventh Leaf to earn this honour─Wendel Clark, Felix Potvin, Kenny Jonsson, Sergei Berezin, Mike Johnson and Luke Schenn are the others.
He took this in stride, just as he did the Toronto Marlies' run to the Calder Cup Final.
"I think, as a team we just have so much confidence. We don't let ourselves to let down if we allow a goal early in the game. Like I said, we gain energy from our penalty killing. We had a power play goal tonight, too. That was a great goal by Hammy (Ryan Hamilton). Special teams are huge for us right now. …

"The way I saw it, it was kind of a second chance. Obviously nobody liked the way the Leafs season went and wasn't happy about it, too. I think coming down and playing for the Marlies was a good thing. I'm excited to get it going. We got a good team. We have a good chance to make a run for the cup here."
If anyone has the attitude to improve upon last season, it's certainly Gardiner. Some even say that he has the mentality to be a true leader in the NHL, but there's still plenty of time to discuss that.
Jake Gardiner's career with the Toronto Maple Leafs is very young, but it's also very promising. Now as a writer and you as the fans, it's time to sit back and watch the future carve out it's path in history.
Twitter: @LukasHardonk | Email: lukas.hardonk@gmail.com | Lukas' archive
For every Leafs article on THW, follow @THW_MapleLeafs on Twitter.
Check out Maple Leafs Central, a THW Network site.