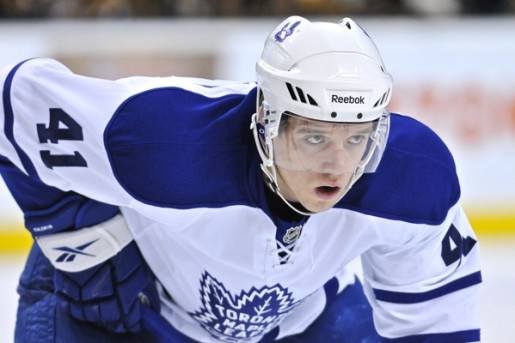 It's rare for an NHL team to find itself in the perfect situation at the trade deadline. As any fan of the Toronto Maple Leafs would tell you, it's rare to find their favourite team in any sort of perfect situation.
Every general manager dreams of the day when they are comfortably in playoff position and can still sell players to other teams to improve the future of the club without hindering his team's chances at qualifying for the post-season. This year, Maple Leafs GM Dave Nonis' dreams very well could come true.
Currently sixth in the Eastern Conference, three points inside playoff position, the Maple Leafs find themselves in a welcomed and seemingly unusual situation. Further extending the hopes of Leaf fans across North America is the fact that they play nine of their 14 games in March at the Air Canada Centre, where their record has been improving.
A mediocre 6-5-1 record at home is nothing to get too cheery about but there is no denying the fact that the Maple Leafs are improving their play in Toronto. An extended period at home like the one they have begun to embark on is likely to work in their favour when it comes to improving their record in Toronto as well.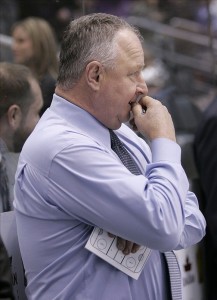 The Maple Leafs will also have a chance to improve their playoff chances if they are able to take advantage of playing four of their five road games in March against divisional opponents. They have gone 1-1-0 in those games thus far, leaving a realistic chance to win three of four with games against Boston and Ottawa yet to be played.
The Leafs' upcoming schedule, the strong play of James Reimer and Ben Scrivens as well as the surprisingly impressive play of certain players all have the team and city filled with confidence as we sit less than a month away from the NHL trade deadline.
If the Maple Leafs can continue on their current pace, they are sure to make the playoffs for the first time in two lockouts.
It's clear the Leafs are in a good situation right now but what about the future? What about beyond this season, perhaps even two or three seasons from now? As it turns out, the Leafs may be able to sell off some of their current assets that aren't necessary to have sitting around in order to improve the team's chances at success down the road.
These assets include Mike Komisarek and John-Michael Liles, both of whom have seen limited action this season. In fact, Komiarek even acknowledges the fact that a change of scenery is likely.
Mike Komisarek: "I've got to be ready for when an opportunity comes – when and where that is, who knows? We'll see how it unfolds."

— James Mirtle (@mirtle) March 3, 2013
Komisarek has played in just four games recording no points while Liles has only appeared in 15 recording six. They haven't been in the lineup at the same time since February 2.
It is well-known that Komisarek wouldn't fetch a very nice return ─ perhaps a late round draft pick ─ and according to Cap Geek, he would have to approve any trade the Leafs are able to come up with. Regardless, the Leafs would be better off moving Komisarek on or before April 3 if possible rather than waiting until the summer to buy him out. A late-round draft pick could turn into a late-round surprise, giving the Leafs a player to bring into the NHL down the road.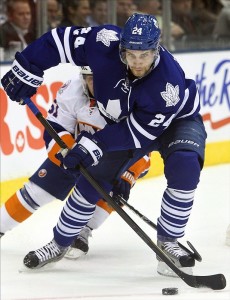 Then there is Liles, who, unlike Komisarek, hasn't been a scapegoat during his time in Toronto. With six points and a plus-two rating this season, Liles has played relatively well. The problem is that he has fallen victim to head coach Randy Carlyle's coaching system, one that is more defensive than what Ron Wilson employed during his Toronto tenure. With that, Liles simply doesn't fit anymore.
If the Leafs elect to move Liles, which would be a wise choice given that it makes little to no sense keeping a $3.875 million salary cap hit around when the player is not playing, they could bring in a half-decent return.
Although Nonis says he isn't interested in trading neither Tyler Bozak nor Clarke MacArthur, there have been rumblings of trade rumours involving them and Nikolai Kulemin. The reason for this is the common yet false belief that Nonis will need to make room for Joffrey Lupul to reenter the lineup once he is ready to return. However, we can be quick to shoot down these rumours when we look at how the Leafs' depth chart is likely to shape up when Lupul is ready to play again.
van Riemsdyk – Grabovksi – Kessel
Lupul – Bozak – Kulemin
MacArthur – Kadri – Frattin
Komarov – McClement – Orr
—
McLaren – Steckel
It's clear the Leafs can fit all three of Kulemin, MacArthur and Bozak in the lineup while placing Lupul in the top-six at the same time. The only issue that might arise is the demotion of either Frazer McLaren or Colton Orr. This would surely concern the tough guy supporters, who haven't been afraid to share their opinion regarding Carlyle's handling of the bottom-six over social media.
The Maple Leafs don't have to sell any of MacArthur, Bozak or Kulemin, nor should they. However, as the team sits in playoff position, they will have the ability to create trade possibilities with Mike Komisarek and John-Michael Liles.
With that, Toronto Maple Leafs GM Dave Nonis is in the perfect situation as the trade deadline approaches.
Twitter: @LukasHardonk | Email: lukas.hardonk@gmail.com | Lukas' archive
Visit The Hockey Writers: Maple Leafs Edition, 'Like' it on Facebook and follow on Twitter.
Check out Maple Leafs Central, a THW Network site.