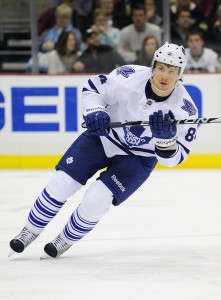 Now that the National Hockey League's 2012 trade deadline has come and gone, we can finally begin to focus on the stretch drive that will see multiple teams duke it out for the few playoff spots that remain in both conferences. First, though, we must look back and reflect on what went on during the day that was.
Once again, Toronto Maple Leafs general manager Brian Burke and his staff were faced with a tremendous amount of pressure to pull through and complete a trade that would fill a hole in the Maple Leafs' lineup that the team has suffered from for years: a first line centre. That, however, did not materialize. In fact, Leafs management remained relatively quiet.
Let's look back at what happened.
The trades
To Toronto: Forward, Carter Aston
To Tampa Bay: Defenceman, Keith Aulie
——
To Toronto: Defenceman, Mark Fraser
To Anaheim: Forward, Dale Mitchell
Departures
When the Maple Leafs first acquired Keith Aulie from the Calgary Flames in January of 2010, they were excited to have brought in a large defence prospect who was, at the time, expected to become a top-four defenceman in the NHL. However, Aulie's development hadn't gone according to plan.
During his time the NHL, Aulie had streaks where he was impressive, but struggled too often to hold a regular spot on the Leafs' roster. Even playing with Dion Phaneuf, he wasn't able to manage more than four points in 57 games, although he wasn't known as much of an offensive player anyway. This, among other facts, made him expendable as the deadline approached.
Dale Mitchell, whom the Maple Leafs drafted in the third round, 74 overall in 2007, was never able to stick with the AHL's Toronto Marlies for an extended period of time. The most amount of games he ever played for the Marlies in one season was 49; even then he only managed five goals and eight assists. It quickly became obvious that Mitchell was not going to become an everyday NHL'er, at least not with the Maple Leafs.
New comers
Neither Mark Fraser nor Carter Ashton are known as players who are expected to jump into the Leafs' lineup and play a key role in the team's charge towards a playoff berth. However, they are both good players.
Fraser, 25, has plenty of NHL experience, having played in 98 career regular season games for the New Jersey Devils. With just eight points in his career, it's clear that Fraser is not one to provide offence from the blue line. However, he is a depth guy who can enter the Leafs' lineup when needed due to injury, a transaction or any other reason.
In Ashton, the Maple Leafs receive a young forward prospect who has experience on a large stage. That is, of course, the 2011 World Junior Hockey Championship, where he suited up for Team Canada and notched a goal and two assists.
A scouting report on Carter Ashton:
"Ashton plays a meat and potatoes pro style game that should translate well to the NHL. He plays a solid north-south game and will go into the high traffic areas to score goals and make plays. He has a long frame that is just beginning to fill out and is exceptional at protecting the puck down low in the offensive zone. He is deadly as a finisher from anywhere below the dots in the offensive zone. In terms of intangibles, Ashton is a very hard worker who had the best VO2 max rating at the Scouting Combine in 2009.

"His offensive game is still in its infancy and he's just learning how to use his linemates to create scoring chances. As a consequence, he needs a playmaking centerman to truly be effective offensively."
Review
The Maple Leafs didn't acquire the big, flashy player that many fans had hoped for, but that doesn't mean they made bad decisions. Burke was smart to remain away from the fire, which ultimately never blew up into something big, meaning he was able to avoid being pressured into a trade that would negatively affect the Leafs' roster.
At this year's deadline, Burke was able to acquire a depth defenceman who can fill in at the NHL level here and there, as well as a young prospect who has the potential to develop into a bottom-six forward.
The only question is, when will fans be treated with the player they want? The answer to that question is just another reason why the Leafs were smart to remain somewhat quiet on deadline day: Save the big deals for the off-season to avoid a high chance of overpaying to get the player you want.
Needless to say, the Maple Leafs put themselves in a rather interesting situation when it comes to the 2012 Entry Draft. Most notably, of course, is the future of Mikhail Grabovski.
Final verdict
What sticks out the most is that the Maple Leafs didn't disrupt chemistry on a team that is battling for a playoff berth and they made sure to play things safe. That, along with the depth player and forward prospect they received in return for Aulie and Mitchell, is enough to declare the Toronto Maple Leafs as a winner of the 2012 NHL trade deadline.
Ashton scouting report obtained from BoltProspects.com.
Twitter: @LukasHardonk | Email: lukas.hardonk@gmail.com | Lukas' archive
For every Leafs article on THW, follow @THW_MapleLeafs on Twitter.