The most games Shayne Gostisbehere has played in a professional season is 86, which he hit last year split between the Philadelphia Flyers and Lehigh Valley Phantoms. Nearly every NHL minute was tantalizing as Gostisbehere turned in a Calder Trophy runner-up season.
But before last year, the most the Florida native played was seven pro games before an ACL tear closed the 2014-15 season for him. Before that, he never played more than 42 collegiate games with Union College.
And the ACL tear isn't Gostisbehere's only major injury. Right hip and bilateral lower abdominal surgery were required after the Flyers' season halted with a first-round loss to the Capitals this past year.
This year, the Flyers will need the 23-year-old to have the same impact he did last season, but with past injuries, limited games in the past, plus some other factors, could Gostisbehere face a tougher 2016-17 season than his rookie 2015-16 campaign?
The World Cup
Despite facing the most games in a season since he began college and at against a higher rate of skill and strength than ever seen before, Gostisbehere didn't slow down much toward the end of the season.
He posted four points in the last five regular season games, but only two points in six postseason games. It's probably fair to chalk that up to his injury, stifling playoff defense and literally being the only offensive defenseman for the Caps to target in the series.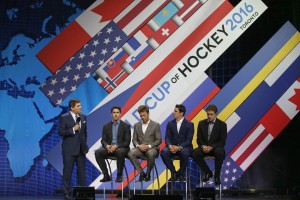 Surgery and healing time may have kept Gostisbehere from some offseason training, but he told Joe McDonald of ESPN that he had been skating for the past few weeks in early August. The issue this year is that the World Cup of Hockey will force the defenseman back early and tack on some extra games onto his schedule.
Coming back from surgery after a rookie season then having the summer cut even shorter by playing top-tier international games would be hard for any player. It may be even tougher with Gostisbehere's previous limited playing time.
Gostisbehere is likely to see a third-pairing, power-play role with the team so his workload shouldn't be too huge. Plus, the pre-season playing time should help him get ready for the start of the NHL season.
Then there's also the fact that he's only 23-years-old. Now's the time when his body can handle 10 more games a season. It isn't ideal, but the World Cup shouldn't be the nail in the coffin.
Ivan Provorov
If the stud rookie defenseman makes the Flyers, as many are predicting, it should actually help Gostisbehere a lot. The Russian should take some of the puck-moving responsibilities and could man the second power-play unit giving the team another weapon.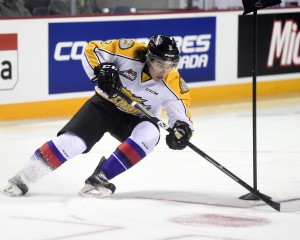 However, Gostisbehere was given easy minutes last year so he could be worked into the NHL game slowly. If Provorov makes the team, the 19-year-old rookie will definitely eat into those easy minutes over the 23-year-old with a year under his belt.
It's not like Gostisbehere struggled against those players, but there's a difference between playing Valterri Flipulla and Tyler Johnson. That may cause a tough transition period for Gostisbehere initially.
However, Dave Hakstol is good at reading his players and understanding what matchups his players would excel in. Also, Provorov projects to be an excellent two-way defenseman. It's possible he starts taking tougher minutes halfway through the season.
Sophomore Slump?
No one can really identify what causes a sophomore slump. It happens to some players and other times it doesn't happen at all. Several of the factors detailed above come into play, for sure.
In the past, it happened to Flyers' Mike Richards, Jeff Carter and R.J. Umberger all in the same season when they were taxed with too much responsibility on a bad team. However, they all rebounded.
It happens more often to defenseman, though. You have some like Morgan Rielly or Seth Jones who have come back nicely and others like Luke Schenn, who could never hit the potential shown in his rookie year again.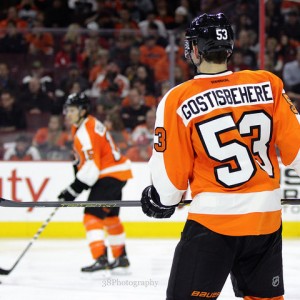 Lately, though, sophomore slumps have become less common. With an improved, more NHL-similar game and conditioning in juniors and college, plus plenty of international competition players are more ready for the perils of the NHL than ever before.
Gostisbehere will face several inevitable factors that could cause a sophomore slump. Individually they seem simple to conquer, but when you put extra games, tougher minutes, injuries and lack of NHL experience together it seems much more difficult.
The good news is that Gostisbehere showed Flyers fans often last year that challenges don't bother him much and he moves at the same speed – or faster – than the NHL does.
Wes Herrmann graduated from Penn State with a bachelor's degree in journalism in 2014. He used to write hockey for Cardiac Cane and Broad Street Buzz and has loved the game since birth. Follow him on Twitter at @Wes_Herrm or contact him at wherrmann421@gmail.com