Ducks and Habs make a trade following Gibson's injury
A day after seeing a little trade frenzy in the NHL, the Ducks and Canadiens complete a trade exchanging AHL players. The Ducks send LW Max Friberg (23) to Montreal for G Dustin Tokarski (26).
At the beginning of the third period against the Maple Leafs, it appeared (and this is pure speculation) that newly-named All-Star G John Gibson had some malaise in his knee when Leafs C Nazem Kadri fell into it him. The injury is deemed as day-to-day, but speaking from experience as I am currently rehabbing from surgery on a torn ACL and meniscus, knee injuries, no matter how serious they are, always raise a lot of concerns right of the bat.
I'm sure everyone on the Ducks has envisioned the worst case scenario, as you're looking at a return in nine months if it is the case. Again, this is simply speculation.
Now Back to the Trade
So what does each team get?
The Ducks get a 26 year-old AHL goaltender in Dustin Tokarski that gives them organizational depth. He has decent NHL playoff experience when he filled in for Carey Price in the Eastern Conference Final in 2014. He has also won at every level before reaching the NHL. He won the Memorial Cup with the Spokane Chiefs in 2008, the 2009 World Junior Ice Hockey Championships with Team Canada and backstopped that 2012 Lightning star-studded farm team, the Syracuse Crunch, to the Calder Cup.
Tokarski is a smallish goaltender by today's standards. He's listed at 5'11". He covers the bottom the net very well and doesn't give up too many weak goals. He sometimes has a hard time tracking high shots from the point and has been known to swim in his crease from time to time.
THANKS FOR EVERYTHING TICKER TOKARSKI! Those saves in that ECF were amazing. https://t.co/eyxRBaXDFK

— Trevor Schmidt (@TrevCash8) January 7, 2016
There is no chance Tokarski will battle anyone in this league for a number job in the NHL, but he is a serviceable goaltender with good winning experience. He can step in and give a team good minutes for a game or two, but do not expect him to steal you a game.
As for the Habs…
The Canadiens get their hands on Max Friberg, a 23 year-old 5'10" Swedish left winger that also had some success at the World Juniors in 2012 where he had nine goals and 11 points in six games. He's a good speedy two-way forward with some offensive upside. He is in his third full season in the AHL. He is currently fifth in points for the San Diego Bulls with five goals and 17 points in 25 games. He has played six games in the NHL recording a minor penalty and a -1 rating. He shoots right and tends to play on his off wing. He won't fill the scoresheet, but he will work hard, put his team first and will be a pest to play against in all three zones.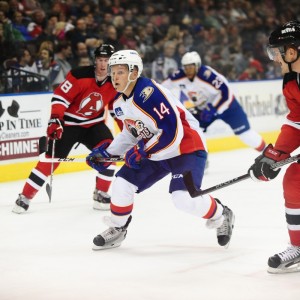 Who Wins This Trade?
The Habs win this trade just because they got a player that could eventually play for the club in exchange for a goaltender that would find himself in the ECHL once Carey Price is healthy and all the dominos fall into place.
Great knowledge on all this hockey, Marc was on-air at TSN 690 for two years in Montreal.