Kids fall in love with hockey at different times and in different places.
For Trent Vogelhuber the love of hockey was ignited at the Kent State Arena when he was two-years-old. Yes, you read that right. Trent Vogelhuber was two-years-old when his parents realized their son was destined to be a hockey player.
Vogelhuber's older sister was figure skating at the time and during an event Vogelhuber went missing. Knowing Vogelhuber was unable to open the doors to the common area, his parents began their search inside the rink where his sister was skating. After a few minutes of being unable to find him the search expanded to the other areas of the arena.
Was he in the bathroom?
No, not there.
Let's check the common area.
No, not there either.
How about the skate rental area? Maybe someone has seen him.
Nothing.
Vogelhuber couldn't possibly have gotten into the other rink in the arena. Right?
The Vogelhubers walked into the second rink to see if maybe, just maybe, he was there. Upon entering the arena, they immediately scanned the stands and there he was watching the Kent State hockey players. In that moment, they knew they had a little hockey player, destined for greatness, on their hands.
The Vogelhubers continued to allow Trent to watch the Kent State hockey team play whenever they were at the rink.
He would watch the players. He was just intrigued.

Dawn Vogelhuber – Mom of Trent Vogelhuber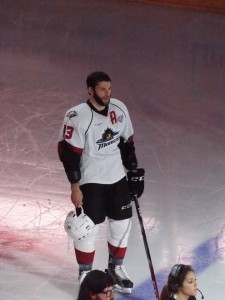 The Importance of Fundamentals
Eventually they agreed Vogelhuber could play hockey. However, there was a catch. He had to take "Learn to Skate" classes. For a year and a half, Vogelhuber took figure skating classes before starting in the local hockey program at the age of 5.
Little did the Vogelhubers know how much this would help their son along the way to reach his dream.
At this level (AHL and NHL) that's one of the things they look for, quality in skating. It's one of the things they always look for. We've learned this along the way. Every scout or coach who has watched him says that his best assest is his skating.
The Vogelhubers wanted to make sure their son continued to understand the importance of the fundamentals. So, for five years they sent him to a hockey camp in Okinawa Valley, BC, where on the first day there were no sticks or pucks allowed. The first day was intense but it taught the players the value of being a good skater.
Parents would complain about that but I would be like 'No, you have to be able to skate.' If you can't skate there is no point in being out there.
Unfortunately, the value of fundamentals is not something every parent instills in their children. There was a time when Columbus hockey wasn't as up and coming as it is now.
We were worried about safety because there were people who just wanted to hit him.
While playing for St. Charles, a lot of kids Vogelhuber played against could barely skate. His parents were worried he would be seriously injured. The Vogelhubers began their hunt for a program that would protect both his body and his future.
Being a Pioneer for Columbus
The Vogelhubers traveled North America trying to find a program that would work for their son. Frustration was starting to kick in.
Little did they know there was man in Dayton who would help change the youth hockey scene in Columbus.
Ed Gingher, the son of the Dayton Bombers co-founder Bud Gingher, was starting a AAA program in conjunction with Doug MacLean. This team would later be named the Ohio AAA Blue Jackets.
For the first year of the program the Vogelhubers and two other families would carpool to Dayton for practice. Why would someone travel over an hour to play hockey? They bought into Gingher's vision and dreams. They had faith that their son made the right decision.
They got their butts kicked the first year, but the parents were okay with it.
How could they be okay with watching their kids consistently lose? They've spent a lot of time and money to come to this program. Yet, here they are getting their butts handed to them almost every weekend.
How could it possibly be okay?
Dawn Vogelhuber explains it better than I ever could.
So many hockey parents are so upset when they lose. Are they playing for the best team? Do they have a winning record? It does not matter. If you kid is good, he is good no matter where he is at. We are great examples of that because Trent was on a losing team. We were playing good competition. That's the trick. Are you playing good competition where you are going to be seen by everyone. People that matter will find you if you are good.
When Junior year rolled around the Ohio AAA Blue Jackets moved to Columbus making for a much easier commute. Things began going well for Vogelhuber. The hockey world was starting to take note of him and his team. Unfortunately, the last game Vogelhuber would play before the 2007 draft was on New Year's Eve.
Vogelhuber was injured and needed surgery. He watched his dreams slowly slip away.
Fast forward five months to the 2007 USHL Draft.
Vogelhuber was drafted 5th overall. The family was shocked. Maybe his dreams were still a reality. It just might take a little longer to get there.
Fast forward again to the 2007 NHL Draft.
Even though Vogelhuber was drafted high in the USHL draft he thought there was no chance of going in the NHL draft. Instead of going to the draft, which was taking place in Columbus, Vogelhuber decided to spend the day out on the lake with his friends.
Then fate happened.
Ed called me and said "They're going to take him," so I called him back and said you have to get there asap. He's driving there with his buddies. I'm driving with his suit. We pull into the parking lot changing. We get there and Hitchcock was there. We didn't know how this whole thing works. It was crazy. Then they shove the microphone in his face  and in our face. We were shocked but Ed was there and he's continued to be there. It was a big moment for us.
It wasn't just a big moment for the Vogelhubers. It was a big moment for the growth of hockey in Columbus. Vogelhuber was the first player from Columbus to be drafted by any NHL team. The 2007 draft changed the landscape of youth hockey in Columbus.
Our kids used to leave and go elsewhere. Now people are leaving and coming to us. I think a lot of his legacy. He really planted the seed. Now it's in fruition. Coming from Pittsburgh, which is a hockey hotbed, and to see it grow in Columbus is incredible. I'm so proud. I'm so inspired by my kid to lead the charge and for him to play here it's the best.
So pumped for @tvogelhuber on winning the @TheAHL #CalderCup. So earned and well deserved!

— Ed Gingher (@ed_gingher) June 12, 2016
Vogelhuber has paved the way for youth hockey in Columbus since day one. Kids all over Columbus look up to Vogelhuber because of his hard work and dedication to the sport they love. The moment he lifted the Calder Cup over his head they realized someone from Columbus could have success in hockey. New dreams have begun to take form and it's all because the Vogelhuber's believed in their son's dream.
This has to be their dream. It can't be your dream. It has to be child driven not parent driven. We always supported him but it was always his dream.