By Wayne Whittaker, Boston Bruins Correspondent
Do you remember Rob Tallas?
How about Blaine Lacher? Bill Ranford? Jon Casey? Jim Carey? John Grahame? Hannu Toivonen? Jeff Hackett? Steve Shields?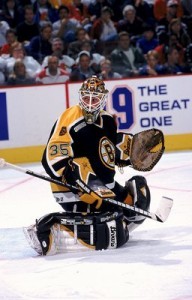 I know, I know. Dark memories. I'm very sorry to have just put you through that. But apparently, there are people among us who have no memory of just how embarrassing the goaltending in Boston had been for large portions of the past two decades.
Sure, there have been exceptions. Byron Dafoe had a pretty good run, as did Andrew Raycroft for that one year. And of course, Tim Thomas. But the post-Moog/Lemelin era of the early 90s through the mid-2000s was a very spotty and fragile period for Boston netminders.
Tim Thomas really did a number on the confidence of Bruins fans. Beyond the occasional weak goal, his reign from 2007-2011 is one of the best in franchise history: Two Vezina trophies, a William Jennings trophy, Conn Smythe award, and Stanley Cup.
So Thomas departs, Tuukka Rask takes over the starting job and posts a 1.92 goals-against average, .928 save percentage, 14-4-3 record and two shutouts. Obviously fans then fire up their cell phones and scream at some radio DJs for 10 minutes about how the Bruins should trade Rask.
Wait, what?
No seriously. This is a thing that is apparently happening. The 20-6-3 Boston Bruins have occasionally lost frustrating games this season, some in baffling fashion, and some fans are pointing the finger at Rask.
Nevermind the 22nd ranked powerplay, 12th ranked offense, spotty defense or the mounting injuries. These fans are looking right past those explanations, and are insisting that Rask is the problem.
In his losses, Rask has averaged a 3.57 goals-against average. That GAA is still better than the season averages of Scott Clemmensen and Brian Elliott, and is pretty close to the work of Miikka Kiprusoff, Jose Theodore, and Steve Mason.
In his wins, Rask posts a 1.14 GAA. He's never given up more than 2 goals in a Bruins victory this season.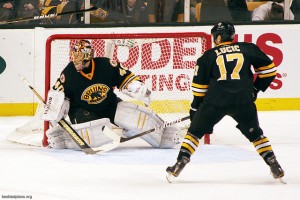 Rask has given Boston the chance to win far more often than he's robbed them of that opportunity. The Bruins lost one of the best goaltenders on the planet to conspiracy theories or whatever, and have been able to rebound without any hiccups or set-backs. That's remarkable.
Anton Khudobin, to his credit, has been outstanding as well. So good, in fact, that he'll probably be a starting goalie on another NHL team next season. He won't be the starter in Boston, because that job belongs to Tuukka Rask.
The 'Stanley Cup Of Chowder' blog has further evidence of Rask's greatness, if you so desire.
The truth is that Rask won't gain the trust of some fans until he carries the team on his back for a playoff series. The 2010 Philadelphia Flyers comeback is still on the mind of skeptics, and until he makes that timely save in the third period of a game seven, the skeptics and critics will refuse to be silent. Which is unfair to Rask, but is also expected.
"I mean it's in the past. As I've said before, we won the whole thing the year after," Rask said, following Boston's last game against Philadelphia. "Things happen in hockey. For a goalie, if you start thinking that certain matchups are better for you than the others than you've lost half the battle. It was just a game like any other."
Don't let the calm demeanor fool you, Rask is a fiery competitor who definitely has something to prove to his doubters this spring. The 26-year old hasn't had a taste of post-season play since May of 2010, and if his regular season is an early indication, doubters may not have much to call-in and complain about in weeks to come.
—