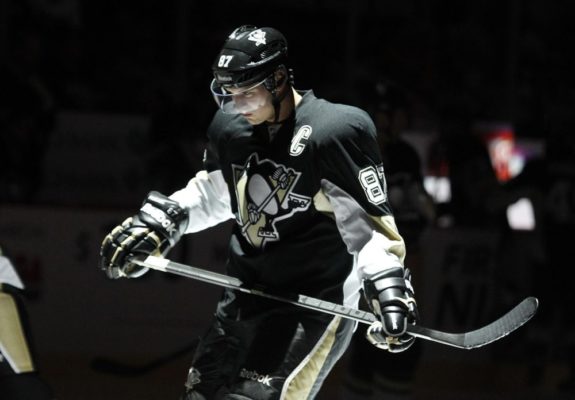 Now tonight is when fantasy hockey becomes reality. We took the poem and twisted it towards a fantasy slant. Hopefully there is a bit of humor mixed with a dash of bold predictions. Are you ready?
Twas The Night Before Fantasy Hockey
Twas the night before Christmas, when all through the house
Not a creature was stirring, not even Gary Bettman's mouse.
The stockings were hung by the chimney with care,
In hopes that the NHL soon would be there.
The children were nestled all snug in their beds,
While visions of hat tricks danced in their heads.
And mamma in her 'kerchief, and I in my cap,
Had just rattled our brains over a fantasy nap.
When out on the ice there arose such a clatter,
I sprang to the computer to see what was the matter.
Away to the monitor I flew like a flash,
Turned on the television and threw up the sash.
The moon on the chest of the new-fallen right wing.
Gave the lustre of a champion's trophy to objects of bling.
When, what to my wondering eyes should appear,
But a Sidney Crosby, Henrik Lundqvist, and eight tiny defenders here.
With a little old GM, so lively and slick,
I knew in a moment it must be Jonathan Quick.
More rapid than Kings his pucks then came,
And he whistled, and shouted, and called them by name!
"Now Schneider now, Thomas! now, Niemi and Hiller!
On, Rask! On, Luongo! on, on  and Miller!
To the top of the crease! to the top of the post!
Now crash away! Dash away! Dash away most!"
As dry leaves wither before the Wild and Hurricanes fly,
When they meet with a brick wall, pie to the sky.
So up to the fantasy Sunday the shooters they flew,
With the Zamboni full of pucks, and St Patrick too.
And then, in a twinkling, I heard on the roof
The fantasy team about to once again go poof.
As I drew in my head, and was turning around,
Down the chimney St. Marty came with a bound.
He was dressed all in goalie gear, from his head to his foot,
And his fantasy career all fallen apart because of the Schneider's boot.
A bundle of hockey sticks he had flung on his back,
And Parise's disappearance, no late goals from his sack.
His career was at at twilight, so many were more steady.!
His numbers blew up, yet Lundqvist was not ready!
His fantasy team would rise, his Devils would grow,
And the sound of opponents who would eat some crow.
The focus then shifted to the Southeast,
Where Tim Thomas would ask for Peggy….he said three weeks.
Then onward to Tampa where we saw Stamkos,
But Bishop shrunk, his numbers near comatose!
Fantasy hockey leagues tried to go on,
And then the great Sidney Crosby finally was gone.
That injury ninja got him with a banging of his head,
Owners felt the fee as Uncle Gary and so many had plenty to dread.
It would only get worse as the waiver wires wouldn't work,
And F all the goose eggs then glared at a jerk.
And there was Bryzgalov feeling like he was hosed.
When Mason and Emery played like they were just closed!
It was a tough fantasy year as the ref blew his whistle
Another goal was lost on someone's else blown pistol.
But I heard him exclaim, as he drove out of sight,
"Happy fantasy hockey season to all, and to all a good-night!"
---
As October is here, I wanted to wish everyone a happy hockey season as at long last, it begins tonight!
Simply a hockey writer who is a jack of all trades. No question is too big or too small and in fantasy hockey there is no such thing as a stupid question. Now a proud, accredited member of the FSWA. I am also a New Jersey Devils lead writer, prospects writer, humorist, and so much more. You can find me on Twitter at @ChrisWasselDFS