This past weekend, University of North Dakota walk-on goalie Matt Hrynkiw started his first hockey game in almost three years.  Hrynkiw's last official game was on April 12, 2013, when he was a member of the Humboldt Broncos of the Saskatchewan Junior Hockey League.
Hrynkiw came to UND as a depth/practice goalie at start of the 2013-14 season. During the first two seasons at UND, Hrynkiw practiced but never played in a regulation game. Not once. In the previous two seasons, Hrynkiw has played less than 10 minutes during exhibition games.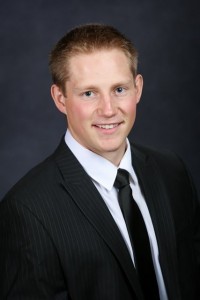 Hrynkiw's hard work finally paid off. Last Friday, at the end of the second period, UND starting goalie Cam Johnson went down with a lower-body injury.
In a story line that resembles the former Notre Dame Football player Rudy Ruettiger.
Hrynkiw stepped on the ice for the first time to start the third period of Friday's game against the Bemidji State University Beavers.  However, this wasn't for a few meaningless throw away plays at the end of a game.
The stage was set; UND was the visitor's in a hostile arena and the score was 4-2 with UND leading. The Beavers were pressing and smelling blood, but Hrynkiw stood his ground.  Hrynkiw stepped in and stopped 10-of-12 shots, securing a much-needed tie for the UND hockey team.
Hrynkiw was asked if he was nervous getting in the first official game action, "Little bit for sure," Hrynkiw said. "More of the fact that I hadn't seen a puck for 50 some minutes or whatever. It's always a little nerve-wracking getting a feel for the biscuit in the middle of the game."
Hrynkiw got the win on Saturday night stopping 17-of-19 shots. Hrynkiw finished the weekend  1-0-1, with a 1.72 GAA and a .879 Sv%.
Players Not Shocked with Hrynkiw's Performance
While the fans might have been surprised with Hrynkiw performance, his fellow teammates and the coaching staff wasn't.
"No one deserves that more than he does," senior forward Drake Caggiula said. "He's here every day early, stays late and works hard every day. When you talk about the North Dakota culture, he's the first guy you think of on our team.
"He's doing all the extra things. We wanted to win it for him. It's a very special moment for him. He's got that job right now. That's his job to be the number one. We got a couple of injuries. He's opened up his arms and taken any role that's been given to him. Tonight, he did it again."
Congrats to @30_rinks on his first collegiate start and first collegiate win. Repping #30 in style.

— Jake Brandt (@JakeBrandt30) October 18, 2015
"He came in and played big for us," freshman forward Brock Boeser said. He's been doing well in practice and really stepped up tonight.
UND head coach Brad Berry was very complimentary towards his hard working, walk-on goalie.
"I thought he did an excellent job," Brad Berry said. "Probably not the goals that he wanted to let in early. Probably wanted one or two of those back. I thought he came back extremely hard.
"He made some tough saves in the third to keep us in the game. Again, really proud of the way he played. If anyone deserves it, it's him. Being him every practice, every workout. He's there and he's working hard. You kind of like to see those guys chance to get an opportunity to have success."
Hrynkiw won't have much time to savor the moment. Both goalies ahead of him on the depth chart are still injured and won't play this weekend. But that probably won't phase the junior walk-on goalie Saskatoon, Saskatchewan.