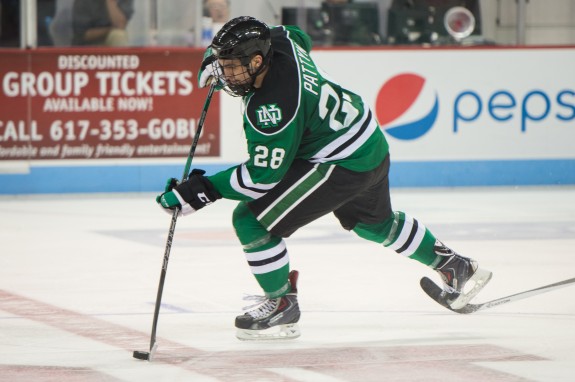 Today, the University of North Dakota announced that senior forward Stephane Pattyn will be the team captain for the 2014-15 season. If you've followed the UND hockey team for the past three seasons, this move is a no-brainer.
Last season, the Ste. Ann, Manitoba native had a career high in points with (7g-9a—16pts) in 42 games. The junior forward also had two multi-point games during the 2013-14 season, a career high.
GRAND FORKS, N.D. – University of North Dakota Head Men's Hockey Coach Dave Hakstol announced today that rising senior forward Stephane Pattyn has been named team captain for the 2014-15 season. In addition, Hakstol announced that classmates Connor Gaarder, Mark MacMillan and Michael Parks have been named assistant captains.

Pattyn, affectionately dubbed "The General" by his teammates, served as an assistant captain as a Junior in 2013-14. He played in all 42 games and established career highs in points (16), goals (7), assists (9), power-play goals (3) and plus/minus (+10). The Ste. Anne, Manitoba, native has missed just one game in his collegiate career and will enter his senior year as UND's active leader in career games played with 125.
Pattyn a natural born leader
Pattyn is respected and admired by his teammates. During his freshman season, head coach Dave Hakstol recognized his leadership qualities.
"He's a natural-born leader," Hakstol said of the 21-year-old native of Ste. Anne, Man. "There's no pomp or circumstance to him. What you see is what you get." (Winnipeg Free Press)
Pattyn who's also fluent in French, is a well-spoken leader and seems to say the right things at the right time.
This past season, UND started the season slow and had an unimpressive 4-7-2 record after 13 games. Following the 5-2 loss to the St. Lawrence Saints, the UND coaches and players didn't like what they saw. The leaders on the team held a closed door "players-only" meeting. During this meeting, the players aired their differences.
Pattyn was asked about the players-only meeting after the St. Lawrence series.
"Kind of just an open floor," Pattyn said. "Everyone talked and gave their thoughts about what we needed to do. We had some great conversations. We definitely grew up as a team last night and I think today's (win) helped too."
After the meeting in question, UND went on to win the second game of their non-conference series against SLU 3-2.
UND would go on an impressive 21-7-1 run and qualify for the NCAA playoffs, for a 12th consecutive season. Pattyn would play a major part in UND's resurgence. Unfortunately, UND's season would end in the NCAA Frozen Four semifinals to the Minnesota Golden Gophers.
Pattyn improves his overall game
When Pattyn first came to UND, he played more of an energy line role. This past season, Pattyn improved his game in all three zones, and started chipping in on the score sheet. During the latter part of the season, he ended up playing on a scoring line with Rocco Grimaldi and Luke Johnson.  While Pattyn was a regular on the penalty kill, he didn't really play on the power-play until this season.
Moving into the 2014-15 season, UND is in good hands with Stephane Pattyn as the captain.