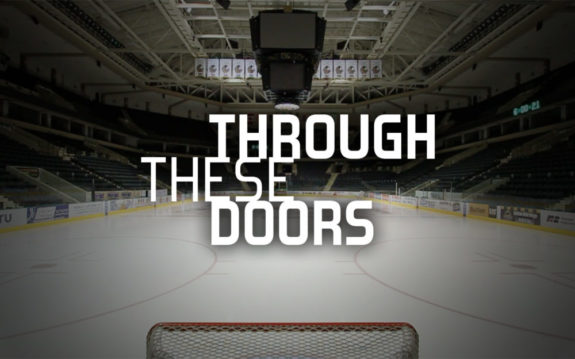 The University of North Dakota hockey team's social media department is second to none in college hockey. Before each home series, the UND hockey team produces a 30-minute reality television show, "Through These Doors." In three seasons, the program has become very popular. This past summer, "Through These Doors" was nominated for a 2013 Upper Midwest Regional Emmy.
In three seasons, the show has morphed; it has gone from being an eight-to-ten minute show on undsports.com, to a television show that is broadcasted on a regional sports network, Midcontinent Sports Network.
Through These Doors – 305 – Away from Home http://t.co/RE8FH0nMaD

— North Dakota MHockey (@UNDMHockey) November 29, 2013
This past week, I interviewed the show's producers Eric Classen and Peter Bottini. Here's what they had to say.
Eric Burton: How do you guys come up with a weekly topic for the show?
Peter Bottini, Through These Doors: We try to find something that is relevant with the team and their upcoming match-up and we kind of dissect it. We talk to the people that really have the ability to affect the outcome. Or the guys that are in the spot light, a little bit, over time, if they've been playing well.
EB: Who writes the 30-minute script?
PB: It was me, but now we kind of divide it up by segment. Everyone writes their own segment.
Eric Classen, Through These Doors: If you shoot it, you can write it.   Basically, if you do everything, you know what you have. It makes it lot easier instead of if I shoot it and then Peter goes and does it he doesn't know what I had in mind. He doesn't know what I have.
PB: Basically, if I am writing the script while the episode is being made, it's hard to communicate with to these guys where I am going with the script and have them go there with the video. Just to cover our subject basically. If I put in a certain line where I need some b-roll of a specific event, it's hard to communicate to these guys to get that and to get all of the footage that we need. We really split up the writing. Just because it works better that way, it makes each segment more informative and it flows better.
EB: Who's been your favorite player to cover?
PB: My favorite player, just because he's gone now was Joe Gleason. He was always fun. He had a good time with the camera, but he balanced it. He wasn't obnoxious for attention. He was always willing to work with us. There are guys on today's team that are willing to work with us. Joe had an interest in it.  Brendan O'Donnell has a big interest in video production, he doesn't always like to be on the camera, but he appreciates what we do. It's easy to work with guys like that. All of the guys on the team are nice guys and enjoy us being around. They enjoy what they see.
EC: They all have their unique characteristics; certain players are easier to talk to than others.
EB: Who came up with the concept of Through These Doors?
PB: It was a combination of David Folske and I wanting to get involved in video production and the athletic department. I would always ask Matt (Schill) and Jayson (Hajdu) what they thought about it. But of course something like that, where a coach who's pretty closed off towards the media, like coach (Dave) Hakstol used to be, it takes time to have him to come around to an idea like that. So it was really 2012… I believe, was our first year.  Matt came to Dave and I … alright we have this idea for the thing that you've been talking about and we would like to do it. I jumped right on board. It was really inspired by HBO's 24/7. Everybody up here really loves that. It provides a great behind the scenes look at the team, that fans love. Why wouldn't you? Every sports fan. I grew up always wanting to know more insider information and this was the perfect way to do it and be able to control the content.
Head coach Dave Hakstol big fan of series
EB: Coach Dave Hakstol is very austere and comes off as being a stiff person, how did you guys get him to lighten up?
EC: We've been doing it so long that he trusts us with the content that we're going to put in.
PB: He's a hockey fan. He likes it when we show that emotional aspect of a hockey player. He probably went through the same thing when he was these guys' age.  It probably also helps with recruiting. Recruits see the cool life that these guys are living. Look at the lives they're living, they're very popular among their peers here on campus. Why wouldn't you want to come to college and play hockey then? Going back to the emotion aspect of it, the teaser we released before season two gained a lot of popularity. He saw that for the first time at fan feast, before last season and he really liked it a lot. So, I think he sees the benefit of it and he's on board with it
You can check out Through These Doors at UNDSPORT.COM or North Dakota athletics at Youtube.com. The shows third producer Andy Parr was not available for the interview, but is a big contributor to the show.
Eric is a 1996, 1999 graduate of the University of North Dakota. Eric covers the University of North Dakota Hockey and Division I college hockey. Eric is the Contributing Editor for Inside Hockey.