Greetings fellow turkey lovers. Here's to hoping that you all had an enjoyable and delicious Thanksgiving.
It's been a while since we've had a mailbag. I'm still working on getting this thing promoted and to the point where I can consistently post one at least every other week. This edition is being posted a day late (I like to have them up by Wednesday) because I actually fielded a few "better late than never" questions and I wanted to include them.
So again, without further ado, away we go!!
The Penguins seem to have something going with their new-look third line of Chris Connor – Brandon Sutter – Andrew Ebbett. Do you think this simply is a pleasant coincidence or is it something that can be sustained?
Nate – Carlisle, Pa.
Hi Nate, and thanks for the question. You're absolutely right about the third line… For now. Brandon Sutter has been markedly better with his new linemates, and the unit as a whole seems to bring a lot of energy and speed (despite a lack of scoring production). But the bottom line here is Chris Connor has consistently done one thing his entire career: fizzle out. In his previous stint with Pittsburgh, Connor had the same kind of "hot" start when he got the call up. A lot of people, myself included, were very hopeful that he had found his niche in the NHL, and that the Penguins had found a diamond in the rough. But after about two weeks, he was relegated to a fourth line role (which he really isn't cut out for) and quickly became an afterthought.
Besides, talent – more often than not – will win out in the end in terms of roster spots. Chuck Kobasew and Beau Bennett are more talented players than Connor and Ebbett. I am not saying those two will skate alongside Sutter when healthy, and that will be the Pens' third line once again (I still have hope for Bennett on Malkin's wing), just that they will take the roster spots being held down at the moment by the callups.
Tannor, I know from reading previous articles of yours, not to mention tweets, that you are not a "Robert Bortuzzo guy." He hasn't played but once or twice it seems in the past month. Is he on the way out? And if so, what could the Pens get for him?Chris J. – Denver, Co.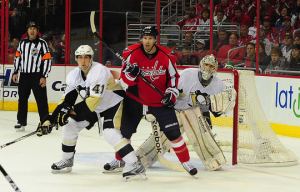 If I've said it once I've said it a million times; I AM NOT A ROBERT BORTUZZO GUY. I can't exactly put my finger on what it is about his game that drives me nuts, but I know it when I see it. And you're absolutely right, he  has played in exactly 15 of the Penguins' 29 total games thus far, including only two of the previous 13 games. He is currently a minus-3 with 0 points, 17 shots and 16 penalty minutes (courtesy of the NHL Stats Machine). The one aspect of his game that I can appreciate is his pension for delivering bone-jarring hits along the boards. That said, he gets caught out of position far too often when making those hits, and tries to be a bit more offensive than what his talent will allow.
As for whether or not he is on his way out, at the moment I doubt it. Bortuzzo an insurance policy if another defenseman goes down with an injury. It is however, very telling about his future in Pittsburgh, that the organization brought up Simon Despres and is playing the young French-Canadian over Bortuzzo. My best guess is that once Paul Martin and Rob Scuderi return from their respective ailments (Scuderi has been doing some light skating on his surgically-repaired ankle with Pens' strength and conditioning coach Mike Kadar; and I've heard rumblings that he could return around the start of the new year), Bortuzzo will be the odd man out, and GM Ray Shero will look to trade him. Don't expect much in return though, Chris. A fifth-round pick and a bucket of pucks may be all Shero can milk out of another team.
It would appear as though Malkin has found his scoring touch. Are we on the verge of seeing him break out of this little slump, or is this just a flash in the pan? Anna – Mississauga, Ont.
It's no coincidence that Malkin has found his way into the box scores more often now that James Neal has returned from his upper-body injury. Those two have a chemistry that I'm not sure is matched by any other two players on this team (that includes Sidney Crosby with anyone else). Geno still isn't filling the back of the net in the manner in which we're used to seeing from him. But I choose to look at this a bit differently. He's playing a more well-rounded game. Sure, the assists have always been there for him, but I think now he realizes that he has a bona-fide sniper on his right wing in Neal. Malkin's goal-scoring strength is his one-timer from the right-wing circle on the power play, or when he is simply bulling his way to the net.
To answer your question a bit more directly, I do believe we are on the verge of seeing #71 make a push on the stats sheet. He is currently 2nd in the league in scoring, behind only his teammate and captain Sidney Crosby. Just remember, Malkin doesn't have to score 40-50 goals for his season to be considered a success. I'd prefer to see him end up with 70-80 assists (to along with 30+ goals) and be strong on the back-check defensively.
Do you see any scenario in which the Penguins would fire Dan Bylsma this season, despite the contract extension and his being named the head coach of Team USA for the Winter Olympics? Ryan H. – Pittsburgh, Pa.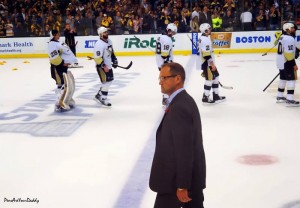 Anything can happen, Ryan. Just look back at 2009. The Penguins were mired in a 15-game winless streak in late January/early February, and Ray Shero decided it was time for a change. This after the Pens had reached the Stanley Cup Final the previous summer in 2008.
It was a bad stretch for the Penguins in which you could just tell that Michel Therrien had lost the locker room. As of right now, I don't see that as being an issue with Bylsma. The players genuinely like him, and you don't get named the head coach of your country's hockey team based on good looks or political affiliations. The fact is that Disco Dan is a good coach, but he still has a lot of learning and growing to do as the top dog behind the bench.
Bottom line, it's a highly unlikely scenario. But if the Pens have a stretch that resembles that of January/February 2009, coupled with the past two seasons of playoff disasters, never say never.
Being from St. Louis, I am a HUGE Joe Vitale fan. Do you think he'll ever see an expanded role with the Pens? Andy – St. Louis, Mo.
This is one of those questions that would regrettably like to answer with a question of my own: what is your definition of an expanded role, Andy?
Unfortunately I'll have to go with my assumption on what you're getting at here. I doubt that Vitale will ever see any significant time on the power play. With the man-advantage, you want your most talented scorers on the ice, and Vitale just doesn't make the grade in that department.
On the penalty kill, that's a totally different story. Vitale is one of, if not the best, faceoff guy the Penguins have at their disposal. That talent, coupled with his speed, makes him an ideal fit at the top of the PK box, in my opinion. I've been screaming for his involvement when the Pens are short-handed for some time now.
Alas, I'm not the coach or GM. Just a guy who puts his many opinions about his favorite hockey team on the internet for the world to see. So no, I don't see Vitale's role ever really expanding beyond what it is now. I do believe, though, that the Penguins will retain his services for some time to come. The one thing about Vitale, he's the IDEAL fourth-line on this team.
Thanks to everyone who submitted a question! I truly enjoy this aspect of my role here at The Hockey Writers. Please continue to submit your queries either via email to TDTorraoTHW@gmail.com or through Twitter Follow @TDTorraoTHW. And also, please be sure to follow me if you're not already doing so.

Pittsburgh, Pa. Class of 2000 graduate from Robert Morris University with a B.A. in Mass Communications. Full-time objective sports fan.