Hockey is a team game. Teams are only as good as their role players. There's a limited number of positions and not everyone can play on the first line or be on the first power-play unit.
Teams need role players, these are the muckers and grinders. They chew up minutes, kill penalties and play on the energy line. Role players need to be ready when the coach calls their number.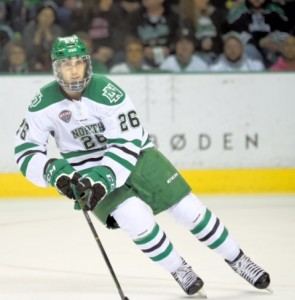 University of North Dakota senior forward Coltyn Sanderson is one of the Fighting Hawks role players. Sanderson is hard-working forward that comes to the rink every day. Sanderson takes no shortcuts and works overtime to get better. Sanderson's efforts haven't gone unnoticed by the UND coaching staff.
"He's that guy that does extra on the ice every day," head coach Brad Berry said. "He does the extra stuff when people aren't watching. That's the sign of a character person."
The Moose Jaw, Saskatchewan, native takes nothing for granted. This season, his number has been called  more frequently.
After playing just nine games in the first three  seasons, Sanderson is finally in the UND lineup. Playing on the Fighting Hawks fourth line, Sanderson's played in 18-of-25 games, scoring (2g-2a—4pts).
After being a healthy scratch in Friday's game against the Omaha Mavericks, Sanderson would return to the lineup on Saturday night. In the 26th game of his college career, Sanderson would score his first ever collegiate goal. Later in the game, Sanderson just missed a scoring his second goal.
Congrats to @coltynsanderson for getting his 1st last night! #river #letsgoriders #iliiikedat #sasky

— Zane McIntyre (@ZanoInsano_29) January 17, 2016
Sanderson scored his second goal of the season this past Friday night against the Colorado College Tigers.
Sanderson is popular with his fellow teammates and after the game, they were excited that he had finally put a puck in the twine. One of UND's team leaders explained it best.
"Within that dressing room, we know what Coltyn (Sanderson) does for our hockey team," junior defenseman Troy Stecher said. "He got his first goal and it's a huge relief for the whole team. He's a guy who works hard every day and never complains about anything."
After a junior career with the Weyburn Red Wings of the Saskatchewan Junior Hockey League, Sanderson had scholarship offers to other programs but decided to go to UND instead. You hear stories about players standing at center ice and making their commitment. Sanderson's story is similar to that.
"When I was 20 years old playing at Weyburn, I was lucky enough to be approached by a lot of schools," Sanderson said. "I was one of those older guys that they talk about – maybe a late bloomer. I was lucky and fortunate enough to have a good 20-year old season.
"I had a lot of opportunities to go to a lot of different schools. Some of them were 100 percent scholarships or higher scholarships than I received here.  I had a smaller scholarship offer."
"It came down to the Ralph Engelstad Arena. I don't know how you come here and not fall in love with the place. Just talking with the coaches and the players that were here – hockey wise – the goals are set pretty high. It's about winning a national championship.  I had just fallen short of winning a national championship in Canada in juniors."
For some players, it's not just about playing time, it's about playing for a program that's the best fit. It's also about being part of something bigger.
"To me the most important thing was developing as a player and winning," Sanderson said. "I saw that here. In coming here, the opportunity to be on a great team that was going to be in the mix, and going to Frozen Four every year.  So far, I have been in two out of three of those. Hopefully, it's going to be three out of four and get the job done this year. That was kind of a big staple of what I made my decision off of."
Sanderson Has No Regrets
After not playing very much in his first threes seasons, I asked Sanderson if he ever got frustrated or if he had any regrets.
"I am a competitive guy and that's where the frustration sets in," Sanderson said.  "There's almost doubt that can creep into your mind. Sometimes you feel that maybe you're not good enough. Over time, I matured even though I was an older guy. There was some maturing to be done… maybe mentally."
Sanderson continued, "I had some circumstances in the past where I had to battle adversity in my hockey career.  This was no different. I just kind of had to look in the mirror and say, you know what?  I am not a bad hockey player, just because I am not playing here. It's just the fact that we're at North Dakota.  There's depth and there's talent."
"There are not too many other rosters in the country that have 16… 17 NHL draft picks on them. You know it's just something that I had to keep telling myself and just keep working hard. Obviously, this year it paid off. Hopefully, we can get the job done."
The UND Culture
Coach Berry and his predecessor frequently talk about the culture at UND. No doubt Sanderson has bought into that culture. Sanderson and his teammates are part of something bigger.
"Off the ice and on the ice there's so much to it", he explained. "The way we play the game. The way we live through the game and just how tight that group is."
"You come here as freshmen and you get to know the players from the team that played here three, four, five years ago. I remember coming in during the summer time and meeting guys like Osh (T.J. Oshie) – meeting guys like (Brad) Malone. Just looking at those guys and saying jeez, those guys are in the National Hockey League. Stalwarts and they talk to you like you're an equal.  Talking with a guy like Osh and saying how he wishes he would have never left early and stuff like that.
"Getting to play with guys like (Andrew) MacWilliam, (Danny) Kristo, and (Corban) Knight. Guys like that from that senior class my freshman year. They just brought you into the program. It's something we try to do with the freshmen when they come here. It's irreplaceable."
UND Reloads, Instead of Rebuilding
Being a senior, Sanderson had been part of four very successful hockey teams. I asked him how this year's team ranks with other three?
"I don't know, it's hard to say," Sanderson said. "Every year we've been good, really talented. I can remember during my freshman year thinking to myself, I don't' know how we can get any better than that senior class. The way they brought things to the table."
"You look at my sophomore year, the second year. We were a gritty lunch pail team that got the job done.  That might have been the least talented team that I've been on, but again, we went to Philly and we were a second away from the national championship game."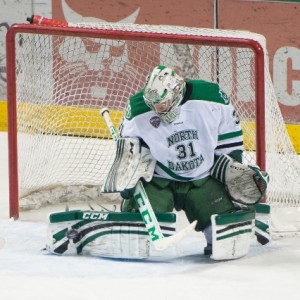 "Then last year, you look at us, we had Zano (Zane McIntyre) between the pipes. That might have been one of the strongest teams (I've been on). Coming into this year; there was a little bit of an unknown with the big freshman class.  But I think this is one of the most talented teams that we've had. I don't think there's much of a difference from year-to-year. Here, it's reloading instead of rebuilding."
The Fighting Hawks have a huge following of rabid fans. In Grand Forks, ND, college hockey is the biggest game in town. Every year, the expectations for the Fighting Hawks  are very high. I asked Sanderson if the players feel any pressure?
"There's a pressure that we place on upon ourselves," Sanderson said.  "There's a ton of fans that support us in a great way. Obviously, when things go wrong there are some naysayers. That's just the way it's going to be when you're in the public eye like that."
"We hold ourselves to a higher standard than anybody else does, but we can promise that. We expect excellence. We talk about that all of the time. We preach that were here to win the eighth banner anything less is falling short and is a failure."
Eric is a 1996, 1999 graduate of the University of North Dakota. Eric covers the University of North Dakota Hockey and Division I college hockey. Eric is the Contributing Editor for Inside Hockey.