In a thrilling shootout victory, the U.S. Women's Hockey team defeated their rival and sometime-nemesis Team Canada to win gold last night around 2:30 am EST. The Canadians fell short of becoming the first-ever nation to win five consecutive golds in Olympic ice hockey. Led by goaltender Maddie Rooney, the American team put behind them 20 years of finishing as runner-ups. While many despise the idea that such a great game should end with a shootout, it was a dramatic conclusion.
The accolades this morning were not subtle.
In one of the most satisfying moments in U.S. Olympic history, in one of the most spirited rivalries in all of sports, in the midst of a bitter 20-year gold-medal drought, the U.S. women's hockey team defeated Canada 3-2 in a game that grew more enticing by the minute as it moved from regulation to overtime to a shootout that needed even more shots to settle things, with a U.S. goal for the ages, followed by a save to match.
There are at least three reasons the US Women defeated Canada. First, they played with pace and speed, driving the play in the offensive zone and backchecking like their lives depended on it. Second, they found themselves on the power play throughout the game. The more physical Canadian women were assessed twice as many penalty minutes as the Americans throughout the game. Third and finally, the American women finished when they needed to, including a clutch goal in the third period and a beauty highlight reel-ready shootout goal to win the game.
Pace and Physicality
The game was played at a breathtaking speed and with a physical edge that often exceeded the rules. As in other games this Olympics, the U.S. team came out skating hard, pushing Canada into its own end and firing 42 shots on net. In the neutral zone, their speed allowed them to challenge Canada, breaking up plays before they began. Even when Canada was able to get into the offensive zone, the Americans back checked furiously, occupied passing lanes, and forced the Canadian women to take sub-optimal shots. Maddie Rooney was exceptional in net for the Americans, stopping 29 shots and looking mature beyond her twenty years of age.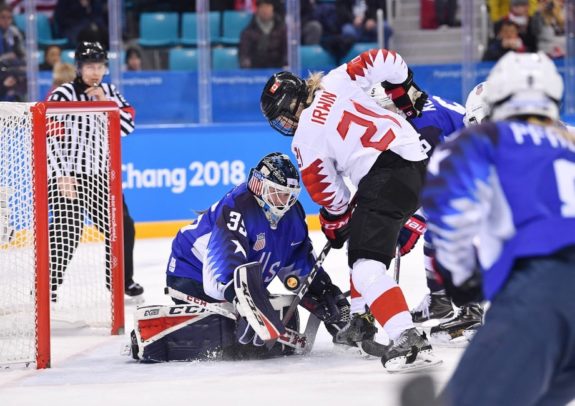 Power Plays
While some twitter pundits (mostly from Canada) criticized the uneven officiating, Helene Elliott, writing in the L.A times, also suggested the physical edge to this game was "… sometimes ignored by officials whose skills didn't match those of the players." Canada (as in past years) played a physical game and took a number of penalties.  Three penalties were called in the first period.
| | | | | |
| --- | --- | --- | --- | --- |
| 09:35 | 2 min | CAN | 9. WAKEFIELD Jennifer | Illegal Hit |
| 13:18 | 2 min | CAN | 3. LAROCQUE Jocelyne | Interference |
| 18:26 | 2 min | CAN | 20. NURSE Sarah | Interference |
In the second period, the Canadian women were called for two penalties.
| | | | | |
| --- | --- | --- | --- | --- |
| 22:18 | 2 min | CAN | 29. POULIN Marie-Philip | Tripping |
| 35:13 | 2 min | CAN | 15. DAOUST Melodie | Slashing |
While Canada, was only called for one penalty in the third period, it came just a minute after the US scored a late tying goal, killing any post goal momentum.
| | | | | |
| --- | --- | --- | --- | --- |
| 55:49 | 2 min | CAN | 26. CLARK Emily | Tripping |
While more than one commentator suggested the referees seemed to focus more on the play of the Canadian team when assessing penalties, it is worth pointing out, no player on the Canadian team was called for more than one penalty. Luckily, Canadians are too honest and fair-minded to whine too much about the officiating. Am I right?
Finishing with Flair
The biggest reason the American's won is that they finished when they needed to. It was a close game that went back and forth all night. The U.S. went ahead, 1-0, late in the first period. Then, Canada stormed back to take a 2-1 lead in the second. The Americans tied it with little more than six minutes remaining in the game. Then came a free-wheeling overtime. Still tied. And then the shootout. What a shootout it was.
Jocelyne Lamoureux-Davidson's game-winning goal started slowly. She skated deliberately back and forth toward the net, showing forehand, then leaning quickly to the left to fake a backhand that pulled Canadian goalie Shannon Szabados out of the crease. Her left-to-right dekes had Szabados on her back. The finish was something special.
.@TeamUSA IS GOLDEN!

The @usahockey women take down rival Canada for their first gold since 1998! #WinterOlympics #BestOfUS https://t.co/wS6s9ulmoA pic.twitter.com/o4gJr8g7sV

— #TokyoOlympics (@NBCOlympics) February 22, 2018
"I was told after the fourth shooter that I was going to be the sixth one if it came to that," Lamoureux-Davidson explained after the game. "Coach Stauber asked if I wanted it and I said, 'Absolutely.' I came in on a few inside edges, coming in slow. I knew that was what I was going to do. Szabados is a great goalie. She's an amazing goalie. I knew I had to sell the shot, and I did."
Women's Hockey Deserves Respect
In a sport struggling toward inclusion, some fans can't see the value in women's hockey. While few could keep up on the ice with these women, some nasty and nonsensical ideas persist about who hockey belongs to, and what a good game entails. These athletes have consistently provided some of the most exciting moments in international hockey in recent years. While the Canadian women got extremely emotional after their loss in the gold medal game, this is a win for women's hockey around the world. It is a win for those of us raising young women learning to love this game.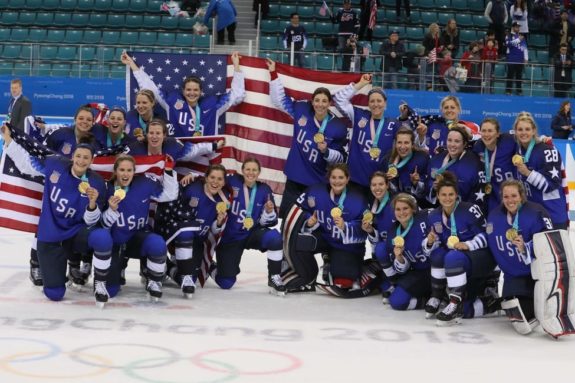 "I can't think about anything except pure pride, excitement, and honor for our team," said winning captain Meghan Duggan. "A lot of us have wanted this since we saw the 1998 team win 20 years ago. To have this experience together, to represent our country is the greatest honor in the world. It's one of the greatest days of all of our lives."
As my colleague Brandon Share-Cohen suggested late last night:
Hey, if you like what you're seeing with this game, watch the @NWHL and @TheCWHL please. These players deserve your support…and let's not pretend like you'd be doing them a favor. This hockey is as fun as it gets and you'll enjoy yourself.

— Brandon Share-Cohen (@BShareCohen) February 22, 2018
Exactly.
Criminologist by training. Hab fan for life. Aspiring Beer League hockey star.