The Montreal Canadiens have announced that Shea Weber will undergo surgery to repair a tear in a tendon in his left foot, effectively ending his 2017-18 season. Weber's last game came on Dec. 16 in a losing effort to the Ottawa Senators and he's been sidelined ever since with an injury to his foot. The extent of the injury wasn't known prior to this announcement but it was expected that the Canadiens would consider shutting down Weber given their odds of making the postseason.
MEDICAL UPDATE: Defenseman Shea Weber will undergo surgery to repair a tear in a tendon in his left foot and will miss the remainder of the 2017-18 season.

DETAILS -> https://t.co/SElWfgd3v2.

— Canadiens Montréal (@CanadiensMTL) February 22, 2018
In 26 games with the Canadiens this season, Weber scored six goals and 16 points. Prorating those totals over an 82-game season would have given Weber roughly 19 goals and 50 points – totals that would have surpassed his 2016-17 totals of 17 goals and 42 points in 78 games. In addition to Weber's offensive prowess, however, the Canadiens have also sorely missed the veteran's defensive ability and leadership on the back-end.
Details About the Injury and Decision for Surgery
Included in the Canadiens announcement of Weber's pending surgery was a statement from the team's orthopedic surgeon, Dr. Paul Martineau.
Following the diagnosis of Shea Weber's injury, it was our belief that after a comprehensive rehabilitation protocol under the guidance of our medical team, Shea would be able to return to play this season. Unfortunately, after extensive efforts to heal Shea's injury, progress has not been made as expected.

After further exams, and a consultation on Wednesday in Green Bay, Wisconsin with specialist Dr. Robert Anderson, and with Shea's approval, it has been determined that he should undergo surgery and will be out for the reminder of the season.

Our medical group will work with Shea to ensure he is pursuing the best course of treatment moving forward, and we expect him to make a full recovery and be ready for the start of training camp next season. The length of his recovery will be determined following surgery, which will be performed by Dr. Anderson.
While Weber played 26 games this season, there is belief that he suffered his injury in Canadiens very first game of the season against the Buffalo Sabres. Though he was able to tough out the pain for part of the season, the injury was simply too much for Weber or the Canadiens' medical staff to justify his participation in games.
A Big Loss for Montreal
For the Canadiens, the loss of Weber is as big a loss as it gets. The 32-year-old blueliner has been among the best players at his position in the league for over a decade after he was selected with the 49th pick in the storied 2003 NHL Entry Draft.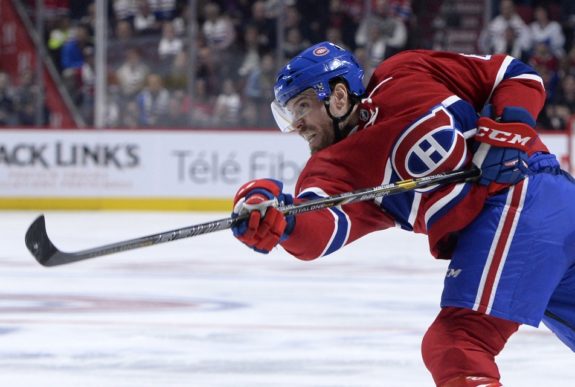 A controversial trade that saw fan-favorite defender P.K. Subban dealt to the Predators in a one-for-one swap has created an extra narrative around Weber's time in Montreal, but that shouldn't overshadow the player that he is and has always been in the NHL. At 6 foot 4 and 230 pounds, Weber's size, booming slap shot and experience in the league makes him as fearsome an opponent as it gets in the NHL.
Beyond this season, Weber still has another eight seasons under contract with the Canadiens with an annual cap hit of $7.857 million a year; one of the heftier contracts for a player in NHL history.
Brandon Share-Cohen has covered the NHL and various professional sports for seven years. Working with The Hockey Writers, Brandon works extensively on covering the Boston Bruins in addition to his role as the News Team Lead.