In an off-season filled with new faces and raised expectations for the Dallas Stars, it's easy to forget that one of the biggest improvements in the upcoming season could come from within.
As an 18-year-old rookie last season, Valeri Nichushkin endured a bit of a bumpy first year. Being drafted 10th overall brings heavy expectations, especially when compared to superstar Evgeni Malkin. In a new land and a new league, the youngster faced a tall task of adapting to a new language and lifestyle as well as a new team and playing style.
Nichushkin's Rocky Rookie Season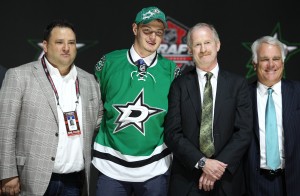 Nichushkin played both wings and skated on each forward line over the course of the season. He was a healthy scratch three times last season. His first healthy scratch helped him take a step back to observe the game and kick-started his production early in the season. The other two occurrences were due to mid-season fatigue, but they helped him recharge and make an impact late in the season and in the playoffs. Nichushkin stumbled out of the gate, but as the season moved along, he grew more comfortable and his play showed it.
Despite all of his struggles, Nichushkin ended the year with an overall positive rookie season. In 79 games, he tallied 14 goals, 20 assists, 128 shots and a plus-20 rating, all while averaging just 14:58 per night. He did all that while facing the third highest quality of competition among Stars forwards, and he finished with one of the better Relative Corsi ratings on the team. His numbers dipped in the playoffs as he finished with a goal, an assist, nine shots, and a lower Corsi rating while averaging little over 11 minutes of ice time per game.
The Tools to Be a Star
Though he wasn't a Calder Trophy finalist, the 6-foot-4, 205-pound winger showed the Stars and the rest of the league that he has the size, speed and skill set that could make him a force to be reckoned with in the near future.
Nichushkin's blazing speed is tough for defenders to match as seen in his pre-season goals against the St. Louis Blues and Colorado Avalanche. He displayed his pinpoint-accurate wrist shots against the Ottawa Senators for his first career goal and the post-ringing penalty shot against Carey Price in January. His quick one-timer led to four of his goals last season, including one of his two game-winning goals. But perhaps none were as captivating as his spellbinding goal against the Winnipeg Jets on December 14. In that one goal he displayed his knack for positioning, a quick transition attack, elusive speed, strong puck protection and mesmerizing stick handling.
New Opportunities in 2014-2015
Last season, Nichushkin was most successful when he completed the Stars' top line with Jamie Benn and Tyler Seguin. Due to inconsistency, he couldn't land a permanent gig with the dynamic duo, and he found himself moving up and down the lineup, even playing on the fourth line at times. He wasn't able to crack the top power play unit permanently, but even if that happens again this season, Nichushkin will have more help on the second unit. The additions of Jason Spezza, Ales Hemsky and Patrick Eaves this summer will help with depth and providing a number of flexible options throughout the lineup.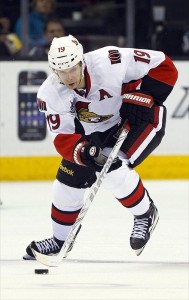 Nichushkin should get an opportunity to start the season on the top line, but there is good news if he struggles again. Instead of joining a patchwork trio or falling to the fourth line, Nichushkin can join another dynamic duo in Spezza in Hemsky on the second line. Even if Hemsky is moved to the first line, Spezza would be better than nearly every linemate he had last season outside of Benn and Seguin.
Since the line of Antoine Roussel, Cody Eakin and Ryan Garbutt worked so well as a shutdown, agitating line last season, they should be the staple third line for the upcoming season. That means the two vacancies in Dallas' top-six should come down to Nichushkin, Erik Cole, Rich Peverley and two possible call-ups in Brett Ritchie and Colton Sceviour. That would leave Vernon Fiddler, Shawn Horcoff, Eaves and the call-ups again to fight for the fourth line. It's tough to imagine Nichushkin getting passed over for Eaves or Horcoff. Putting Sceviour or Ritchie in the top-six while pushing Nichushkin down to the fourth line is something I believe coach Lindy Ruff and his staff would like to avoid.
With such a dangerous top-six, there will be plenty of support for Nichushkin this season. Just the team's enhanced depth would have been beneficial for the young winger. Add to that a year of experience and more comfort with the new league and lifestyle, and the result is a perfect chance for Nichushkin to show the world what he is capable of. Opportunity is knocking, and it may not get better than this in the early stages of his career.