Cory Schneider sits alone atop the depth chart at goaltender for the New Jersey Devils with Keith Kinkaid and Scott Clemmensen battling for the back-up spot behind him. One notch lower will be the likely starting goaltender for the Albany Devils during the 2014-15 season, 22-year old Scott Wedgewood. He will be entering his second full season with the A-Devils looking to continue and improve upon where he left off last season and try to lead Albany back to the postseason in the process.
Wedgewood, the Devils 2nd pick (84th overall) in the 2010 NHL Entry Draft, spoke during the 2014 Devils Rookie Camp about his first full season with Albany, "Coming up to the 'A' with a slow start to the schedule with not many three-in-threes, it was hard to get into a groove. But the second half I feel I fell into a zone and down the stretch me and Keith (Kinkaid) were both playing up to par in what we wanted and we got ourselves a playoff berth. Things fell where they fell but going into the summer I was really confident with my game and just improving it each year and I will strive to get better."
After splitting his four starts in the tail end of the 2012-13 season with Albany, Wedgewood got his first bit of NHL action during an exhibition game against the New York Islanders at the Prudential Center on September 19, 2013. He turned aside three of four shots in the final period after taking over for Martin Brodeur.
Battling to Find His Groove During the Opening Half of 2013-14
Returning to Albany, Wedgewood opened the 2013-14 season with three straight victories, allowing five goals combined in the three games. His hot start was abruptly halted with four consecutive losses but he followed that up with another three-game winning streak. However, the middle victory in his second three-game winning streak was simply a battle of which goaltender would survive. Against the Bridgeport Sound Tigers at the Times Union Center, the Devils outlasted the New York Islanders top affiliate with an 8-6 victory. The six goals allowed by Wedgewood was a season-high and one of only two games in which he allowed five or more (February 16 at. Bridgeport).
After making 26 saves on 28 shots in his next start two weeks later, a 5-2 win over the Hartford Wolf Pack on home ice, Wedgewood would struggle for much of the next two months. He won just one of his next nine starts and earned the loss in an additional game in which he took over for Kinkaid (January 26 vs. Binghamton). He allowed two goals or more in every start except one, his only win, a 3-0 victory over the Springfield Falcons at the MassMutual Center. Wedgewood stopped all 21 shots he faced for his first professional shutout but still credited the team in front of him, "I got my first shutout against Springfield. I took advantage of five NHL guys in the lineup and guys like (Seth) Helgeson, (Reece) Scarlett, (Raman) Hrabarenka and (Dan) Kelly blocking shots. You feel safe with those guys in front of you. They are very talkative and it is a huge help as a goaltender knowing the situation you have in front of you and I think we did have the best 'D' core in the American (Hockey) League last year."
Scott Wedgewood and the Albany Devils Go Full Force in the Second Half
Feeling more comfortable "outside of the rink," midway through February Wedgewood started to heat up, at first slowly but soon fully. On February 15 against the Adirondack Phantoms, the former Trenton Titan allowed the game's first goal just over two minutes after the opening faceoff. Then he shut the door, turning aside 15 of 16 total shots in the contest, to record his first win in over a month. He was named the game's second star but the good feeling faded quickly. The following night he wouldn't last the second period after allowing five goals on 11 shots against Bridgeport. He was replaced by the "Moose", former New Jersey goaltender Johan Hedberg, who signed a professional tryout contract with the A-Devils on February 13 after Kinkaid went down with an injury.
In his last February start on February 23 he replicated his previous victory by making 15 saves on 16 shots in a 2-1 win over the Utica Comets. Once again he wasn't able to build upon the win, faltering in a 4-3 loss to the Wolf Pack in his next start. Then it all turned around for the man born in Etobicoke, Ontario, as he won seven of his final ten starts of the season.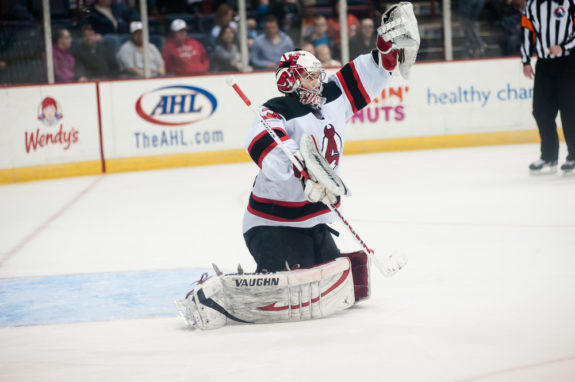 On March 15, Wedgewood earned his second shutout of the season when the A-Devils blanked the Wolf Pack 2-0 by stopping all 23 shots he faced, including 16 shots in the final period. The next day, head coach Rick Kowalsky gave the net minder another start, this time against the Syracuse Crunch. Wedgewood responded by turning aside all 13 shots against as Albany won 3-0. He was also named the CCM/AHL Player of the Week for the week ending on March 16.
Three days later, a goaltending controversy started to loom around the Capital Region when Wedgewood was named the starter once again in the final game of Albany's three-game home stand. Wedgewood's shutout streak was snapped at 164:22 late in the second period when Matt Puempel scored for the Binghamton Senators but he stopped 18 of 19 shots overall as the Devils defeated the Senators 2-1.
Wedgewood started his fourth consecutive game when the Devils traveled up to Syracuse on March 22. Albany raced to a 4-0 lead before holding on for a 6-2 victory. It was Wedgewood's fourth straight win, a career high.
Wedgewood won three of his final six starts including another shutout, a 4-0 victory over the Crunch. One of his starts was a no-decision against the Phantoms after he left the game after the first period. In his final ten starts, Wedgewood allowed more than two goals just once and he had a save percentage of 0.931, a major improvement over his season save percentage of 0.899. In 36 games played, he finished with a 16-14-3 record and a GAA of 2.39, slightly higher than Kinkaid's 2.29. Both goalies had four shutouts.
Scott Wedgewood stopped all 20 shots he faced and the A-Devils scored four second period goals in a 4-0 win against the Syracruse Crunch on April 13, 2014:
Thinking About the Future and Looking to Build Upon His Strong Finish
Heading into the 2014-15 season, Wedgewood hopes to continue his impressive play that earned him the top spot on the Albany depth chart for much of the final half of last season. He won't concede the back-up spot in New Jersey to Kinkaid or Clemmensen in this year's training camp and will "make them work for it" but does admit he could use another season developing with Albany. He acknowledged, "You have to think about the future for yourself. You don't want to strive too far or try and do too much and hurt yourself in the long run."
In the final year of his entry-level contract and feeling more comfortable in Albany now than at this time last year, Wedgewood's stats should certainly improve this season. With the likely addition of Damon Severson to an already strong defensive core, the A-Devils will continue to be a strong team in their own zone. If all goes well, Albany fans should get another taste of postseason hockey next spring after the team "went full force" according to Wedgewood in the latter half of last season.
Leo is in his second year with THW. He covers the 3-Time Stanley Cup Champion New Jersey Devils and the Albany Devils of the American Hockey League. You can follow Leo on Twitter, @LeoScaglioneJr.