Defense wins championships and the New Jersey Devils have featured many prominent names on their blue line. From captain Scott Stevens to a pair of homegrown defensemen in Scott Niedermayer and Ken Daneyko, New Jersey's defense from the 1990s through early 2000s helped raise a trio of Stanley Cup championship banners. Fast forward to the present and the near-future and Jersey's Team is dangerously close to replicating the blue line domination of yesteryear. The Devils will have Jon Merrill, Adam Larsson, and Eric Gelinas competing for a spot on the back end in 2014-15 in training camp but an underdog of sorts, Damon Severson, will also be making a case to be on the NHL roster come Opening Night.
Born in Brandon, Manitoba, Severson was drafted 60th overall in the 2012 NHL Entry Draft. To say that Devils Director of Scouting David Conte was happy about picking Severson would be an understatement, "We really were very, very happy with him. We thought he was a high-end defenseman, very comparable to some of the ones who went before him and some other ones after. We did all our homework on him, that's what I'm really happy about." That September Severson signed a three-year entry level contact with the Devils.
Related: Damon Severson – The Next Ones: NHL 2012 Draft Prospect Profile by THW's Andrew Eide
Damon Severson Blasts the Stat Sheet with the Kelowna Rockets
Severson has been consistently improving each season in the WHL with the Kelowna Rockets. In each of the last four seasons, his stats look more like a growing forward than those of a defenseman. After going pointless in five games during the 2009-10 season, Severson became a regular on the Kelowna blue line. He notched 17 points in 2010-11 in 64 games and more than doubled his output the following season when he totaled 37 points in eight fewer games. In 2012-13, his first season after being drafted by New Jersey, he scored ten goals, six of them on the power-play, and added an astounding 42 assists in a career high 71 games played. He finished with a +- of +43. Severson touched the ice with the Albany Devils at the end of that season and picked up a pair of assists in two games.
Besides being a developing offensive defenseman, Damon Severson (7), seen here with the Rockets, has a tough side as well.
Severson played in a pair of exhibition games with New Jersey during the 2013-14 training camp before General Manager Lou Lamoriello and the Devils returned him to Kelowna. Much like how Stefan Matteau felt he matured after playing all of last season with Albany after getting NHL ice time in 2012-13, Severson feels spending the season with the Rockets was beneficial to his development even though he felt he was ready for the NHL at the time. As told to Rich Chere of The Star-Ledger, "Talking to Mr. Lamoriello before I left last year he said: 'It's the right thing to do for you and your development' and I couldn't agree more now that I think about it. Obviously you're a little bit bitter about it, but I have to understand I was only a 19-year-old kid. This year I feel I've developed a huge amount."
That he did. With the Rockets in 2013-14, Severson scored 15 goals, three of which were game-winning goals, five of which were power play goals, and one that was a shorthanded goal, and he also contributed 46 assists. His 61 points were tied for 6th among WHL defensemen. His +/- was a phenomenal +47. He had 63 penalty minutes, his lowest total since 2010-11 when he had 53. He had point streaks of seven, eight, and nine games in 2013-14 and his best month was in February when he scored two goals with 14 helpers in 13 games. He finished the month with a +15. At season's end, he was named a Western Conference Second Team All-Star.
In the 2014 WHL playoffs, Severson had four goals and 14 assists for 18 points in 14 games. In the Rockets second round series win over the Seattle Thunderbirds alone, he had 11 points in a four-game sweep. He was named the CHL Player of the Week for the week of March 31 through April 6 after he scored seven points (three goals, four assists) in just two games, the opening two against the Thunderbirds. In his postseason career with Kelowna, the 20-year old totaled 9 goals and 23 assists in 39 games.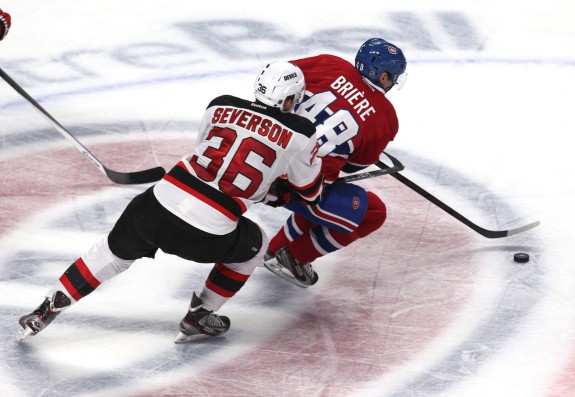 Shooting for the Stars: Aiming for the National Hockey League
Severson tries to model his game after a former Rockets defenseman, Nashville Predators star Shea Weber, "I try to play like Shea Weber. He's played with the Kelowna Rockets before. He's been through the system I'm going through now and I try to play like him as much as possible."
The Devils have drafted a defenseman in the second round in four of the last five NHL drafts (Gelinas 2009, Merrill 2010, Severson 2012, Steven Santini 2013, Josh Jacobs 2014). Merrill and Gelinas have already made their NHL debuts and Severson should be next in line although he will most likely start the season with the A-Devils simply because of numbers and a young blue line in Newark as it is. Even so, head coach Peter DeBoer has acknowledged that the 6-foot-2, 210-pound defenseman has a shot at making the NHL roster, as reported by Tom Gulitti of The Bergen Record. "He's one of those guys. Lamoriello and I have both spoken that there's going to be an opportunity for young players, especially on defense this year, and he's one of those guys that has to come into camp and find a way to grab a job." Even if he doesn't "grab a job" right away with New Jersey, the future of the Devils defense looks as bright as it did just over a decade ago.
Leo is in his second year with THW. He covers the 3-Time Stanley Cup Champion New Jersey Devils and the Albany Devils of the American Hockey League. You can follow Leo on Twitter, @LeoScaglioneJr.