It's no secret that Stan Bowman and the Chicago Blackhawks are in a bit of a pickle. Less than 8 weeks remain until the NHL opens up its 2014-15 season, and the Blackhawks need to shed $2,216,795 in salary. In my first piece for The Hockey Writers, I'll narrow down the Blackhawks options for squeezing under the cap, and then explore each of those options.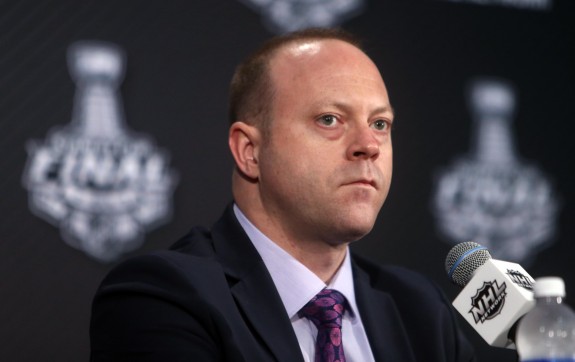 While several have pontificated on the usual list of suspects the Blackhawks may jettison, few have taken the time to analyze the additional actions involved – e.g. trades, callups, etc.  It's not as simple as dumping $2.216 million in salary – after all, whoever replaces that roster spot also costs money. A great example of an option presented in the media that's not all that well thought out: Nick Leddy's $2.7 million isn't enough salary to shed, since there's no sub-$500k defensemen he can be replaced with.
In order to truly analyze Blackhawks GM Stan Bowman's options, it's important to first work backwards from his destination. An NHL roster must contain between 20 and 23 players, composed of a minimum of 18 skaters and 2 goaltenders.  The typical makeup of a roster will include the maximum of 23 players – 12 forwards, 6 defense, 2 goaltenders, and 2-3 backups composed of both forwards and defense. The Blackhawks cannot realistically field a 20-man roster, as any injury not resulting in LTIR designation would leave the team unable to ice a full roster.
The Blackhawks are in a tougher spot than they're letting on. With a roster mostly unchanged from the 2013-14 season, and the one-and-done signing of Brad Richards, it doesn't look like Stan Bowman and the rest of the front office are looking to lay low this year and retool to strike later on. However, without a gigantic salary cap increase for the 2015-16 season, this may be the last great chance at a cup for a few years. The end of the 2014-15 season leaves the following as notable free agents likely to command sizable raises: Saad, Kruger, Oduya and Leddy.  The Blackhawks are only under the 2015-16 cap by $3.2 million with 8 players still to be signed, thanks to the new contracts of Kane and Toews kicking in – something has to give, and the end of the 2014-2015 season will not be a pleasant one for Bowman and company.
What won't change: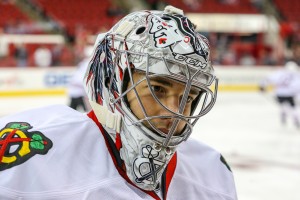 The Blackhawks goaltenders aren't going anywhere this year – it's going to be Crawford and Raanta as #1 and #2.
It can also be safely assumed that the "core" players – Kane, Toews, Keith, Seabrook and Hossa will not be moved. Although Seabrook's name has been thrown out in an article or two, it's incredibly unlikely he is going anywhere. Richards, just signed, is also certainly not going to be moved but will likely become a free agent after this season.
The list of single player moves is pared down even further by virtue of the fact that many of them don't make enough money to bring the team under the cap. This covers Versteeg, Saad, Morin, Shaw, Teravainen, Kruger, and Smith at forward, and Leddy, Roszival and Rundblad on defense.
Left in Salary Cap limbo:
The numbers dictate the remaining mathematically possible single player moves: Oduya, Hjalmarsson, Bickell or Sharp.
The defensive prospects likely to be close to NHL ready are Adam Clendening and Stephen Johns – making $742k and $800k respectively.  If Oduya, Hjalmarsson or Leddy were dealt away, it's likely that one of them would be the replacement. Clendening would be a better fit to replace Oduya's offensive ability, but isn't truly close to being a suitable replacement with his defensive play still considered an active concern. Johns, on the other hand, would likely be a better fit to replace Hjalmarsson's steady defensive style.
On the offensive side of the equation, it's a bit murkier. Top prospect Teuvo Teravainen is not a lock for the 2014-15 roster with the addition of Brad Richards – which would give Teravainen additional breathing room to develop in the AHL – he's not on the roster to replace Shaw or Kruger as a checking / grinding center. This means the likely suspects filling the void will be wingers like Jeremy Morin, Ryan Hartman, Joakim Nordstrom (who saw time in 2014) or perhaps centers Philip Danault or Mark McNeill filling in at the wing position just to get some NHL time.  It's likely that the regular season will contain a rotation of some or all of these players.
Possible scenarios: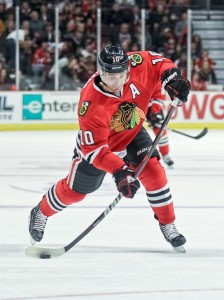 Despite talk of a playoff lull, Patrick Sharp had a career high and a team high in points in 2013-14. Sharp would therefore command the most in return, which is actually unattractive from the Blackhawks' perspective standpoint because quality talent costs money. The only return the Blackhawks could accept would be some incredibly top notch prospects from a team that is looking to make a move today at the expense of some real talent in the future. A quick scan of the 29 other NHL teams suggests that no such team really exists.
Brian Bickell, on the other hand, is an interesting option. While his playoff presence would be missed, his contract isn't looking all that attractive during the regular season. The challenge there, of course, is finding a team willing to take on his $4 million per year salary given his somewhat lackluster regular season performance. He certainly appears to be the most replaceable of the 4 single-player options, and a quality prospect or two in exchange for Bickell might be worth the reduction in cap hit. While certain fans may be upset about trading one of the Blackhawks few "big guys", Bickell doesn't play a style of hockey that his height and weight might dictate.
Johnny Oduya is arguably about as difficult to replace at a lower cost as Patrick Sharp. While he may have the occasional foible trying to force an offensive play, he's a top tier defenseman who could easily play first pairing minutes on some NHL teams, and is a better than average second pairing defenseman. A case could be made that with just one year left on his contract, the Blackhawks should try and get value for Oduya rather than allowing him to walk as a UFA in 2015. However, the Blackhawks look poised to make one more run at the cup before the salary cap wreaks havoc on their roster, so this is unlikely.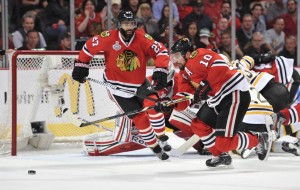 Niklas Hjalmarsson, at a $4.1 million cap hit, is also unlikely to be moved. He plays consistent minutes at both even strength and on the penalty kill and leads the team in shot blocks. He'd be as difficult to replace as Oduya in terms of quality for cost, and although the Blackhawks have some promising defensemen at the ready, none are near Hjalmarsson's caliber.
Aside from a miracle where the Blackhawks find a taker for Bickell (Dale Tallon, maybe?), it seems incredibly unlikely a single player move will be made. A more likely scenario is a multi player deal. The math here is simple: at least a few million dollars must be moved in order to make cap room, so players making under $2 million or so aren't even a part of the equation unless a potential suitor is particularly interested in a package deal such as a 3 for 2 trade.
What will the Blackhawks do to get under the cap in 2014-15?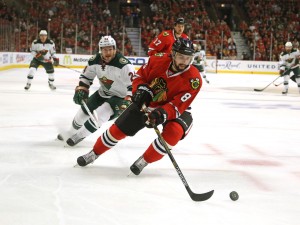 While nobody can predict the future, and Bowman has occasionally pulled a surprise out of his hat, the options are somewhat thin this time around. A single player move just doesn't seem likely given the available options.
With both Versteeg and Leddy having underperformed a bit last year, they seem to be the most likely candidates for a move. Both have the promise and potential to play at a higher level than they did in the 2013-14 season, and both are rather costly considering they're seeing 4th line and 3rd pairing minutes despite their significant cap hits.
Moving their contracts would free up $4.9 million in space and packaged in exchange for prospects with decent potential, leaving sufficient room for two current Rockford Icehogs players to get their shot in the NHL while keeping the team under the cap.