While Reid Boucher, Joe Whitney, Mike Sislo, Cam Janssen, and Tim Sestito got called up by the New Jersey Devils from their AHL affiliate in Albany during the 2013-14 season, one player that remained with the Albany Devils from start to finish was 20 year-old Stefan Matteau. After putting up a goal and two assists in 17 NHL games during the 2012-13 lockout-shortened season, his first year as a professional, Matteau remained with the A-Devils to mature and develop. Now as the 2014-15 season approaches, Matteau is anxious to prove that he is capable of being a "man" the Devils can rely on in any circumstance in the NHL this season.
Following his time with New Jersey in 2012-13, Matteau was sent back to Blainville-Boisbriand Armada of the QMJHL where he scored 18 goals and 10 assists in 35 games. In 11 postseason games, he had nine points. His playoff run was cut short when he was suspended by his junior club, where his father Stephane Matteau is an assistant coach. As reported by Rich Chere of the Star Ledger during the 2014 Rookie Camp, Matteau acknowledged how important being with one team during 2013-14 was after the rough ending to his previous season, "I think it did help just being in one spot after having the crazy year the year before and being on a few different teams."
The 6-foot-3, 215-pound winger spoke about maturing during the season, "I think it just came naturally. You're not in a junior environment where you're playing with 16-year-olds who are leaving home for the first time. We have guys who are playing their 10th year in professional hockey. Some of them have kids. Some of them have played in the NHL for five or six years. You want to be like them. They're men. I think I'm becoming a man. I think I've matured a lot."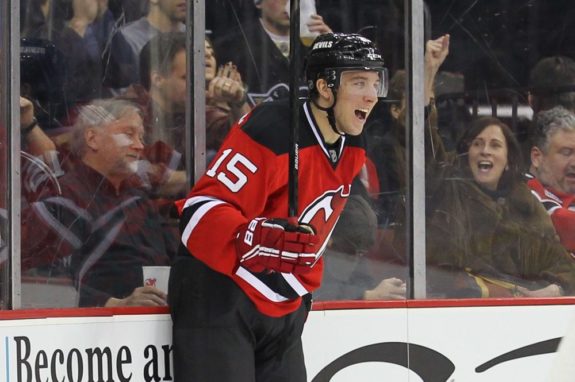 Checking Unit or Top Line, Stefan Matteau Shows Adaptability
The Devils first-round draft pick, and 29th overall, in the 2012 NHL Entry Draft, Matteau started his season in Albany mostly on a checking line with Harri Pesonen, who went scoreless in four games with New Jersey during the 2012-13 season, and captain Rod Pelley. On October 25 in a home contest against the Hartford Wolf Pack, the New York Rangers top affiliate, the A-Devils were tied at one. Just over four minutes into the second period, Pesonen intercepted a Hartford pass in the neutral zone and skated into the attacking zone where he passed it to Matteau. Matteau unleashed a wrist shot that got past goaltender Jeff Malcolm to give Albany the lead. They would go on to win 4-3.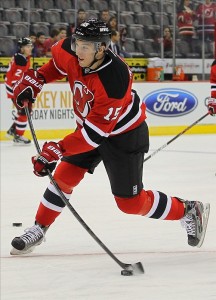 Matteau continued to play on the checking unit during the first half of November before seeing ice time with Whitney, the team's leading scorer in 2013-14, and Sestito. This led to a six-game point streak for Matteau from November 20 through December 4, the forward's longest of the season. During the streak he produced five goals and four assists for nine points. He had a season-high three points in an 8-6 victory over the Bridgeport Sound Tigers at the Times Union Center on November 30. In three of the four games in which he scored a goal during the streak he had the game-winning goal, including the aforementioned win over Bridgeport.
Head coach Rick Kowalsky said of Matteau and his first half of the season, "Even though he's young, he's a big man. With his speed, his skill and when he adds physical element, he is tough to play against. I thought he was continually getting better at that week after week."
 Matteau Represents the U.S. at the World Junior Championship
Matteau continued to play alongside Whitney with an alternating line mate, usually Sislo or Artem Demkov, until he left Albany to represent the United States at the World Junior Championship halfway through December. In five games the Chicago, Illinois native scored three goals and added one assist. Matteau made note of this during the rookie camp, also told to Chere, "That was a big confidence booster. I thought I had a good tournament over there playing with kids in my age group."
Matteau Finishes Strong in His Second Professional Season
He returned to Albany on January 4 and was placed on a line with Kelly Zajac and Mattias Tedenby. He also saw time with Scott Timmins and Whitney on the team's top unit during January. He produced a goal and two assists in the first month of the New Year.
Matteau had another four-goal month in February in ten games. He had the game-winning goal on February 8 on the road at the Sound Tigers, a 3-0 Albany win. After being held scoreless the following night, the one-year anniversary of his lone NHL goal, Matteau scored a goal five days later on Valentine's Day in tough 3-2 loss to the Hershey Bears on home ice. He played on a line with Zajac and Whitney towards the end of the month and he scored another two goals.
Relive Stefan Matteau's first career NHL goal, scored against the Pittsburgh Penguins on February 9, 2013:
They continued to play together in the early stages of March but weren't producing. Kowalsky shuffled lines and played Matteau alongside Zajac and Tedenby in the latter half of the month. On March 28, Matteau picked up a goal against the Bears and followed that up with a two-assist performance the next night against the Worcester Sharks.
Matteau had two assists in the final nine games of the season. He finished the season with 13 goals and 13 assists in 67 games and his four game-winning goals led the A-Devils. He also had +/- of +6 along with 66 penalty minutes.
Related: Reid Boucher Determined and Driven to Make the NHL in 2014-15
He appeared in all four postseason games for the Albany Devils in their series loss to the St. John's IceCaps. He had one goal, a power-play goal, in Game 2, the only victory in the series for Albany.
Described by Devils Director of Scouting David Conte as, "big, strong, aggressive, an excellent skater, well schooled in hockey and understanding the professional hockey life," Matteau has shown he has a gritty and tenacious style of play fit for a third line forward but is also capable of producing points playing with the top six forwards. After a season in which he has definitely matured in the AHL after experiencing top line minutes in the NHL in a wild 2012-13 alongside Travis Zajac and Ilya Kovalchuk, Matteau will mostly likely see some ice-time with the "men" in New Jersey at some point this upcoming season.