The Vancouver Canucks have to be thankful for the Ottawa Senators. Until the Senators came to town, the Canucks had lost five of their last six games. The Canucks turned all that around to pull off a needed three-game sweep of the Senators, outscoring them 16-3 in the process.
The scores of the three games were 7-1, 5-1, and 4-1. During the first game of the series, 32-year-old Brandon Sutter surprised everyone by scoring the first hat trick of his career with a goal in the first period, a short-handed goal during the second period, and a breakaway goal just before the game ended in the third period. As I say, that's a surprising scoring streak for him.
Related: Vancouver Canucks News & Rumors: Hamonic, Ferland & Podkolzin
During the last game, Brock Boeser had a three-point game with two goals and an assist; Elias Pettersson finally broke out of his befuddling problems and also scored a goal and an assist; and, Quinn Hughes scored two assists for the Canucks.
Finally, Braden Holtby had a strong game in net, making 36 saves and, interestingly, also assisted on a goal when he sent a rebound past the neutral zone where Pettersson caught it and slid a pass to Boeser, who ripped a shot past Matt Murray from the point.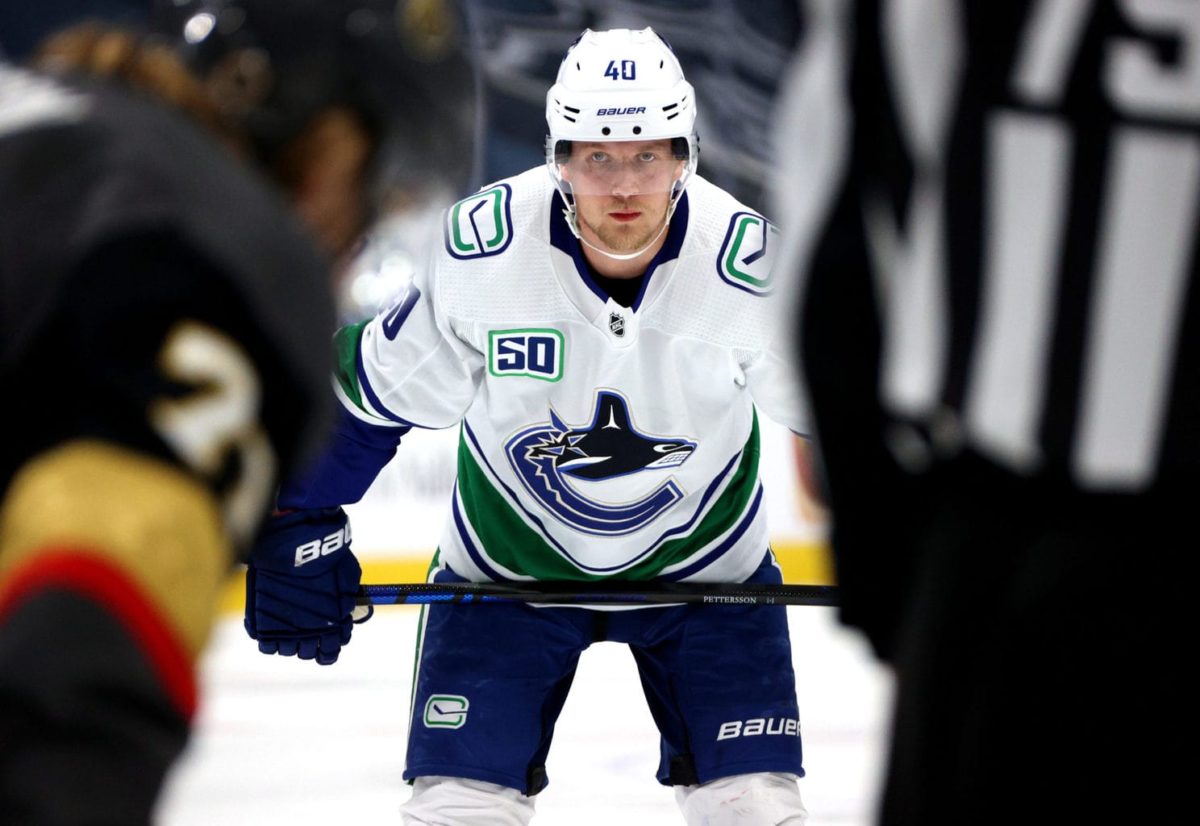 Hughes noted that, "The three games here were really big just to get things back on track before things really slide. I think our team has a high standard and everyone wants to win, so we can get down on each other fast, but we pick each other up, and to win this series is a good step in the right direction."
Boeser agreed that, "It was a three-game set that we needed to reset."
Related: The Best of 'Mr. Goalie' Glenn Hall
In this edition of Canucks News & Rumors, I'll share news and commentary about the Canucks' recent games and discuss some of the players' success after the first 10 games of the season.
Item One: Braden Holtby Finally Turns Things Around Against the Senators
Braden Holtby's play had been in a funk. He'd lost two of his last three starts and had given up 12 goals in those games. He entered the game with a 2-2-0 record, a goals-against-average of 3.70 and a save percentage of .888.
All that changed when Holtby made 36 saves against only one goal in the 4-1 win. He finished the night with a .973 save percentage. It was Holtby's best game by far, and his strong play allowed his team to win the game and push their record back to .500.
Holtby also kept the Senators off the scoreboard during five power plays. In this game, he had his highest save percentage, gave up his fewest goals, and made his most saves in this short season. The only Senators player who beat him was Thomas Chabot, who made a great individual play during the second period to shovel a shot past the Canucks' netminder.
By game's end, the 31-year-old Holtby had improved his record to 3-2-0, his goals-against-average to 3.17, and his save percentage to .906 in the five games he's played.
Item Two: Brock Boeser Scores Three Points in Thursday's 4-1 Win
Brock Boeser scored two goals and added an assist during the final game of the three-game series. Boeser started quickly with two points in the first period. His first goal was on the power play early in the game, and he added the first assist on Pettersson's goal later that period. Then, just as the second period began, Boeser scored his second goal and third point of the night with Holtby starting the play.
Related: Leveille Out-Duels Shelly in Epic Showdown, Six Win 1st Game on Day 3 of NWHL Season
The 23-year-old Boeser now has six goals and three assists on the season. He's currently tied for the NHL's goal-scoring lead. So far this season, Boeser seems to be either hot or cold. He'd gone two games previously without scoring a point, and he's only been on the score sheet four times in 10 games. Still, because three of those had been multi-point games, his totals are solid for the season.
In the video below, you can see Boeser's first goal of the season.
Item Three: Elias Pettersson Scores Two Points
Elias Pettersson scored a goal and an assist in Thursday's win. His goal midway through the first period pushed the Canucks' lead to 2-0 and ended up being the game-winning goal. He later assisted on Boeser's second goal of the game. The 22-year-old Pettersson had a horribly slow start to the season, but has shown an offensive spark by scoring four points in his last two games to bring him to three goals and three assists (for six points) in 10 games. Canucks' fans have to be happy for that turnaround. Frankly, the young star had looked out of synch.
What's Next for the Canucks?
After the Senators three-game series, the Canucks' leading scorers were defenseman Hughes with a goal and 10 assists in 11 games; Bo Horvat with five goals and five assists (for 10 points) in 10 games; Boeser with six goals and three assists (for nine points) in 10 games; J.T. Miller with two goals and seven assists (for nine points) in seven games; and, finally, Pettersson with three goals and three assists (for six points) in 10 games.
Related: Canucks News & Rumors: Edler, Hughes, Miller, Benn & Hoglander
One point in listing the Canucks' scoring leaders is to suggest that Pettersson hasn't been on his game. Fans have come to expect more from him. Hopefully, he's found his game and will continue to get on the score sheet against the Winnipeg Jets tonight. However, that might be tough do against Connor Hellebuyck.
The Canucks hockey life gets exceedingly difficult quickly because they begin a road trip Saturday against Winnipeg. Then they head off for two games against the unbeaten-in-regulation Montreal Canadiens; and, then start a three-game series in Toronto against the high-flying Maple Leafs.
It's a tough assignment; but, after the next six games, fans will have a good sense of how the team responds after three convincing wins against the lowly Senators.
---
---
The Old Prof (Jim Parsons, Sr.) taught for more than 40 years in the Faculty of Education at the University of Alberta. He's a Canadian boy, who has two degrees from the University of Kentucky and a doctorate from the University of Texas. He is now retired on Vancouver Island, where he lives with his family. His hobbies include playing with his hockey cards and simply being a sports fan – hockey, the Toronto Raptors, and CFL football (thinks Ricky Ray personifies how a professional athlete should act).
If you wonder why he doesn't use his real name, it's because his son – who's also Jim Parsons – wrote for The Hockey Writers first and asked Jim Sr. to use another name so readers wouldn't confuse their work.
Because Jim Sr. had worked in China, he adopted the Mandarin word for teacher (老師). The first character lǎo (老) means "old," and the second character shī (師) means "teacher." The literal translation of lǎoshī is "old teacher." That became his pen name. Today, other than writing for The Hockey Writers, he teaches graduate students research design at several Canadian universities.
He looks forward to sharing his insights about the Toronto Maple Leafs and about how sports engages life more fully. His Twitter address is https://twitter.com/TheOldProf