In a weird way, Montreal Canadiens forward Corey Perry made life harder on the Habs, slipping into the lineup as seamlessly as he did. With two points in two games (1 goal, 1 assist) since being promoted from the team's taxi squad, Perry has proven he can still contribute on an NHL team, even as a 35-year-old.
Perry Fits Like a Glove
It of course remains to be seen if Perry can consistently keep up with his new linemates Jesperi Kotkaniemi and Tyler Toffoli. He's nevertheless fit in like a glove up to now, especially on the power play. There, his renowned net-front presence was on full display against the Calgary Flames in the first contest of their two-game set, when he made a no-look pass to Brendan Gallagher for an easy tap-in.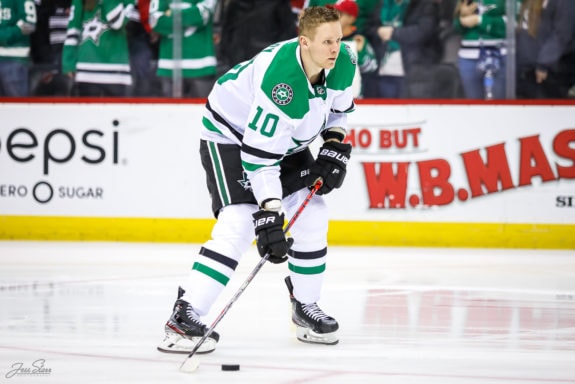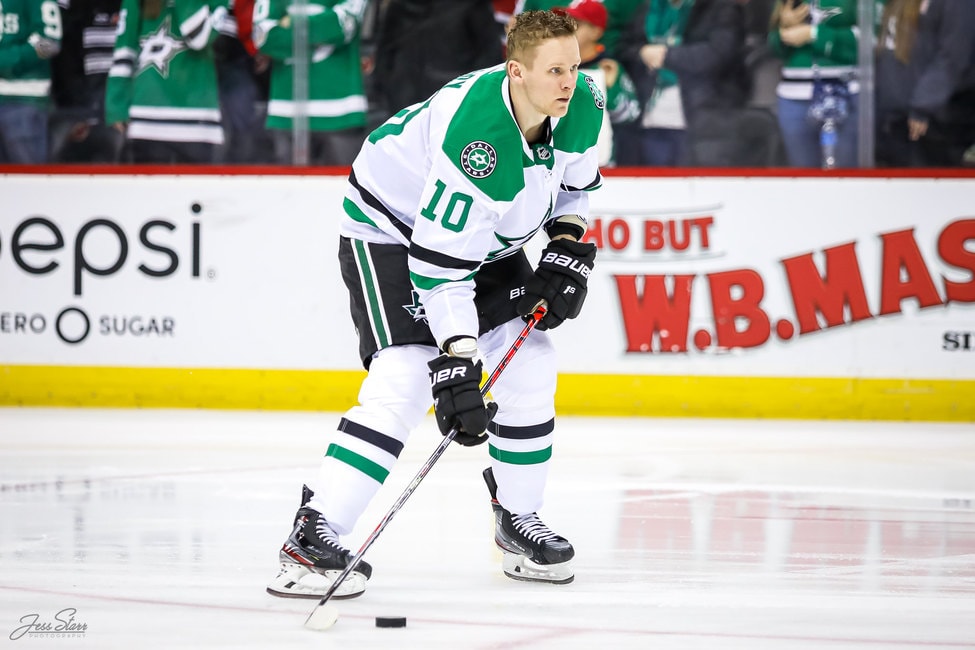 The thought process at the time of the Perry signing was such that he would add value as a former Stanley Cup and Hart Memorial Trophy winner and as a power-play specialist. After all, last season with the Dallas Stars, where he signed after having been bought out by the Anaheim Ducks, Perry played just 13:43 per game, but 2:08 on the man advantage, on which he notched a respectable seven points (tied for eighth).
For some perspective on how poor the Canadiens' power play (17.7%) last season was, Perry's seven points was one less than Shea Weber's eight and two more than the five scored by Brendan Gallagher (and Jordan Weal). Ultimately, Perry proved decent value for the Stars on the one-year, $1.5 million deal he signed. So, it stands to reason that the one-year, $750,000 deal he signed with the Habs late last calendar year would be worthwhile.
The unending praise Perry has received from teammates up to now has seemed to justify the move. Regardless, the decision to waive Perry and move him to the taxi squad at the start of the season was a logical one on the part of the Canadiens. He of course cleared, with no one willing to take a flier on him and dedicate a roster spot to him. Now that he's proven his worth in one instead of just in the locker room, though? It makes things more complicated, especially once Joel Armia, whose spot Perry took, returns from injury.
Remember, at the time of his injury against the Canucks, Armia had just broken out following a slightly sluggish start to the season. He suffered a concussion following a hit from Tyler Myers in a game in which he scored four points (two goals) and now has five in as many games. With that production in mind, you'd like to re-insert that offense back in the lineup as soon as possible.
Armia vs. Perry
The fact this is even open for debate is a testament to the depth the Canadiens now have. For all intents and purposes, you're looking at dropping either a guy who effectively served as a top-six forward on the Habs last playoffs (Armia; alongside Nick Suzuki and Jonathan Drouin) or a former MVP out of the lineup as a 13th forward, if that.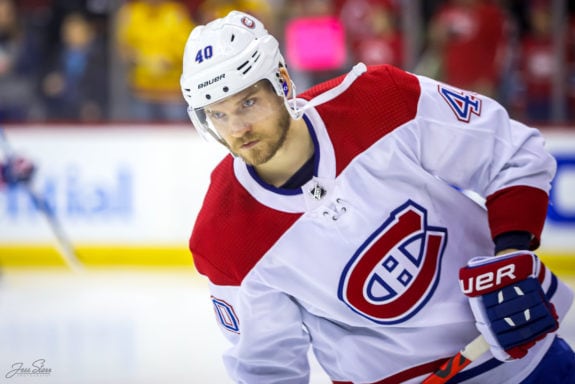 On the bright side, Perry doesn't necessarily have to re-clear waivers. The rules state Perry can stay on the roster for nine games and/or 29 days before having to be re-exposed to waivers. The Canadiens actually sent Perry down between games to save his waiver-exempt status and cap hit, according to Arpon Basu of The Athletic.
So, this isn't a case of potentially losing Perry anymore, because it's fairly clear, if he did have to go through waivers again, he likely would be snatched up faster than hors d'oeuvres at a wedding reception. Whereas they're free (and you've got to recoup your gift somehow) though, Perry costs a lineup spot.
Obviously so does Armia. You can't play them both, unless you take someone else out. Considering Perry wouldn't have to go through waivers again (for the purposes of accruing cap space), he's the likely odd man out, because who else would you send down? The only Habs who are waiver-exempt currently on the roster are Nick Suzuki, Jesperi Kotkaniemi, Alexander Romanov and Jake Evans, each of whom have carved out somewhat of a niche for themselves so far.
The Case to Keep Evans Up
In his right mind, Canadiens general manager Marc Bergevin wouldn't send down Suzuki, who's playing like a No. 1 center, Kotkaniemi, who's picking up where he left off in his rookie season from a developmental standpoint, or Romanov, who may end up being the solution to the team's long-term hole beside Weber (all due respect to Ben Chiarot). That really only leaves Evans, who's been a bright spot himself, albeit in a relatively limited role as the team's fourth-line center.
One thing worth noting is Paul Byron, Evans' linemate, has played center for the Canadiens before. Granted, his career 36.7% face-off percentage does leave something to be desired (namely about 10-15 percentage points). For the record, Evans' is a respectable (if not unspectacular) 48.1%, but that's conveniently disregarding the obvious. Evans is still just 24 years old. He's in a position now where he can develop the right way and contribute to the Canadiens, playing meaningful minutes.
Sure, the Canadiens could send Evans down to the taxi squad. They could then shift Byron to center on the fourth line and play both Perry and Armia (whether the latter plays on the left side or Artturi Lehkonen does). However, sometimes the easiest solution is the best one.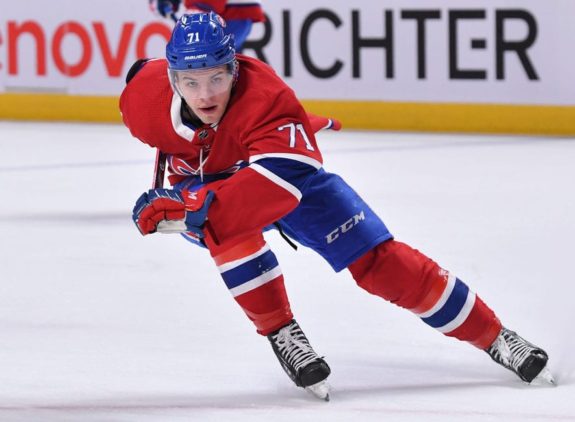 "Best" in this instance does not necessarily mean "good," because, ultimately, Perry is the most logical choice to be sent down yet again when it gets to that point. He's already cleared, he's the only one of the players in this conversation (well) on the decline and, even on the taxi squad, he would still be in a position to contribute in the leadership role he was largely signed to fill. That he's also proven himself capable of exceeding expectations when dressed, filling in, in a pinch shows that "best" also means "far from bad," though.
In other words, it's a good problem for the Canadiens to have. In a limited role, Perry hasn't missed much of a beat and in turn neither will they, if someone else gets injured, knock on wood that they don't. Armia's injury was ill-timed, considering he had just found a groove, but at least the Canadiens now know, push come to shove, they really are as deep as first suspected. You'd think Perry's resume would speak for itself by now, but, if it it hasn't, everyone else in the league has effectively been put on notice as well. Too bad they missed their opportunity to claim him when they still could.
---
---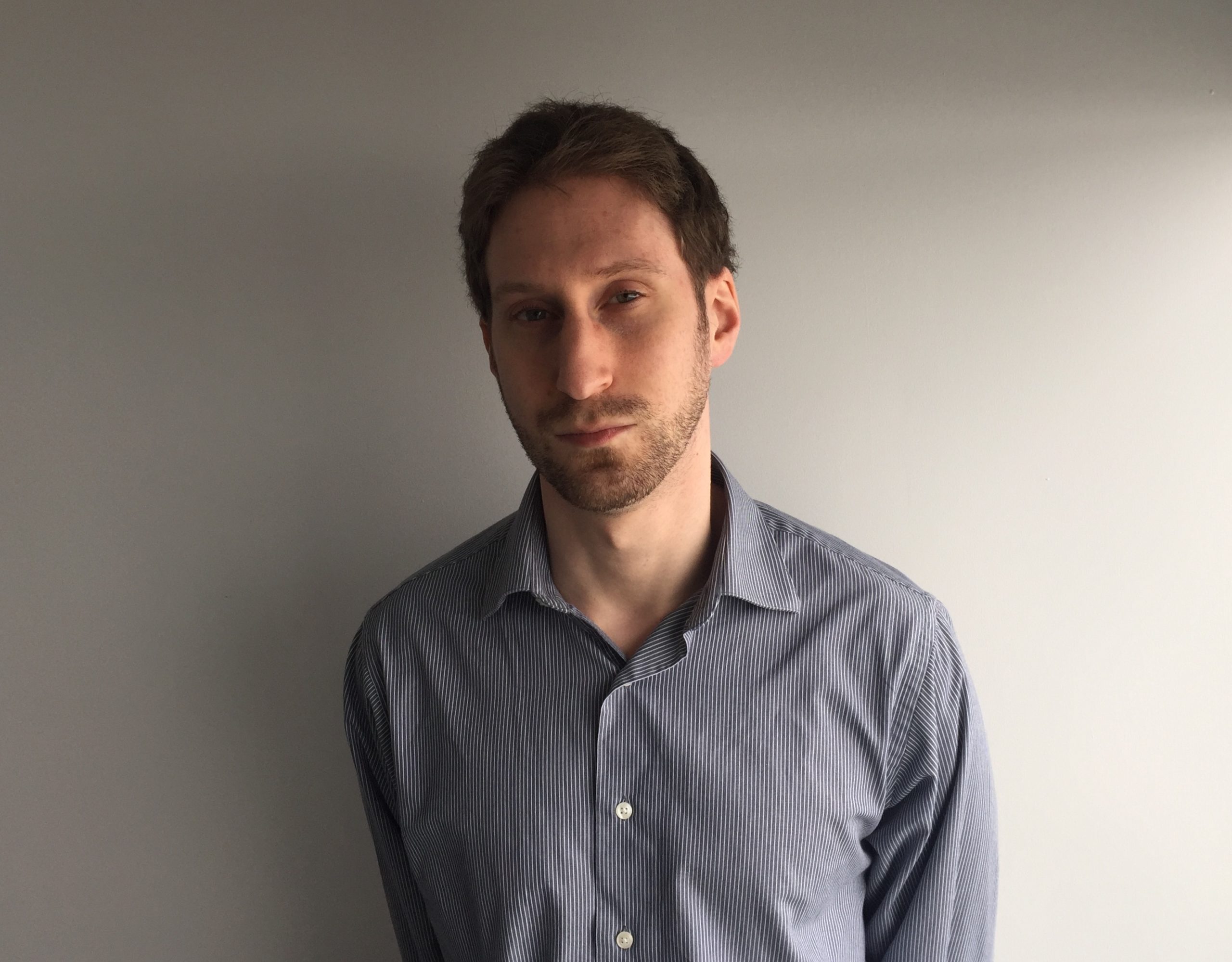 After 10 years of writing hockey, Ryan decided it was as good a time as any to actually join The Hockey Writers for the 2014-15 season. Having appeared as a guest on such programs as CBC Radio One's Daybreak, Ryan has also written for the Montreal Gazette and Bleacher Report and worked for the NHL itself and his hometown Montreal Canadiens. He currently writes about all things Habs for THW, with it being a career highlight for him to have covered the 2021 Stanley Cup Final as a credentialed member of the press.