Today we continue with the grading of prior Canes draft classes, after reviewing the 2014 class earlier in the week. A horrible 2014-15 season resulted in a top-5 pick for the team, and a bit of a sell-off at the trade deadline gave the team 9 picks on draft day, which was tied for their most selections since 1998.
With four picks in the top 100, it was essential for a rebuilding franchise to capitalize on their opportunity. The 2015 class as a whole was quite deep and, considering the Canes' shallow prospect pool at the time, I was really invested in this draft class. I knew the team had a chance to change their misfortunes of years prior…but did they? Let's take a look at the class in its entirety.
First Round
Fifth Overall: D Noah Hanifin
Let's be honest, Hanifin's tenure in Raleigh is a super tricky one to evaluate. He showed real promise at times but his progression was always marred by inconsistencies on the mental side of the game, which leaves the optic of his overall body of work as a Hurricane extremely blurry in hindsight. Different perspectives will have different opinions on him. But let's be totally clear, he was not and is not a bust.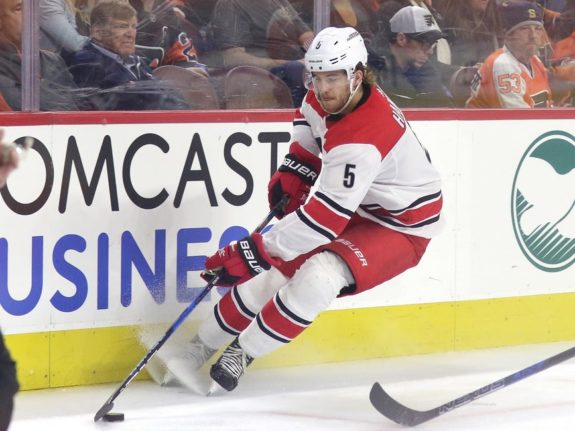 When Hanifin was on his game, he was a joy to watch. His ability as a skater almost made you fall into a trance while watching him. An absolutely effortless stride, combined with his puck-moving ability should have made him a legitimate force. I will never forget this game-winning stretch pass in transition during his rookie season, which led me to believe he would be an absolute stud:
Unfortunately, lost in all the potential for Hanifin was his lack of awareness, especially in his own zone. His lack of physicality, IQ and a case of tunnel-vision on the defensive side of the puck held him back, and he never really progressed beyond the third-pairing on the Canes' depth chart. The swift emergence of both Brett Pesce and Jaccob Slavin, seemingly out of nowhere, really limited Hanifin's role and overall growth as a player.
When Don Waddell took command in 2018, the new regime obviously didn't consider Hanifin a key piece to the future, and he was traded in the deal that brought Dougie Hamilton to Raleigh. That trade has aged wonderfully for the Canes and will age even better if Dougie re-signs this offseason. Meanwhile, Hanifin has been plagued by the same issues in Calgary, while Dougie has become a vital piece of the success in Carolina.
There's a lot of factors at play when grading the Hanifin pick. He was the unanimous pick at the time (though I was always higher on Ivan Provorov). I'll break it down like this: he was a top-5 pick who was rushed to the NHL, and in three years didn't emerge as a top-four D. He was then used as an asset in a trade that seriously benefitted the team in the short, and hopefully long-term. But alas, he was drafted to be the future of the Canes' defense, which (clearly) never materialized.
Grade: You Decide.
Second Round
35th Overall: C Sebastian Aho
It's still hilarious to look back at how this pick was received on draft day. There was confusion amongst the hockey world if the Canes had (or meant) to select the defenseman Sebastian Aho, he of the same name, who's now with the New York Islanders. Most scouts and draft analysts had our Aho ranked as a fourth-round talent or even later, and this pick was considered by many to be a reach at the time. Oh, how times have changed.
First off, kudos to Ron Francis and the scouting staff for identifying Aho. After pick 35, they knew they weren't on the board again until early in the fourth round – a span of almost 60 picks – so they went "off the board" for Aho, to ensure they wouldn't miss out on him. It's also very likely that Francis and Co. had Aho higher in their rankings than most scouts did, so props to them for that as well.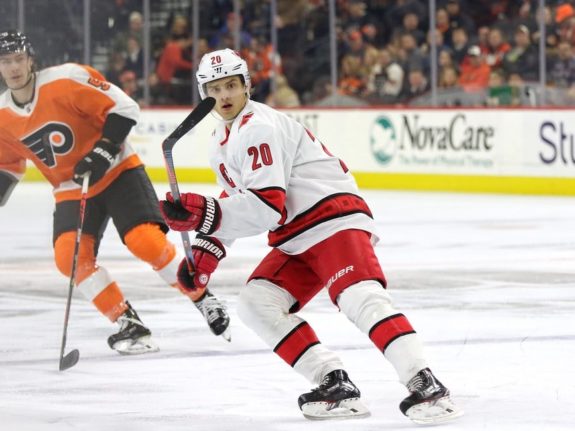 As history suggests, Aho has turned out to be a home-run pick. From that class, he's currently top-5 in both games played and points, and is top-three in goals, behind only Connor McDavid and Jack Eichel – who went first and second overall. Pretty good for a guy who was confused with a defenseman, I'd say.
I would go as far as to say that drafting Aho in this spot was the best move Francis made in his tenure. Hitting the jackpot on a pick like this one is game-changing for a franchise, and Aho has obviously been a major part of the team's resurgence. Even if they selected him at fifth overall (where they took Hanifin) this pick would be a win. An unearthed gem, and an undebatable top-notch grade.
Grade: A+
Fourth Round
93rd Overall: G Callum Booth
After not having a third-round selection, the Canes opted to select netminder Booth with their first of two fourth-round picks. He was coming off a relatively successful season with Quebec in the QMJHL and had good size (6-foot-4, 190 pounds) for a goaltender at the pro level. He had quite a stellar junior career, culminated with a deep playoff run after a trade to Saint John's. This led to high expectations for Booth, especially considering the team's lack of prospects at the position.
But as history suggests, things never manifested for him after turning pro. He was unable to find a steady role in the Canes' organization and bounced between the AHL and ECHL levels for the entirety of his three-year entry-level deal. With very little progression made, the team elected to not qualify him last summer in his first year of restricted free agency, which led to Booth's swift departure from the club.
Though he showed promise at various stages of his development, it's fair to say Booth was a bust of a pick. Over three full seasons, he started just 11 games at the AHL level for Charlotte, and he eventually fell so far down the depth chart that he was loaned away after being supplanted as the back-up in Greensville. In a decade littered with questions surrounding Hurricanes goaltending, Booth was never able to provide an answer.
Grade: F
96th Overall: C Nicolas Roy
At the time, getting Roy in the fourth round was a very intriguing addition for the Canes. Just two years prior, Roy was the #1 overall pick in the QMJHL Junior Entry Draft, chosen ahead of players such as Thomas Chabot, Anthony Beauvillier and Julien Gauthier. His production never really took off during his first two years in the Q, and the hope for Carolina was that he was a player that had yet to realize his serious potential.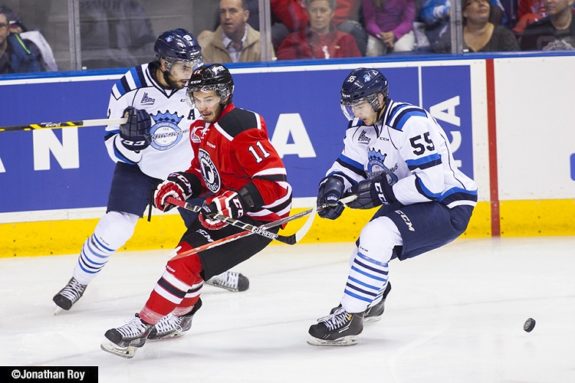 After being drafted, Roy unleashed havoc for Chicoutimi as an 18-year old. He led the QMJHL in 2015-16 with 48 goals and played a strong, power game that showed off why he was once such a highly-touted prospect. In his final junior season, he emerged as a leader, captaining his team and leading them on a long playoff run. He also played a critical role for Team Canada at the 2017 World Juniors and looked to be a player really on the rise.
Despite developing in Charlotte for two years and showing steady progression, Roy became another victim of the new Don Waddell regime and was shipped off to Vegas in the summer of 2019, for forward Erik Haula. The trade seemed like a home-run at the time but has aged super poorly. Haula lasted just 41 games in Raleigh, while Roy has emerged as a valuable contributor for the Knights.
Still just 23 and seemingly a late-bloomer at every level, it's entirely possible (and likely) that Roy's best days are ahead of him. Waddell obviously had a different vision, but suffice to say Roy is a legitimate NHL player who hasn't reached his ceiling yet. Despite not being a Cane anymore, the upside of this pick was phenomenal, and Francis did a great job getting this kind of value in the fourth-round.
Grade: A-
Fifth Round
126th Overall: F Luke Stevens
On fifth-round choice Stevens, I wanted a perspective from someone who knew more about him than I. So I asked Matt Somma (@CanesProspects) for his breakdown on where it went wrong for him:
"Luke Stevens was easily one of the tallest and most physical players in the prep school ranks when the Hurricanes selected him in 2015. It led to some successes at that level, but Stevens struggled when his competition became faster and, well…taller. Stevens struggled to find any sort of offensive consistency with Yale and it led to him missing stretches of games. Stevens was a weak skater and only saw marginal improvements over the course of his time in the organization, which contributed to his lack of success with Yale. A 6-foot-5 forward with as long of a stride as Stevens had should be able to dominate shifts at the NCAA level, and I never got that sense while watching Stevens play."

– Matt Somma (@CanesProspects)
Steven's stalled progression led to the organization parting ways with him last summer, when they elected not to sign him to an entry-level deal. His father is former NHLer Kevin Stevens, who is now a scout with the Pittsburgh Penguins. So, they gave Stevens an entry-level deal in August, and he's now set to play for their AHL team Wilkes-Barre when their season starts. 
Will he have an NHL future? Who knows, but it won't be in Raleigh. And because of that, I can't give a positive grade to a pick who never signed with the organization – much less played even a game for them – despite how intriguing Stevens may have been at one time or another.
Grade: F
138th Overall: F Spencer Smallman
Another pick from the QMJHL, the qualities that Francis saw in Smallman were obvious. He has good size at 6-foot-2 and 200 pounds, could play in all situations and is a total character player. He works hard, he's gritty, he's smart and he's efficient. He's a leader, and he has all the qualities you look for in a bottom-six NHL forward. Smallman captained Saint John's in the QMJHL for two seasons and led them on a long playoff run in 2017 to finish off his junior career. 
After turning pro, things could not have gone much worse for him. An injury in his first ECHL training camp sidelined him for a majority of the season, but he came back strong, finishing with 29 points in 33 games (including playoffs) for the Florida Everblades in 2017-18. He moved up to the AHL the following year, but tore his ACL after just 12 games and was ruled out for the season. Two massive setbacks in his development in two straight seasons.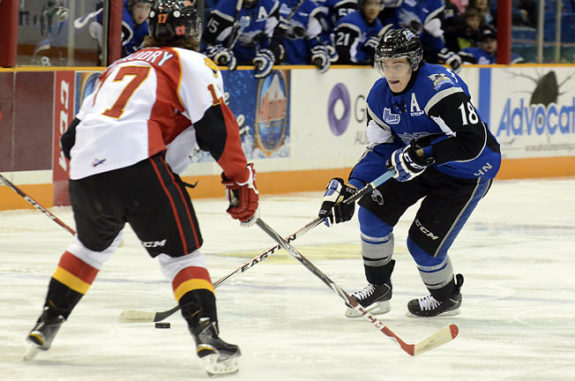 Now 24, there's still a long road ahead for Smallman. The Hurricanes re-signed him to a one-year deal in October (which surprised me), and he'll spend the year trying to get back on track with the Chicago Wolves. The Canes' AHL merger with the Nashville Predators could complicate things for him, as he'll be in a heated competition for ice-time.
Reasonably, at this stage, I think it's hard to envision Smallman becoming an NHL regular. His tough injury situations have just stolen too much time from his development. For his future, I think he can become a key player for an AHL team eventually, and I would never bet against a kid with his character. But I can't help but wonder how much better this pick grade would be had he stayed healthy.
Grade: C
Sixth Round
156th Overall: D Jake Massie
Not much to see here. Not even three months after being drafted, the Canes shipped Massie to Chicago in the deal that acquired Joakim Nordstrom and Kris Versteeg. He played at the University of Vermont for three years, until summer 2019, when he bailed out on his senior season and turned pro. Chicago elected not to sign him, and he eventually latched on with the Florida Panthers.
With only 29 games of AHL experience for Massie at age 24, it's tough to see Massie emerging as anything more than a depth option. He lacks any real dynamic element to his game, and I don't think he'll be a guy that the Canes look back on eventually and regret moving on from so soon.
Grade: F
169th Overall: C David Cotton
Cotton has been an intriguing prospect in the organization for a long while now, as his production steadily improved while at Boston College. Despite some chatter that he might not sign in Carolina, Cotton, along with his brother Jason, inked his entry-level deal with the team in March 2020. I talked to Ryan Henkel(@RyanHenkel_) of Canes Country for a bit of a breakdown on Cotton:
"[Cotton's] biggest attributes are his size and shot. Can skate well and has good defensive awareness too.  I'd say he could make the team in 2-3 years if he sticks around, but as a fourth-line option. He'd earn a spot if he works hard enough and would be a bottom of the lineup guy, but could be a cheap option should the Canes be [tight on] cap space later on. Hard to see much for him past that with the depth the Canes have been adding."

– Ryan Henkel, Canes Country.
I would agree with that assessment. Cotton's got some NHL qualities for sure, but a stacked prospect group and tough competition surrounding him could complicate his path to the Canes' lineup. He's got soft hands around the net and natural goal-scoring ability, and with his size (6-foot-3, 200 pounds), he's definitely an interesting player. Undoubtedly, the jury is still out on him, as he's yet to play a pro game. But regardless of how he turns out, this was a high-upside pick, and nice value late in the draft.
Grade: TBD
Seventh Round
186th Overall: F Steven Lorentz
On Lorentz, I deferred my opinion to my good friend Brandon Stanley (@bwstanley26) of Tracking The Storm (@TTS_Pod), who's always been a huge believer in Lorentz. Here's what he had to say about him:
"His game is predicated on his size, reach, relentless motor, and skating ability. He may not have the most picturesque stride you've ever seen, but his 6-foot-4 frame lends itself to long strides and the ability to get on top of defenders on the forecheck or to the outside on the rush with ease. He also has one of the most active sticks I've seen from a forward, which lets him constantly create havoc on the penalty kill. His active stick defensively almost kind of reminds me of Jaccob Slavin, but obviously a forward version; the way he's constantly harassing puck carriers, lifting their sticks, otherwise stripping them of the puck, and taking it the other way.

Nothing I can find tracks takeaway leaders in the AHL, but Lorentz had to be amongst the leaders last year. He's simply a menace that's tough to get any space or time against. The offensive growth in his game – he has a sneaky good shot and showed some real skill in tight spaces – that led to his breakout season [last season] and sold me on him as an NHL player. He's answered questions and disproved doubters every step of the way, and at this stage, it's probably silly to doubt he'll even out-play my bullish projections on him. But he is 24, so he needs to get his chance this year and acclimate himself. I'd bet it happens, and he becomes a bottom-six and PK mainstay for the Hurricanes moving forward."

– Brandon Stanley, TTS Canes Podcast.
Quite high praise. In summary, Lorentz was a seventh-round pick so expectations were never high, but he's really developed the right way and come along to the point he's on the cusp of a legit NHL opportunity. He played fantastic in his NHL debut against the Tampa Bay Lightning last night, and the future ahead looks bright for him as a bottom-six NHLer. As of now, he's one of only five players from the 2015 seventh-round to make his NHL debut, and there's more in store for him.
Grade: B+ (with chance to improve)
Recap
In hindsight, Aho definitely saved this draft for the Canes, and without him, this was not a strong class for the Canes. He was arguably the steal of the draft (and amongst the biggest steals in the decade. Beyond him, Hanifin has played a role in the team's future, and we've yet to see the best from guys like Lorentz and Cotton, so there were some other positives. There were also some whiffs along the way, but that's expected. Overall, I'd think they'd be pretty happy with this class as a whole.
Grade: B+
---
---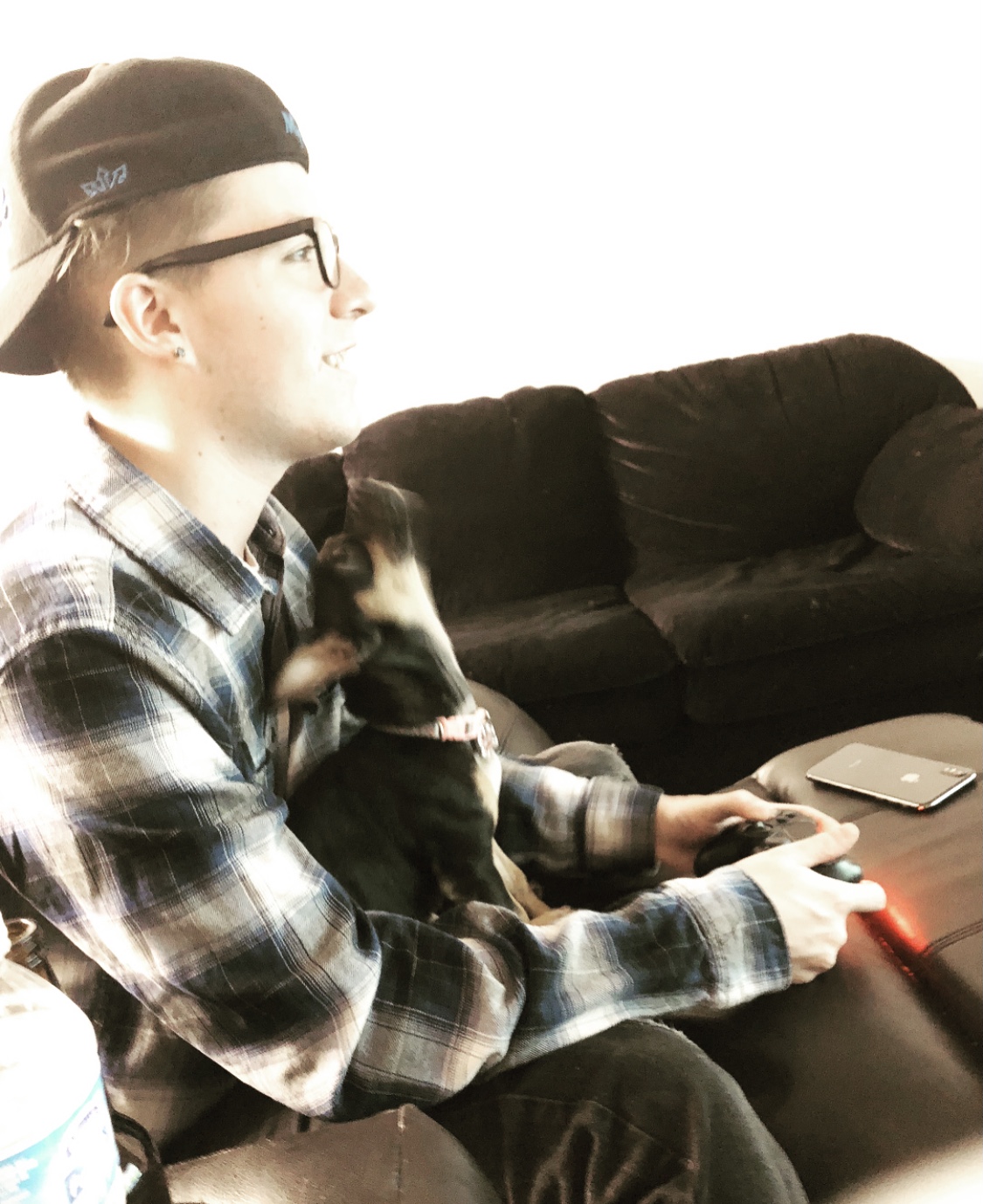 Carolina Hurricanes writer. 23 years old. Ottawa, Canada. Prospect geek, hockey nerd.