Vegas' newest show finished up the first half of their unprecedented season this past Sunday. With 58 points in the bank, good for tops in the Western Conference, one might have expected a lackadaisical effort from the host Vegas Golden Knights. It takes a substantial amount of energy to deliver nightly thrashings to NHL competition, after all — the exact competition that was expected to embarrass them on a nightly basis, back in the off-season.
Rather than adhere to a pre-written script, Vegas gutted out a 2-1 victory over the New York Rangers and concluded their first half with 60 points (12 points higher than the league average). It's a remarkable achievement for any team, never mind an expansion one; imagine the Cleveland Browns storming out of the gates to a 7-1 record, quickly becoming the class of the AFC. The poor Browns…
Halfway through their week-long sabbatical – let's assume there's an element of studying going on – the Knights will knowingly enter the second half as the hunted. What wasn't known until now, was just how difficult a prey they would be to conquer.
It Starts with Goals (For and Against)
Surprisingly, the Knights are fourth in the league in goals scored (141) at the midway point. They were not meant to score at that rate. However, along with their unforeseen nose for the net, Vegas has benefitted from quality goaltending, something many felt would be their only strength heading into their inaugural campaign.
Marc-Andre Fleury from the beginning was tabbed 'most golden' of the Knights. He was thought to be the great equalizer for the expansion franchise. It didn't take long for the Knights to be thrust into life without their superstar.
Miraculously, they weathered the storm with a crease held down by the unheralded likes of Oscar Dansk and Maxime Lagace (backup Malcolm Subban suffered an injury shortly after taking over starter's duties following Fleury's).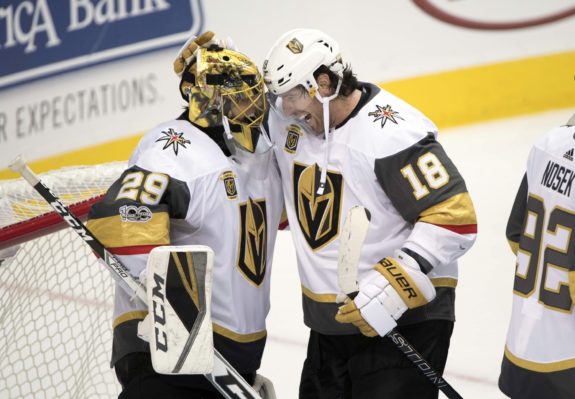 Both, again healthy and playing at a high level, Fleury and Subban have formed one of the league's most successful goalie tandems. In 25 combined starts, Fleury and Subban have a record of 20-4-1. Fleury leads the league in quality start percentage (91.7%) – starts with SV% > average SV% for the year, or at least 88.5% on nights with 20 or fewer shots against.
Subban's number is lower, at 53.8%, but still puts him ahead of Carey Price (51.7%) and ties him with former crease mate Tuukka Rask; and don't forget Dansk's spot duty in the wake of Subban's injury. In three games, Dansk won all of them, producing quality starts in each. Regardless of who's been in net, results have continued to be favourable more often than not.
Ranking 5th in the NHL in goals against per game (2.71) through the first half, Vegas has benefitted from top-level netminding in key situations. They are 8-5-1 when being outshot and 6-3 in one-goal games. Finally, when tied or leading after two periods, they are a staggering 25-5-1. While goaltending has been a critical factor in their overall success, few expected the script to be this – nothing ever goes according to plan in Vegas.
Related: Revolving Door in Goal Can't Derail Golden Knights
A Balanced Lineup Has its Advantages
Often times when a coach praises their team's balanced scoring or 'by committee' approach, it's a sign that the roster lacks a go-to player or line. Head coach Gerard Gallant does not have the luxury of tapping the back of Sidney Crosby, Connor McDavid, or Alex Ovechkin when he needs a big shift. The Knights' success is built on the idea of balance rather than over-reliance. Whether you believe that to be out of necessity or by choice is your call. My gut says the former.
Veteran Derek Engelland put it rather succinctly as part of an interview with the Toronto Sun, back in December:
Everyone came in with a clean slate. No set lines, set defensive pairings. Everyone's battling for more ice time than on their previous team or to get on a line higher. Guys have done that all year and rolled with it.
The ultimate ceiling of a balanced lineup void of true star power can be tirelessly debated, however, it's much tougher to dispute the benefits of internal competition. A roster's fragility can counter the impact of internal competition, but calling the Golden Knights fragile would be missing the mark. They are built for this.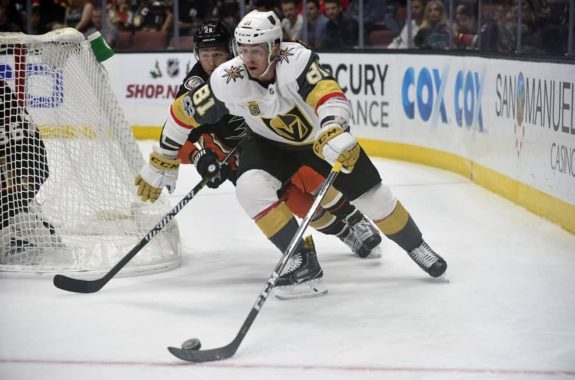 The coach trusts each of his lines to do what is asked of them. Gallant rarely gets drawn into the line matching charade so many bench bosses pride themselves on mastering. It's evident when you examine ice-times. Nate Schmidt leads defensemen with just over 18 minutes per night (5 on 5). James Neal leads the forwards at 14:50. Rather than shield his players from potentially compromising matchups, Gallant insists his players learn and grow from such scenarios.
Nobody expects them to change their philosophy given its success, but certain players have begun to emerge as go-to guys. Along with established veteran and defacto leader James Neal, youngsters William Karlsson and Jon Marchessault have helped carry the offensive load.
The Emergence of Star(s)
Neither is a point-per-game player – Vegas does not have a single one of those on their roster – but both have made critical contributions to Vegas' success. In the case of Marchessault, he's coming off a 30-goal season and is on pace for another in 2017-18 (16 G and 24 A through 38 games). He's been a revelation and has shown improvement in his defensive game as well. As a result, he was rewarded with a six-year, $30 million dollar deal. It's hard to imagine the Florida Panthers not regretting their decision to expose him now.
Related: Golden Knights Sign Marchessault to Contract Extension
William Karlsson, an impending free-agent, has netted 22 goals thus far (on 85 shots, that's a shooting percentage of 25.9%). His previous season high for goals was 9, set two years ago. With 36 points, he along with Marchessault and teammate Reilly Smith have formed one the league' s most dominant lines at even strength. Playing 5-on-5, the trio has outscored opponents 26-15, controlled almost 60 percent of total shot attempts, and created nearly 60 percent of overall scoring chances (via Natural Stat Trick). They are as lethal a line as there is in the league.
Saturday marks the beginning of the second half. It's only been a few days and already, Vegas yearns for hockey to return.
Can we really question the Knights' ability to match their first-half production? I'm having a hard time imagining any of the players opting to leave the city during the bye. This is a fun team, in a fun city with a fun fan base…
…Who would ever want to leave such a fun place?
Much maligned GM overseeing several underperforming fantasy franchises…
Born in Montreal, grew up in Cobourg (an hour east of Toronto), and have been watching hockey since I could hold one of those old plastic mini-sticks (anybody else remember curving those bad boys on the stove top?). Hope everyone enjoys all the great content on THW website. Cheers.