The NHL announced the official rosters for the 2018 NHL All-Star Game to be played in Tampa Bay over the weekend of January 27-28. There are some big names on the rosters and some of the usual suspects.
There's also an extensive list of names that are notably absent from the rosters, including big names like Jakub Voracek and Phil Kessel. Last year's All-Star Game MVP Wayne Simmonds and reigning Vezina Trophy winner Sergei Bobrovsky were left off the Metropolitan team, as you'll see below.
Related: 2018 NHL All-Star Predictions
All-Star rosters are always fun to debate, and every year there are a few selections worth questioning. We've compiled a list of four guys from each division that should've warranted more consideration.
Official Rosters 2018 NHL All-Star Game

Atlantic

Metropolitan

Carey Price (G) – Montreal

Braden Holtby (G) – Washington

Andrei Vasilevskiy (G) Tampa Bay

Henrik Lundqvist (G) – NY Rangers

Mike Green (D) – Detroit

Noah Hanifin (D) – Carolina

Victor Hedman (D) – Tampa Bay

Seth Jones (D) – Columbus

Erik Karlsson (D) – Ottawa

Kris Letang (D) – Pittsburgh

Aleksander Barkov (F) – Florida

Josh Bailey (F) – NY Islanders

Jack Eichel (F) – Buffalo

Sidney Crosby (F) – Pittsburgh

Nikita Kucherov (F) – Tampa Bay

Claude Giroux (F) – Philadelphia

Brad Marchand (F) – Boston

Taylor Hall (F) – New Jersey

Auston Matthews (F) – Toronto

Alexander Ovechkin (F) – Washington

Steven Stamkos (F) – Tampa Bay

John Tavares (F) – NY Islanders
Atlantic Division
Frederik Andersen (Toronto Maple Leafs)
It's hard to argue against Andrei Vasilevskiy and Carey Price, but there may be some logic in suggesting Andersen was snubbed. The Maple Leafs' starting goalie is enjoying a stellar season and, after a rocky start, he's shown some stability in net for Toronto.
His 22 wins, and .922 save percentage are second-best among Atlantic Division goalies. Vasilevskiy has him bested in both categories but Price doesn't. Still, the Leafs' starter has been consistent while leading all NHL goalies in games played (37).
Johnathan Huberdeau (Florida Panthers)
The Atlantic team already has the two top scorers in the league on its roster with Nikita Kucherov and Steven Stamkos. However, Huberdeau is the third-highest scorer in the division. His 16 goals and 43 points give him a career-best in points-per-game (P/GP) at 1.02.
Teammate Aleksander Barkov is an All-Star, but Huberdeau has more points. The Florida Panthers are now five points outside of the playoffs and if they make the postseason, Huberdeau will be a big reason why.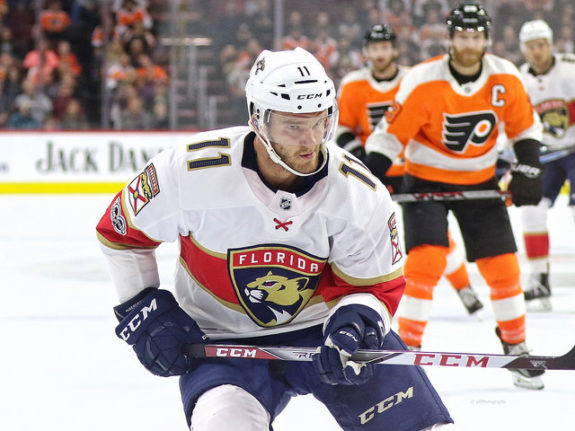 Morgan Reilly (Toronto Maple Leafs)
Reilly's been an outstanding defenseman for the Maple Leafs this season. His four goals and 30 points are ranked eighth in NHL scoring among defensemen and third among Atlantic Division blueliners. Reilly's total power play points make him one of the better quarterbacks in the NHL with the man advantage.
His numbers might not be as good as Victor Hedman or Erik Karlsson, but he's been better than Mike Green who has just 24 points in 41 games. The offensively gifted defenseman should be in contention for a spot for years to come.
Mark Stone (Ottawa Senators)
Although the Senators are struggling this season, Stone has provided some stability on offense His 42 points make him a top-five scorer in the Atlantic Division. Only Kucherov (27) and Auston Matthews (19) have more goals than Stone's 18 this season.
Among players in the division that have played at least 20 games, Stone has the fourth best shooting percentage at 18.4% going into last night's game against the Toronto Maple Leafs.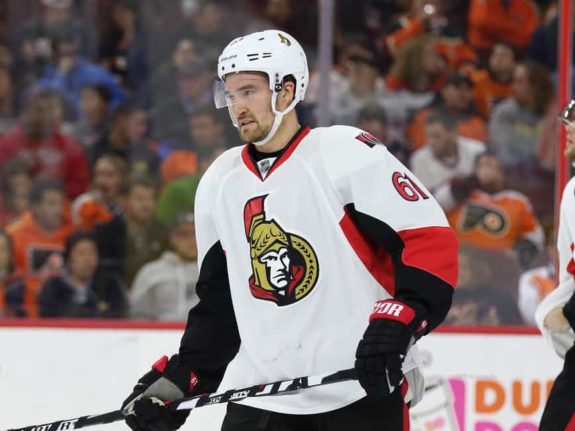 Metropolitan Division
Sergei Bobrovsky (Columbus Blue Jackets)
No goaltender has played more minutes in the Metropolitan Division than Bobrovsky's 2,175 minutes this season. What's even more impressive is that under that workload, his numbers are amongst the best in the league. In his division alone, only Braden Holtby has more wins.
His 2.40 GAA is the best in the division among starters, and only Henrik Lundqvist's save percentage is better than Bobrovsky's .922. A year ago, he was the runaway winner in Vezina voting and he'll be in contention again this year, which makes this snub even more puzzling.
Shayne Gostisbehere (Philadelphia Flyers)
As the seasons go by, Gostisbehere continues to be one of the best offensive defensemen in the Eastern Conference. His 32 points in 39 games this season make him one of the top five offensive defensemen in the league. His nine goals are second among all defenders in the league.
THW's Tony Wolak predicted that Gostisbehere would be one of the three defenders on his division All-Star team and because he is finally showing more skill and has earned praise as he's become a complete player for the Flyers.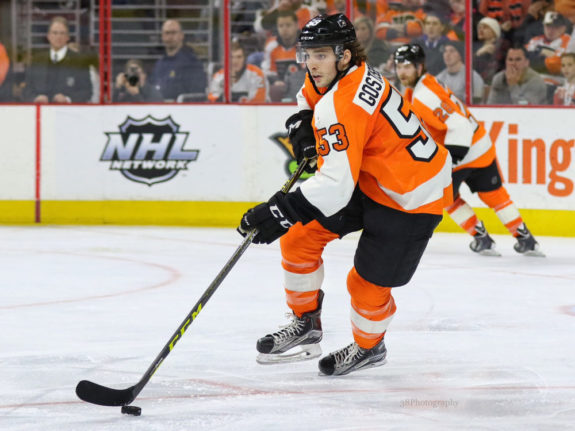 Phil Kessel (Pittsburgh Penguins)
One of the biggest stars in the game, Kessel is overshadowed by his teammates Sidney Crosby and Evgeni Malkin. That might've played a factor in this All-Star snub. Still, it's hard to ignore that Kessel's 47 points are more than three forwards that were named to the team.
Ovechkin (46), Crosby (43), and Taylor Hall (42), all have fewer points than Kessel. There are only five other players in the division with a higher P/GP than Kessel's 1.04. Lastly, when it comes to power play points, no player in the Metropolitan Division has more than Kessel's 27.
Jakub Voracek (Philadelphia Flyers)
It makes sense for Claude Giroux to have been named to the Metropolitan Division All-Star roster. What doesn't make sense, is the second-best scoring forward in the division was omitted. Voracek's 43 assists and 51 points are second only to Giroux.
THW's Dan Ward thinks Voracek has been "Mr. Consistency" for the Flyers this season. He leads the league in assists and his overall power-play points rank eighth, with 21. He's seventh in league scoring and if he his shooting percentage increases, there's potential for him to finish the year as a top five scorer.
Edmonton Oilers regular contributor providing insight on all things Oilers including club history, prospect profiles, trade breakdowns, and everything else in between. Check back regularly for new and exciting content. Follow on Twitter @SanderTHW.