Danny Briere came to Philadelphia in July 0f 2007, and the pressure that followed him could be felt throughout the journey from Buffalo to the Flyers. The Flyers had just come off their worst season in franchise history, winning a lowly 22 games. Captain Peter Forsberg was traded mid-season, and there was a revolving door for job openings at just about every position.
Then-newly appointed general manager Paul Holmgren wasted no time in putting his mark on a Flyers' team that desperately needed change. Briere, along with Sabres' teammate Chris Drury, figured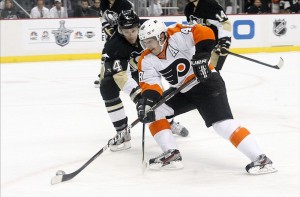 to be a marquee name on the open market. He was fresh off a career-high 95-point season in which he led Buffalo to the best record in the Eastern Conference. While he had not reached the playoffs every year in his career, his 44 points in 50 career postseason tilts seemed to indicate he knew how to step up when needed the most.
Despite countless rumors, so ironic to reflect upon now, that he would possibly be lured to Montreal, Briere chose Philadelphia and the eight-year, $52 million contract set upon his plate by Holmgren.
All did not start auspiciously for Briere in Philadelphia. After scoring four goals in his first three games, he went eight straight games without one. While the harsh Philadelphia spotlight has burned out some Flyers in years past, Briere would not be one of them, despite finishing the 2007-2008 season with what was considered a "low" total of 72 points.
Briere never again would top 70 points in a regular season for the Flyers, but to the fans, that would be vetoed, for once playoff hockey came knocking, Briere would not only answer the door, but crash through it, with a respect and love of the game that was idolized by peers, media, and fans.
Thursday night in South Philadelphia, Briere jerseys, shirts, and other paraphernalia will be sure to make its return as he, himself, plays in the Wells Fargo Center as a visitor for the first time in over six years. So with that in mind, let's step into the Flyers' video vault and relive five of the seemingly countless memories that "Danny B" created on Broad Street.
Briere Blows the Roof Off vs. Montreal, Game 4, East Semi's, 2008
In a series where the Flyers were written off from almost the very beginning, in Briere's first season in Philadelphia, the team got into the head of rookie goaltender Carey Price, forcing him out of Game 3. For Game 4, the Habs decided to start a man who, at that time, had not garnered much publicity: Jaroslav Halak.
Down 2-1 in the series, Montreal was looking for any boost they could get to tie the series heading back to the Bell Centre. For two periods, Halak held Montreal in it, but the Flyers struck twice to gain a 2-0 advantage. Two rapid third-period goals from the Canadiens tied the score, setting the stage for a nail-biting finish. Then, Steve Begin took a poor interference penalty with just over four minutes to play, and for the first of many times, the oft-criticized little guy brought the crowd to an earth-shattering roar.
Briere Cool As a Cucumber in the Biggest Shootout of His Life, 4/11/2010
It was every fan's worst nightmare, or biggest dream, depending on your reaction to intense drama. The Flyers and the Rangers. Game #82. Winner to the playoffs, loser to the golf course. Shootout. Philadelphia was a notoriously poor shootout team, a moniker that continues to follow the team to this day.
Adding to the stress of the moment, the Flyers would need to defeat Henrik Lundqvist. Head Coach Peter Laviolette had the option of shooting first. He took it. Out of 18 available skaters on his bench, who do you think he chose? Like there was any doubt. It's as if he knew. And as the tired cliche states, the rest was history.
Briere Dances With (and Around) Bruins, Game 1, East Semi's, 2010
As if the shootout victory just to get into the playoffs was not enough drama, the Flyers then dispatched of the Devils in the first round of the 2010 Stanley Cup Playoffs.
This set the Flyers up for a date with the Boston Bruins, a team that had left a sick feeling in Philadelphia's mouth on New Year's Day with a controversial come-from-behind victory in the Winter Classic at Fenway Park.
Game 1 was a back-and-forth slugfest with the two teams trading goal after goal. Down by a goal late in regulation, while some of his mates were changing, Briere took matters into his own hands, scoring perhaps his most spectacular goal from a skill standpoint in his six seasons with the Orange and Black.
Briere Wraps Bruins' Hopes Around & Snatches Them, Game 7, East Semi's, 2010
Forgive the terrible pun attempt here. Game 7 of the 2010 Eastern Conference Semifinals may go down as the single greatest Flyers' win that did not result in a hoisting of the Stanley Cup. Philadelphia fell behind to Boston three games to none. They had to scratch their way to overtime just to force a Game 5, beat Boston in TD Garden (where they had not lost a playoff game yet) to force a Game 6, and get a stonewall effort from Michael Leighton (making his first playoff start ever) to force a Game 7.
On top of all of that adversity, Philadelphia slipped out of the starting blocks and found itself down 3-0 in the first period of Game 7. The microcosm of the whole series was presented as poetically as it could have been. James Van Riemsdyk's strike at the end of the first period gave the Flyers a glimmer of hope, Scott Hartnell's rebound tally in the first portions of the second provided the door's crack. Then, Briere, using one of his patented moves, tied the score, but it might as well have wrapped the Bruins' throats with a tightly knotted rope.
(Postscript/Bonus Video: Briere finished the 2010 Playoffs with a Flyers' franchise postseason record of 30 points)
Briere Finally Gets An Overtime Winner, Game 1, East Semi's 2012
Somehow, Briere managed to go four full playoff years without recording an overtime marker in Philadelphia, although that was not for his lack of trying or impact on the game.
After scoring once in regulation and then having a goal disallowed on a kick moments earlier, Briere finally decided enough was enough, beating Martin Brodeur in what wound up being his final playoff victory as a Flyer.
In a city that has vigorously booed athletes upon their returns to the city, even some of the best to ever play for them, Briere earned a level of admiration rarely reached by any player anywhere. His constant playoff production made somewhat subpar regular seasons seem unimportant, because Flyers' fans knew that #48 would come up big when the wins mattered most. While his ceremony and ovation probably will not touch that of Jarome Iginla's in Calgary on Tuesday night, Briere will undoubtedly feel the love of a city when he hits the Wells Fargo Center ice on Thursday evening.
Flyers' fans, stand and applaud Mr. Briere. Class, honor, and humility epitomized his personality, and his play epitomized that of a star. Hopefully one day, a Stanley Cup will find its way to him.
Ryan Smith is a proud graduate of Penn State University, having attained a degree in broadcast journalism. His experience in hockey is extensive, having covered PSU Men's ice hockey for USCHO.com as an Arena Reporter for its first NCAA season in 2012-2013 while also serving as Penn State Athletics' voice of women's ice hockey home games. He was also the sports director for Penn State's ComRadio, a student based radio station endorsed by the College of Communications. In that position, he broadcasted Penn State hockey since for four years. He can be followed on Twitter @RyanSmithHockey.