It's no secret that the Blues have struggled in the offensive zone in recent years. In fact, in the seven seasons since the 2004-2005 lockout the Blues have finished in the top half of the league in scoring just once when they finished 10th (2.88 GF/G) in 2010-2011.
We could debate what caused the persistent offensive drought (the Blue's system putting a premium on defense is always a favorite) but what it all comes down to is the players on the ice.
During that seven year stretch the Blues were led in scoring by five different players; Mike Sillinger (2006), Bill Guerin (2007), Brad Boyes (2008 & 2009), Andy McDonald (2010) and David Backes (2011 & 2012). When looking at those names it's not hard to see why the organization has struggled in the opponent's zone. They've just always lacked a high-end scoring threat.
I realize that scoring isn't everything in the game of hockey. Plenty of teams have been successful without having a cold-blooded sniper roaming the ice. The 2011-2012 Blues are a prime example. They won the Central Division for the first time since the 1999-2000 season despite ranking 21st in scoring. They also were swept by the eventual champion LA Kings in the Western Conference Semi's, scoring just 6 goals in the entire series. You know what would have been a nice commodity to have during that series? A prolific offensive threat.
Well there is good news and bad news on that front. The bad news is that a player of that magnitude will not be wearing a Blue's sweater in 2013. The good news is that there is a player in the system who has raw talent to fill that persistent void in the future.
If you're a Blues fan you probably know who I am referring to. He is far and away the most hyped Blues prospect in over a decade and is considered to be one of the early favorites to grab the Calder Trophy despite never playing a North American style of hockey.
That lack of North American experience hasn't diminished the wonderment surrounding Vladimir Tarasenko though. Scouts gush over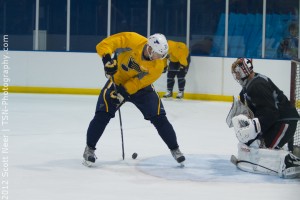 his quick hands and puck-handling skills. They swoon over his natural goal scoring ability. They adore his willingness to grind along the boards. They pretty much love everything that Tarasenko does which has led to lofty expectations for the 20 year old Russian. But is the hype justified? Is he just another overvalued Russian who can't adapt to the North American style of play?
In all reality it's a genuine possibility that Tarasenko never pans out. History is littered with highly touted Russian prospects that just never panned out.
From 2004 to 2010 there were eleven Russian's taken in the first round of the NHL draft. Of those eleven only four (including Tarasenko) are currently playing in the NHL. Two of those four players are Ovechkin and Malkin and the other is Aleksandr Burmistrov who was drafted in 2010 alongside Tarasenko.
That may not seem like an obvious problem concerning Tarasenko but when you take a deeper look you'll notice a disheartening trend that is worrisome for all Russian prospects; if they don't initially succeed they return to Russia.
This shouldn't come as a shock to anyone. Organizations throughout the NHL shy away from taking Russian's early on in the draft because there is a possibility that they will never make it to North America. When a player does manage to make the transition from Russia to the North America it's often a bumpy one.
Not only do they have to deal with adapting to a smaller rink and completely new style of play but they have to cope with culture shock and playing against the best players in the world. When looking at it from their perspective it's not hard to see why so many fail to live up to expectations.
When it comes to Tarasenko there is no way to tell how well he'll adapt to his new life in St. Louis. He has the raw talent but most of the transition is mental which is virtually impossible to project. The truth is that we won't know he can't handle it until it's too late.
Now that I've raised enough doubt it's time for me to say why he won't be just another fleeing Russian.
When you read scouting reports on Tarasenko there is a single word that pops up constantly; determined. Plenty of prospects are labeled as gifted goal scorers or playmakers but not many are considered to have an incredible work ethic at a young age. Tarasenko does. This is vital because he will inevitably struggle. Every player does early on, but it's how they deal with the tribulations that define what kind of future he will have in the league. If the scouts are correct and he is as motivated and determined as they claim, then the struggles will be a speed bump in his progress.
When you combine that god-given determination with his natural talent on the ice it might lead to something special.
Of course this is all just a projection. No one really has any idea how good he will be until we see him in a Blues sweater for a significant amount of time. Tarasenko, like all prospects, are defined by their potential and not by their current production. Except Tarasenko is defined by both.
Unlike most baby-faced prospects getting their first NHL experience this Saturday, Tarasenko has already shown his worth. While the NHL was twiddling their thumbs during the lockout Tarasenko was carving up the KHL with SKA Saint Petersburg.
In 31 games he tallied 31 points (14 goals, 17 assists) while playing just 14:47 minutes per game. Those numbers would be impressive by veteran's standards but by a 20 year old? It's downright ridiculous.
This isn't a one hit wonder thing either. In the 2011-2012 KHL season he averaged nearly a point per game and continued that success in the playoffs where he tallied 9 points (5 goals, 4 assists) in 15 games.
Obviously no one expects him to replicate those numbers in the NHL anytime soon but they are a good sign of what's to come from Tarasenko.
It'll take some time for him to get acclimated to the American culture and to gel with his line mates, Alexander Steen and Andy McDonald, but the future looks bright for the Russian dynamo. We'll know more as time passes but it's not out of the realm of possibility that Tarasenko could slide into the sniper role that the Blues have been missing for over a decade.