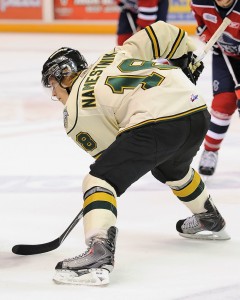 Gallivanting in on his faithful steed [his skates], wielding his trusty sword [his hockey stick] and making mince meat of enemies [opposing defensemen], Vladislav Namestnikov is one of the key reasons why the OHL's London Knights sit atop the league standings.  Namestnikov is currently tied for the team lead in points with fellow linemate, Seth Griffith.  His play peaked the interest of the Russian National Team who invited him to play in the Subway Super Series for Russia.
"It's always an honour to represent your country and I'm happy I got the invite," Namestnikov said.  Although the OHL beat the Russians in both games, Namestnikov did register a point in his only game, inching closer to finally making the World Junior Team.  An odds-on favorite to secure a spot, Vlad knows what he must do to make the team.  After being snubbed on the last day of camp, Namestnikov saw his team go on to win the gold medal against the Canadians last year.  When I asked him if it stung at all to see them become the eventual champions without him, he simply replied, "I was just happy that they won."
A soft-spoken player, Namestnikov likes to let his play on the ice do most of the talking for him.  Amassing 30 goals and 39 assists last season, Vlad picked up right where he left off.  With 15 goals and 14 assists in 23 games, it is no wonder the Tampa Bay Lightning had him on their radar for the 2011 NHL Entry Draft.  Selecting him 27th overall, Vladislav would go on to be the only Russian player selected in the first round of the draft.
"It's a big honor to get selected in the first round and it is special to be the only Russian," the Voskresenk native said.  He also flew down to Tampa in the weeks following to attend the annual rookie camp.  "I had an amazing time at the draft, then going into my first NHL rookie camp and main camp was a great experience and I had lots of fun."  I asked if there was any player that impressed him the most in either of his camps, to which he replied, "Martin St. Louis.  He works so hard on and off the ice and it's amazing how skilled he is."
Many thought Namestnikov may fall because of the "Russian Factor", but Tampa GM, Steve Yzerman, took three Russians in the draft and had this to say about Vlad:
"Well it's something we talked about last month with this draft and potentially seeing how good these players are and where we are picking in the draft.  And obviously there is a real concern…not in Namestnikov.  He lives here.  He plays here.  Plays in London.  We don't see that concern of him being signed in Russia and not being able to come over."
Namestnikov has taken on a new responsibility (in a sense) this season.  Being one of four London Knights drafted by an NHL team, he has become somewhat of a mentor for younger players.  With Andreas Anthanasiou and Olli Maata eligible for the upcoming draft, Namestnikov is now be looked to for advice on what to expect from the whole draft process.  "At the beginning of the season I told Andreas that the draft is still a while away and that he has to just focus on what's happening now and that hard work will pay off."
He also doesn't mind giving his own personal scouting reports about each player.  "Andreas is a good all-around player with fantastic speed.  He's very good on both the powerplay and penalty kill.  Olli Maatta is an offensive defensemen who is really good for us on the PP, solid in his own end, great shot and plays tough."
For those who haven't had the opportunity to watch Namestnikov in the OHL, THW's own Brendan Ross had this to say about Vladdy's abilities:
"On the ice, the speedy Russian made a seemless transition to the North American game and it is reflected as he carries himself with loads of confidence.  Namestnikov is an elusive pivot who can create space with the combination of his quick feet and high hockey intelligence.  Namestnikov excels in the offensive zone as he puts on a clinic with his superb puckhandling and passing skills often creating a nightmare for his opposition.  Opposing defensemen must respect Namestnikov as he can dangle one-on-one or thread the needle to a teammate in the blink of an eye.

Scouts absolutely love the tool box of offensive skills that Namestnikov brings to the rink every night but the intangibles are what really separates the emerging Knight from other prospects. Namestnikov competes hard and has shown a drive to become a better all-around player as he works on developing to become a better defensive player.  As a smaller player, Namestnikov often plays with no fear as he drives to the net, thrives in tight areas of the rink and does not shy away from physical play.  The talented Namestnikov projects to be a playmaker but his goal totals (in the OHL and International play) have scouts thrilled about his sniping abilities as well."
I asked him, besides what fans and scouts can see out on the ice, what is something they may not know about Vlad Namestnikov, the person.  He smiled and said, "Maybe that I speak fluent English."  You see, although Namestnikov was born in Russia, he has spent a great deal of time in the States.  Having lived in the Detroit area for almost a decade before going back to play in the Motherland, Vlad picked up the English language quite easily.
Being the nephew of former Soviet great, Slava Kozlov, also doesn't hurt.  Vladislav was just a kid, but he often recounts stories about his uncle taking him into the Red Wings dressing room during his tenure Detroit to meet the powerhouse team that captured two Stanley Cups in back-to-back years.  Perhaps Steve Yzerman didn't see a future NHL player in Vlad at that young of an age, but when June 2011 rolled around, he knew there was NHL blood in his veins.  But the task at hand is for Namestnikov (and his London Knights) to keep playing the tremendous hockey they have shown night in and night out.
"It helped me a lot, I learned to play more physical and make decisions faster," Vlad said of the transition from Russia to the OHL.  "We need to keep working hard, doing all the little things right.  Playing good defense and keeping it simple.  We have a good, young team and we're trying to win the Memorial Cup," Vlad replied when asked what the team needs to do to remain in first place.
It may be a few years before Namestnikov is ready to adjust to the rigors of a grueling NHL schedule, however his speed, elusiveness and tireless work ethic will captivate many fans.  His defensive skills shouldn't be scoffed at either.  Larionov comparisons have been thrown around, but first Namestnikov will need to do one time what Larionov was able to do three times in his career…..win a Stanley Cup, which he intends to do.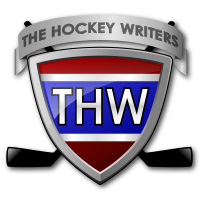 The archives of THW contain over 40,000 posts on all things hockey. We aim to share with you some of the gems we've published over the years.