Today, Elliotte Friedman — one of the best in today's media and NHL coverage — dropped a bomb on fans of the Oilers, Devils, Habs, Predators and Lightning with this piece entitled The 23 Minutes that Shook the Hockey World. It's an amazing, insider look at the optics of the three biggest moves this summer in the NHL. One of the beauties laid out by Friedman in this piece is the dynamic behind the Taylor Hall trade.
Oilers Unbalanced
It wasn't news that the Edmonton Oilers were an unbalanced team. The Oilers lacked a strong blue line and defensive players who could eat big minutes and help Edmonton in their goals-against stats which were among the worst in the NHL. Friedman suggests the tipping point may have been the final game of Edmonton's 2015-16 season when they lost to the Calgary Flames. In that game, Edmonton — namely Matt Hendricks — wasn't willing to fight and at that point, the team knew that there was nothing in the season left to fight for.
Edmonton's need to make defense a priority came well before that infamous game. When Peter Chiarelli talked about how much the entire NHL understood the Oilers were looking for a defenseman, it should come as no surprise that one quick look at the stats sheet over the course of the 2015-16 season would tell you Edmonton was poised to make a change.
Perhaps that game signified that in order to drastically improve the team, Edmonton was going to have to give up a significant piece. It wasn't a player like Hendricks who was the problem, it was the makeup of the team. The face of the team at that time was arguably Hall.
Was it to be Hall all along? From the optics laid out by Friedman in his article, the answer is no. Edmonton looked to make other moves before deciding just before the draft that Hall was someone that may be required to make a deal happen, but it doesn't change the fact that something was wrong and it was becoming accepted that perhaps Hall may have been part of the problem and not the solution.
Hall's Personality in the Room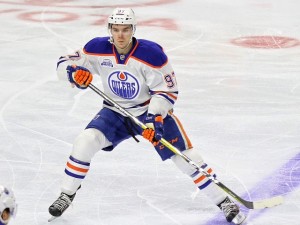 What comes as a little surprising is a quote that Friedman cites from an Oilers unnamed players. Friedman notes that a couple players referenced Hall's presence in the room. Friedman writes, "In Hall's case, a couple of Oilers believe the organization wanted to make it easier for McDavid's influence to grow in the room. "Taylor's a dominant personality," one said. "That's not a criticism. That's who he is."
This potentially speaks volumes in two ways. First, that Edmonton perhaps felt the presence Hall was projecting wasn't a good one. Second, that this is now officially McDavid's team and that within a short period of time, it should be no surprise when McDavid is named the next captain of the Edmonton Oilers. Did the Oilers make room for that transition to be an easier one to accept if Hall felt in some way entitled to being captain?
Everything in the media from McDavid and Hall, even from Chiarelli suggests this wasn't an issue, but perhaps some of the players felt otherwise. It signals a changing of the guard and a clear line drawn by Oiler management that what was perhaps a losing culture with Hall as the face of the franchise is now gone and a new face — that of McDavid's is the direction the Oilers franchise is going.
Moving Forward
Today become a revisiting of the Hall/Larsson trade. Here at the Hockey Writers alone, there were three articles, including this one, about Hall and the Oilers within a matter of a few hours. Most fans probably want to move past it, but it's no small bit of news.
Related: Oilers GM Says "No Buyers Remorse" in Hall/Larsson Trade
Related: The Reason Behind the Taylor Hall Trade
What we should take from these articles, the Friedman piece, as well as moves being made by Oiler management is simple. If you're going to trade your second-best hockey player, there better be a plan in the works to improve the hockey team dramatically.
Everyone in the NHL knows, this was not a small trade. Hall was and is one of the best left-wingers in hockey. Was he traded because of his personality? Was he traded to make room for a new captain in McDavid? Or was this simply a hockey trade made to better balance an unbalanced hockey team? Only time will tell.
Jim Parsons is a senior THW freelance writer, part-time journalist and audio/video host who lives, eats, sleeps and breathes NHL news and rumors, while also writing features on the Edmonton Oilers. He's been a trusted source for five-plus years at The Hockey Writers, but more than that, he's on a mission to keep readers up to date with the latest NHL rumors and trade talk. Jim is a daily must for readers who want to be "in the know."
Other content contributions include: NHLtradetalk.com, The Sportster and hosting weekly video casts, THW News and Rumors Rundown, plus Oilers Overtime.
For interview requests or to provide content info, follow Jim on Twitter or his social media accounts. They appear under his photo on articles like this one.