When the Edmonton Oilers traded forward Taylor Hall to the New Jersey Devils for defenseman Adam Larsson this summer, it was the biggest trade since they traded Ryan Smyth to the New York Islanders, nearly a decade ago. There's been a backlash from fans who are resigned to believe the Oilers lost the Hall for Larsson trade by a landslide.
Except for Oilers GM Peter Chiarelli who said it was the cost of doing business during a radio appearance on 630 CHED Edmonton.
"No buyer's remorse. It's tough to trade these guys, and as you said, I've been involved in these before. I felt comfortable with this. Adam is a good player. A real good player. He's on the (upswing). As is Taylor, but that position to fill was very, very difficult, and if we overspent a little bit I'm comfortable in doing it and getting Adam Larsson." – Oilers GM Peter Chiarelli
The Cost of Doing Business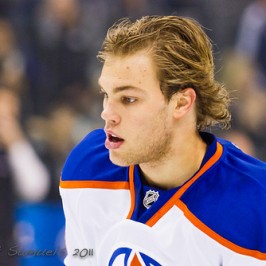 This summer the asking price for a top-pairing defenseman was astronomical. Rumours were the Montreal Canadiens were asking Edmonton for Leon Draisaitl, Nail Yakupov and the Oilers fourth overall pick in exchange for PK Subban. The Nashville Predators had to trade one of their top defenseman and captain Shea Weber. The Columbus Blue Jackets gave up Ryan Johansen, a first-line center, to get Seth Jones.
The list goes on.
Top-pairing NHL defensemen are the equivalent to gold in the market right now and the price is steadily increasing. Unfortunately for Edmonton and their fans, this was the cost of doing business according to Chiarelli. The Oilers GM was busy dealing this summer trying to improve a team that finished 29th overall. Chiarelli signed Milan Lucic, drafted Jesse Puljujarvi and snagged a veteran backup in Jonas Gustavsson. Add Larsson and suddenly the Oilers are a much better team that their 2015-16 counterpart.
Related: Hall "I Don't Think I'd Return to Edmonton as a Free Agent."
Related: Who Won Kessel Trade Five Years Later?
Chiarelli is no stranger to controversy regarding big trades. He traded both Phil Kessel and Tyler Seguin during his time as Boston's GM, both elite players. He won the Kessel trade by using picks acquired in the deal from Toronto to draft Tyler Seguin, Dougie Hamilton and Jared Knight. He handily lost the Seguin trade when all but Loui Eriksson made an impact on the Bruins lineup. Still, this is the NHL marketplace and the Oilers weren't dealing from a strong position and were going to lose the trade no matter who they dealt.
Fans Just Have to See Larsson Play to Understand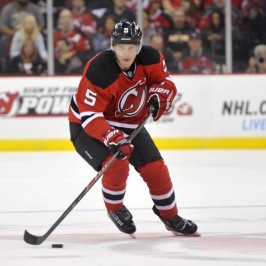 According to Chiarelli, the fans just have to see Larsson play to understand what they got in exchange for Hall. The 23-year-old from Sweden is now the Oilers number one defenseman and under head coach Todd McLellan's system could really open up his game offensively. The knock thus far has been the fact that he's struggled to produce much offense.
Take that with a grain of salt because New Jersey has consistently been one of the worst offensive teams in the league and Larsson never had the offensive guns to play with like he will in Edmonton.
Sure the Oilers were one of the five worst offensive teams in 2015-16 but a huge part of that was losing their top scoring forward Connor McDavid and their top puck-moving defenseman Oscar Klefbom for half the season. The injuries overlapped and suddenly Edmonton's transition game was nonexistent.
One of the great assets of Larsson's game has been his first pass ability which will really help the Oilers breakout, which improved last year but has been one of the worst breakouts year after year during the rebuild.
Related: Klefbom, Larsson and the Oilers
Related: Painting Stripes on Oilers Larsson
Larsson has consistently seen his minutes increase to the point he averaged 22:30 TOI for the Devils last year, putting him ahead of what Klefbom, as the Oilers defensive minute-muncher averaged. Larsson put up 18 points on the Devils defense last year, so statistically speaking , the Oilers leader Andrej Sekera had the better offensive year with 30 points in 81 games. Considering the Devils had just two 50 point scorers to what would've been minimal of four in Edmonton barring injury, Larsson will have a better year in 2016-17.
At 6'3″ 205 pounds he gives the Oilers the best all-around defenseman they've had since Chris Pronger left in 2005-06, he limits shot opportunities and his possession stats are improving.
If Larsson pans out into a bonafide top pairing defenseman the Oilers will have a bargain at $4.16 million for the next five years. It'll be at that time we'll know who truly won the deal, but you can't fault Chiarelli for taking a chance on a guy who could really break through over the next few years.
At the end of the day, if the Oilers just start winning will anyone really even care about trading Hall anymore?
Edmonton Oilers regular contributor providing insight on all things Oilers including club history, prospect profiles, trade breakdowns, and everything else in between. Check back regularly for new and exciting content. Follow on Twitter @SanderTHW.