There is an old saying, you can paint stripes on a horse and call it a zebra all you want, but at the end of the day, it's still a horse. This logic can be applied to the Edmonton Oilers newly acquired defenseman and work-horse Adam Larsson. Larsson is a minute-munching, stay-at-home type defender whose progression last year hinged almost exclusively on his ability to stop the other team from scoring. He grew into that role quite nicely.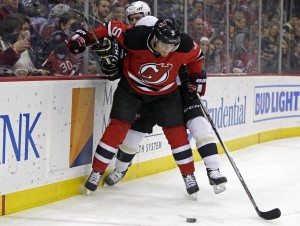 What Larsson is not (or least has not yet proven to be) is an offensive defenseman.  During his time in New Jersey, he was rarely asked to provide points or a flare for finding the scoresheet. Instead, he was deployed and used in a fairly one-dimensional, but important shut-down role alongside Andy Greene. Clearly, this was something Edmonton lacked, recognized as a need and paid dearly to obtain.
As one of the worst defensive teams in the NHL, the Oilers have spent years without a number one shut-down defender and they're gambling that Larsson's final year in New Jersey is only a sign of things to come. By playing him on the top-pair beside Oscar Klefbom, Edmonton hopes to have found a one-two duo that can handle and share big defensive minutes. Over time, they hope the offense will take care of itself.
Resisting Temptation
One might think, that when you have a defensive specialist on your roster, the best tactic is to deploy them in a defensive role. It is most likely Edmonton will do just that. However, a potential dilemma has presented itself in Oil Country and the Oilers may be tempted to play Larsson in offensive situations he hasn't been accustomed to.
So far this summer, the Oilers have unsuccessfully tried to fill a gaping hole with a right-shooting powerplay quarterback. It started with discussions in Montreal regarding the availability of P.K. Subban, it moved along to a consensus in the media that the Oilers were keeping close tabs on the Tyson Barrie situation in Colorado and the latest failed attempt included inviting James Wisniewski to camp on a PTO (Wisniewski chose instead to accept a PTO with Tampa Bay). All are and/or were offensive dynamos.
Because Edmonton does not have that right-handed powerplay specialist, they may look to Larsson — a right-handed shooter — to fill that role. At first glance, it might make some sense; but Larsson's success out of the gate with the Oilers is critical. Larsson does have some history prior to the NHL as an offensive defenseman, but asking him to contribute in a role he knows well in the NHL is a key component to ensuring his success. Removing time from the role in which he excels may be counter productive. It took four years of ups and downs in New Jersey to get Larsson to take a sizeable step forward. Taking him out of his element might be taking two steps back.
The Unfair Pressure Won't Help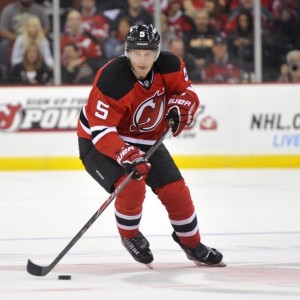 Having been acquired for Taylor Hall, Larsson is already the unfortunate recipient of unfair pressure. The two players shouldn't be compared, but because the trade was a one-for-one, it will be difficult for fans to separate the two. In many ways, Taylor Hall was dynamic, thus, the expectations placed squarely upon Larsson's shoulders will be immense.
So too, the Oilers of the past have been more than willing to fit a round peg into a square hole. Justin Schultz was rushed into a top-two role and called a Norris potential defenseman  — he clearly wasn't. Darnell Nurse played too many minutes as a rookie and was chewed alive defensively. Jeff Petry was forced to prove himself on a one-year trial contract and when he had a good season; but didn't hit it out of the park, he was traded. Asking players to do more than they're capable of isn't new territory for the Edmonton Oilers. The Oilers need to avoid repeat performances of past mistakes.
The Best Solution
No matter how badly the Oilers need a right-handed powerplay shot, their best bet is to let Larsson's offense come naturally. Let his focus be on defense, let him build chemistry with Klefbom and above all else, ensure Larsson isn't asked to provide points at the expense of bringing the Oilers the defense they so desperately need.
There may be some temptation to ask Larsson to fill in holes that exist because management hasn't been able to find an external solution. Larsson may even relish the opportunity. In the end, hopefully, the coaching staff realizes that what's best for the team and the player is their number one priority. Play every player, including Larsson, in a way that makes them most likely to succeed. The team will clearly be better off for it.