The prospect of an expansion draft looming on the horizon has sent many NHL teams into a frenzy of roster reshuffling in order to make sure that their best assets are either protected or traded before being lost for nothing. The Arizona Coyotes and general manager John Chayka are no different, as they've made a few significant roster moves this offseason in order to prepare for what should be an intriguing expansion draft.
Before looking at the players the Coyotes could potentially lose next summer, let's review the rules for the expansion draft:
2017 #NHL Expansion Draft rules: Two options- protect 7F, 3D, 1G or 8 skaters & 1G. No-moves still need protection but 1st&2nd yrs r exempt

— Pat Leonard (@PLeonardNYDN) June 22, 2016
First, teams will have two options when deciding which players to protect; they can protect seven forwards, three defensemen, and one goalie, or eight total skaters and one goalie. Players with active no-movement clauses must be protected. In addition, teams must expose at least three players (two forwards and one defenseman) who are both under contract for 2017-18 and have participated in either 40 or more NHL games the prior season or 70 or more NHL games in the prior two seasons. Players who have two or fewer professional seasons under their belt are exempt from selection and do not need to be protected.
Forwards
With a multitude of talented young forwards on the roster, Coyotes general manager John Chayka was likely relieved to see that prospects and younger players will not be eligible to be selected in the expansion draft. This leaves Max Domi, Dylan Strome, and Christian Dvorak among the players who do not need to be protected.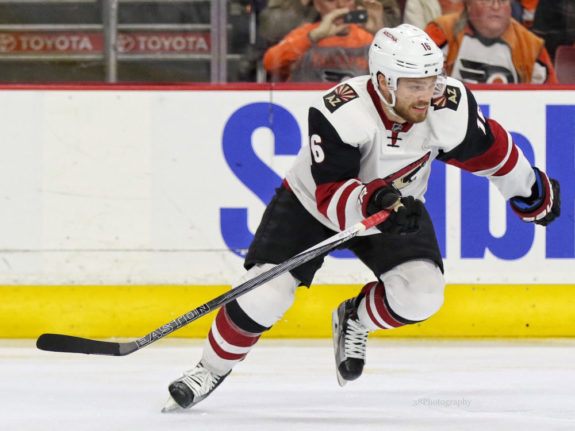 In addition, some veteran Coyotes are pending unrestricted free agents, and also do not need to be protected; Shane Doan and Martin Hanzal fall into this category of players who could re-sign in Arizona on July 1 if they were selected in the June 20 expansion draft. It's likely that if either of these players comes to an agreement with the Coyotes on a contract extension during the season, they'll wait until after the expansion draft to sign in order to dissuade Las Vegas from selecting them.
As was previously mentioned, the Coyotes must expose two forwards who are under contract in 2017-18 and have participated in at least 70 games over the prior two NHL seasons. Two players who could satisfy this requirement would be Brad Richardson and Jordan Martinook. Richardson, who turns 32 next season, is fresh off of a strong 2015-16 season which saw him set new career highs for assists and points, while the 24-year-old Martinook emerged as a solid option on Arizona's bottom six last season as a rookie. The Coyotes wouldn't be tremendously happy about losing either player, but the team has more than enough depth at forward to help make up for the loss of a bottom six forward.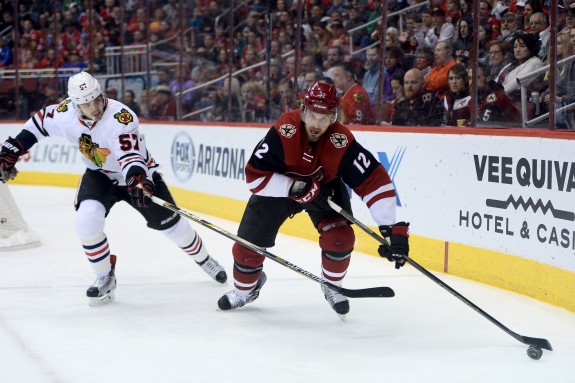 When it comes to the players Arizona would protect, Anthony Duclair and Tobias Rieder have to be at the top of the list. Both players enjoyed breakout 2015-16 campaigns and are big parts of the future in the desert. Newcomer Jamie McGinn also figures to be on the list of players the Coyotes would like to hang on to; the 28-year-old is fresh off of his first career 20-goal season, and should make an immediate impact in Arizona. The fourth and final forward the Coyotes could opt to protect is center Tyler Gaudet. The Coyotes have been high on Gaudet's potential since he was signed as an undrafted free agent in 2013 and believe he could become a solid NHL fourth line center as soon as this season.
Protected: Anthony Duclair, Tobias Rieder, Jamie McGinn, Tyler Gaudet
Notable unprotected: Brad Richardson (40/70), Jordan Martinook (40/70), Shane Doan (UFA), Martin Hanzal (UFA), Ryan White (UFA), Henrik Samuelsson
Defensemen
After having to make some tough decisions about his forwards, it appears as if Chayka will have an easier time when it comes to the blue line. New addition Alex Goligoski was given a no-movement clause when he was signed, which means that the Coyotes must include him as one of their protected players. Oliver Ekman-Larsson and Connor Murphy will undoubtedly be among the players whom the Coyotes protect as well. If the team elects to protect eight total skaters instead of seven forwards and three defensemen, the Coyotes will be able to protect an additional defenseman.
There are a few tough choices among the defensemen who could be the final protected skater. Luckily, Michael Stone is not included, as he's an unrestricted free agent following the season and does not need to be protected. This leaves Kevin Connauton, Luke Schenn, Klas Dahlbeck, and Jarred Tinordi as the players who could be Arizona's final protected player. All offer different pros and cons, but the most likely player to be protected appears to be Luke Schenn. Schenn has a good mixture of size and skill, and could be a solid player in Arizona for the next few seasons if he is able to tap into some of the potential that made him the fifth overall pick in the 2008 draft.
Since #Coyotes Luke Schenn's first season in NHL (2008-09) he ranks 2nd among all Defensemen with 1,775 hits. #KeepYourHeadUp

— Graham Taylor (@goldencanuck) July 25, 2016
However, if Schenn isn't able to make an impact in Arizona, the Coyotes could protect a player like Connauton instead. Connauton showed some offensive ability last season while Oliver Ekman-Larsson was injured, and could be a useful player in the desert. In any case, leaving either Schenn or Connauton unprotected would satisfy the 40/70 rule for defensemen, and would put Arizona in good shape entering the expansion draft, as most of the team's key talents would be protected.
Protected: Alex Goligoski (NMC), Oliver Ekman-Larsson, Connor Murphy, Luke Schenn
Notable unprotected: Kevin Connauton (40/70), Michael Stone (UFA), Zbynek Michalek (UFA), Klas Dahlbeck, Jarred Tinordi
Goaltenders
At the goaltender position, Chayka will face arguably his easiest decision of the expansion draft process. Incumbent starter Mike Smith has struggled to regain the form that he displayed in 2012 and has three years remaining on a contract that pays him $5.667 million annually. On the other hand, rookie Louis Domingue performed admirably when Smith went down with an injury last season; the youngster kept the Coyotes in playoff contention until late in the year and earned a two-year contract extension this summer as a result.
#CapFriendly CONFIRMED:
Louis Domingue #Coyotes
2 year Extension / 1 way
AAV – $1,050,000
2016-17 – $1,000,000
2017-18 – $1,100,000

— CapFriendly (@CapFriendly) June 27, 2016
Barring a miraculous season from Smith, it appears as if Domingue is the easy choice to be Arizona's protected goaltender.
Protected: Louis Domingue
Notable unprotected: Mike Smith, Justin Peters (UFA)
Overall, the Coyotes are arguably the team with the least to lose during the expansion draft; most of the team's young players are exempt from the draft, and many others will be given protection. Arizona shouldn't lose anything more than a veteran depth player next summer, and that's good news for a young team on the rise.
A lifelong Phoenix resident, Louis has been following hockey since 2010, has covered the Arizona Coyotes since 2015, and has been playing hockey since 2020. So far, Louis has visited eight NHL cities, and one of his personal goals is to eventually make it to all 31 NHL arenas. For any questions or concerns, contact the writer via Twitter @LouisPannone.