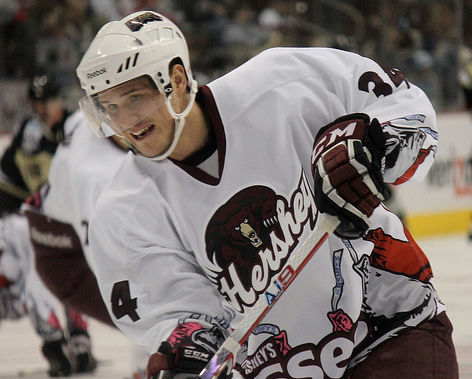 For Tomas Kundratek, it took some time to get used to playing for the Washington Capitals after his trade from the New York Rangers. Last season, Kundratek was sent to Washington in exchange for Francois Bouchard. Drafted with the 90th pick in the 2008 NHL entry draft, Kundratek is a highly skilled offensive defenseman with a fantastic shot from the point and solid instincts within the offensive zone. He's a smooth skater with the puck, but still needs work on his defensive game to reach the next level in Washington.
"He gained a lot of momentum off of the trade last year and road that to twelve goals," Bears' coach, Mark French said of Kundratek's transition to Hershey. "[Kundratek] was certainly rejuvenated, I think he certainly had a lot of positives coming into this year and I think he's riding that wave of momentum."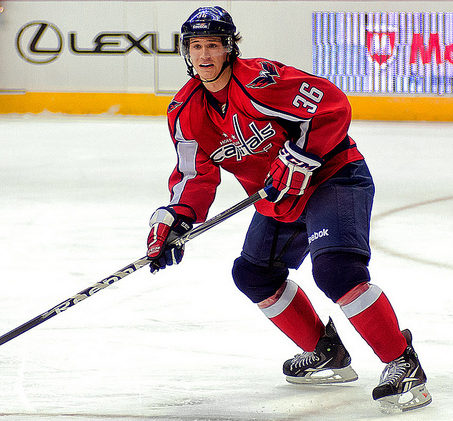 The offensively skilled Kundratek recorded 23 points after he joined the Bears last season, paving out a big role in the lineup on the regular through 55 regular season games. He often pinched in from the blue line during even strength play and his bomb of a shot from the point aided him in registering twelve goals for the Chocolate and White.
"It's a high level of comfort," Kundratek said going into the regular season this year. "It's also help from coaches and also teammates, it's great to play here fans helping a lot. Just have to keep my feet moving and try to work hard every game."
He was ready to go from training camp this season, placing his stamp on the blue line as early as the preseason. Kundratek, along with other Hershey defensemen have been adjusting to a new system, not only as a team philosophy, but with changes to the Bears power play.
This season Kundratek has been paired with Cameron Schilling during even strength play, another budding Capitals' defenseman that could see time in Washington in the near future. Through seven games, Kundratek has averaged a point per game, contributing two goals and five assists on the year thus far. Not only has Kundratek been important during even strength play, he's added a power play goal as a part of a Hershey's lethal man advantage unit. Kundratek is positioned near the left circle with Hershey defenseman, Garrett Stafford manning the point. He often slides down toward the net looking for cross ice passes from the right circle and can blast one timers from Stafford when he stays positioned by the left circle.
"It feels really well," Kundratek said of his recently play. "I try to calm myself down and keep it simple and it works. We have great guys playing really well, so pick up two assists, it was secondary assist, it was kind of lucky, but if you are playing hard every night it will keep coming."
You can follow Matthew on twitter @m_speck and email him at mspeck21@yahoo.com with any questions or comments.