The Halifax Mooseheads keep scoring goals and winning games. After 16 games, the team from Nova-Scotia is boasting an incredible 15-1 record along with a +44 goal differential (85 GFs and 41 GAs). This impressive record ranks them first overall in the QMJHL with 30 points and second overall in the Canadian Hockey League (CHL) behind the Kamloops Blazers of the Western Hockey League (WHL) as of October 26th, 2012.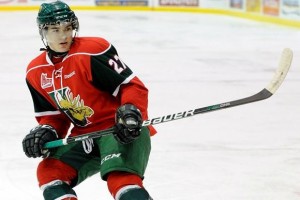 The Mooseheads' offensive strike force, led by hyped centre Nathan MacKinnon, who is having a great year with 18 goals and 11 assists for 29 points in a 16 games, has scored an average of 5.31 goals per game in 2012-13. But a player who is often forgotten, is let-winger Jonathan Drouin who has recorded 10 goals and 13 assists for 23 points in only 10 contests.
The Mooseheads, who have now won 13 straight games behind MacKinnon and Drouin, aren't relying solely on them to produce offensively. They also count on Luca Campini (9-10-19 pts in 16 gms), Stefan Fournier (7-10-17 pts in 15 gms), Matthew Boudreau (11-6-17 pts in 16 gms) and Darcy Ashley (3-14-17 pts in 16 gms). Detroit Red Wings' 2nd round draft pick in 2012, Martin Frk with 14 points in 14 games, as well as rearguard Konrad Abelshauser are also contributing offensively with 19 points in 16 games.
After missing six games with a shoulder injury in October, Drouin came back into the Mooseheads' line-up last week. Currently riding a six-game point streak with 8 goals and 7 assists for 15 points, the smooth-skating Drouin is making a name for himself. Considered by many scouts as a lock to be a top-ten selection in the 2013 NHL Draft, Drouin's stock is rising quickly and several scouts really believe the 17 year-old will be a top-five draft selection.

Jonathan Drouin First Ever Hat Trick – October 27,2012
The 5'11", 190-lb winger is the perfect combo to play with MacKinnon thanks to a great hockey sense, an elite vision and excellent passing skills. Drafted second overall in the 2011 QMJHL draft, Drouin made his junior debut last season playing 33 games in Halifax, notching 7 goals and 22 assists for 29 points as a 16 year-old, which is quite impressive. In the playoff, he was even more productive with 9 goals and 17 assists for 26 points in only 17 games.
The native of Ste-Agathe, Quebec, is blessed with great top-end speed, combined with an elite pair of hands and a knack to play in tight spaces which allow him to be efficient in traffic as well as on the perimeter. Drouin bulked up this summer and worked on his skating to be stronger along the boards and be more difficult to knock of the puck. With a 2.3 point-per-game production so far, Drouin is on pace to score 138 points in 60 games if he is able to maintain his torrid pace in 2012-13, which is unlikely. Still, don't be surprised if Drouin manages to hit the 120 point-mark.

Jonathan Drouin – Game 7 OT Hero vs the Remparts
With his great start this season, Drouin has become a very strong candidate to make the Canada roster for the 2013 World Junior Hockey Championships in UFA, Russia. This would be a great opportunity for him to shine at the international level and deliver another clutch goal during his young career… As a Quebec Remparts fan, it was all too painful to see Drouin score the overtime series-clinching goal in the seventh game of the series last Spring at the Colisee in Quebec City.
Like Hurricane Sandy storming its way to the East Coast of the USA this week, Drouin is climbing the 2013 NHL draft rankings faster than one would have ever thought. If you happen to watch a Mooseheads' game this season, whether in person or on TV, don't forget to watch #27 as he is as entertaining and talented as his teammate wearing #22.
Drouin's future is in good hands as he's represented by Octagon and their controversial players agent Allan Walsh.
Last week article MacKinnon: Nathan MacKinnon Shining Bright
Follow me on Twitter for more updates on the QMJHL and hockey in general.